02 Oct 2023

ASU-Beebe: Singers and Chamber Singers Concert set for Oct. 10 

Posted at 6:37 PMh

in

News

BEEBE, Ark. — The Arkansas State University-Beebe department of music will present the ASU-Beebe Singers and Chamber Singers in concert at 7:30 p.m. on Tuesday, Oct. 10, in the Owen Center Theater.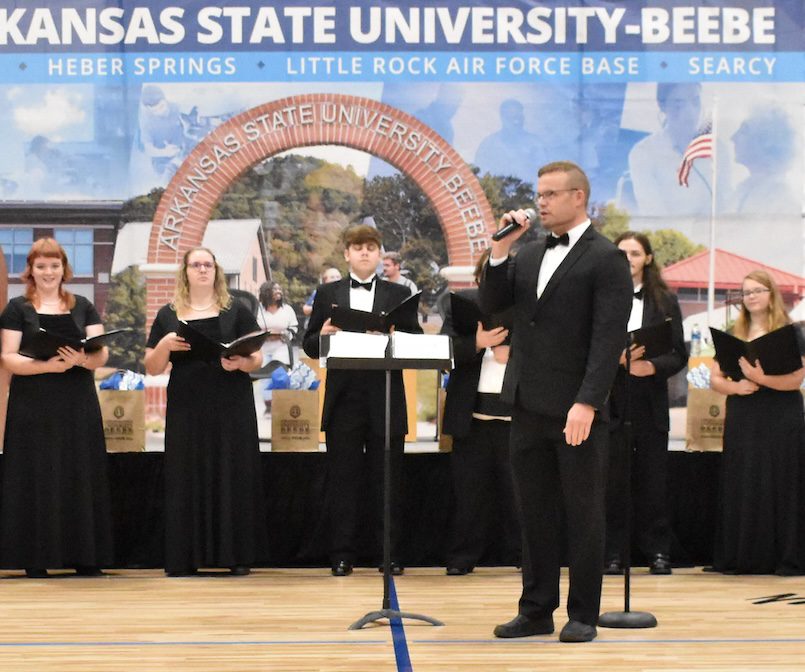 The concert is free and open to the public. The Owen Center is located on the ASU-Beebe campus at 1102 West College Street.
The choral groups are under the direction of Jeffrey Thames, instructor of choral music. Members include Lexi Anderson from Jonesboro; Emma Bertram from Morrilton; Bradlee Burroughs from Beebe; Kaylee Collins from Cabot; Clarissa Cook from Beebe; Ebony DeGree from Austin; Reagan Dykes from Cabot; Avery Foard from Cabot; Bricen Green from Heber Springs; Jennifer Hawks from San Antonio, Texas; Na'Shawn Jackson from Searcy; Patrick Kordsmeier from Ward; Avery Litton from Greenbrier; Savannah Newberry from Heber Springs; Allie Pruett from Cabot; Alejandro Seaton from Gravel Ridge; Madison Siler from Bald Knob; Coralyn Taylor from Beebe; Blake Watson from Floyd; and Kinley Wilson from Searcy.
The program will include selections from classic and modern repertoires. Selections are "Through All Things" by Stephen Paulus; "The Night Has a Thousand Eyes" by Jean Berger; "The Seal Lullaby" by Eric Whitacre; "Mid the Oak Trees" by Zoltan Kodaly; "Abschiedslied der Zugvogel" by Felix Mendelssohn; "Set Me As a Seal" by Rene Clausen; "All My Trials" by Norman Luboff; "Chindia" by Alexandru Pascanu; and "In The Still Of The Nite" arranged by Ed Lojeski.
ASU-Beebe is the only two-year college in central Arkansas that offers an Associate of Fine Arts (AFA) degree. The AFA degree has an emphasis in vocal music or instrumental music, theater, graphic design or creative arts enterprise. This degree is a comprehensive two-year curriculum designed specifically for transfer toward a Bachelor of Fine Arts degree.
For more information about ASU-Beebe programs, call (501) 882-3600 or visit the website at www.asub.edu.
Arkansas State University-Beebe is an operationally separate, two-year institution of the Arkansas State University System. ASU-Beebe offers associate degrees, certificates and non-credit training for business and industry with campuses located in Beebe, Heber Springs, Searcy, Little Rock Air Force Base and online.