10 Jan

Arkansas Heroes of Donation honored at The Rose Parade on New Year's Day

LITTLE ROCK – The 2022 Donate Life Rose Parade float included roses in memory of 826 Arkansas Heroes of Donation who were willing to give the gift of life in 2020 through the donation of organs, tissue and eyes.

The Donate Life float in the annual New Year's Day celebration has been a tradition since 2004.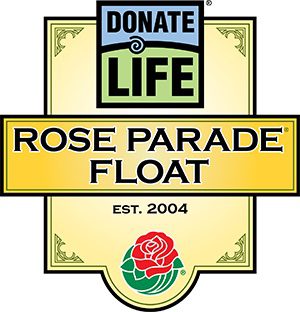 The float theme for this year was Courage to Hope. A rendering of the 2022 float is available for download at the link below.
Recognition of Arkansas Heroes of Donation included all 2020 donors, in addition to willing
donors for whom recovery could not take place. Each had a rose placed on the float in his or her honor. Each rose only included the individual's first name in order to protect the privacy of the donor and donor family. Donor families, however, had the option to personalize the dedication to include as much information as they chose.
"One thing I personally love about the dedicated roses is that each rose dedication is read aloud by volunteer decorators before the rose is placed on the float. Volunteers include donor family members, organ and tissue recipients, and healthcare professionals from across the country," said Beth Cameron, manager of family aftercare services at ARORA, the state's largest organ, tissue and eye recovery agency. "It is really amazing to see the reverence and honor every single donor represented is given as thousands of roses are added to the float."
There are more than 100,000 Americans waiting for an organ transplant, and 300 of those are Arkansans. More donation facts can be found here:
https://donatelifefloat.org/docs/Facts_About_Donation_and_Transplantation.pdf
"The Rose Parade recognition is always a special time for our organization and our donor family community," said Audrey Coleman, director of communications for ARORA. "We are incredibly grateful for Donate Life America's continued commitment to honoring the legacy of our generous donors, while also bringing the need for organ, tissue and eye donor registration to the forefront at a national level."
The Rose Parade took place Jan. 1 in Pasadena, California, and was televised on NBC and ABC.
ARORA was established in 1987 as a nonprofit, independent organ procurement agency.
Serving 64 counties across the state, ARORA is headquartered in Little Rock and has a satellite office in northwest Arkansas. ARORA's mission is to restore lives through the recovery of organs and tissues for transplant.
Donate Life America is a 501(c)3 nonprofit alliance of national organizations and state teams across the United States committed to increasing organ, eye and tissue donation. Donate Life America manages and promotes the national brand for donation, Donate Life, and assists Donate Life State Teams and national partners in facilitating high-performing donor registries; developing and executing effective multimedia donor education programs; and motivating the American public to register now as organ, tissue and eye donors.