28 Oct 2020

Apply for a chance at Arkansas's largest trophy fish in 2021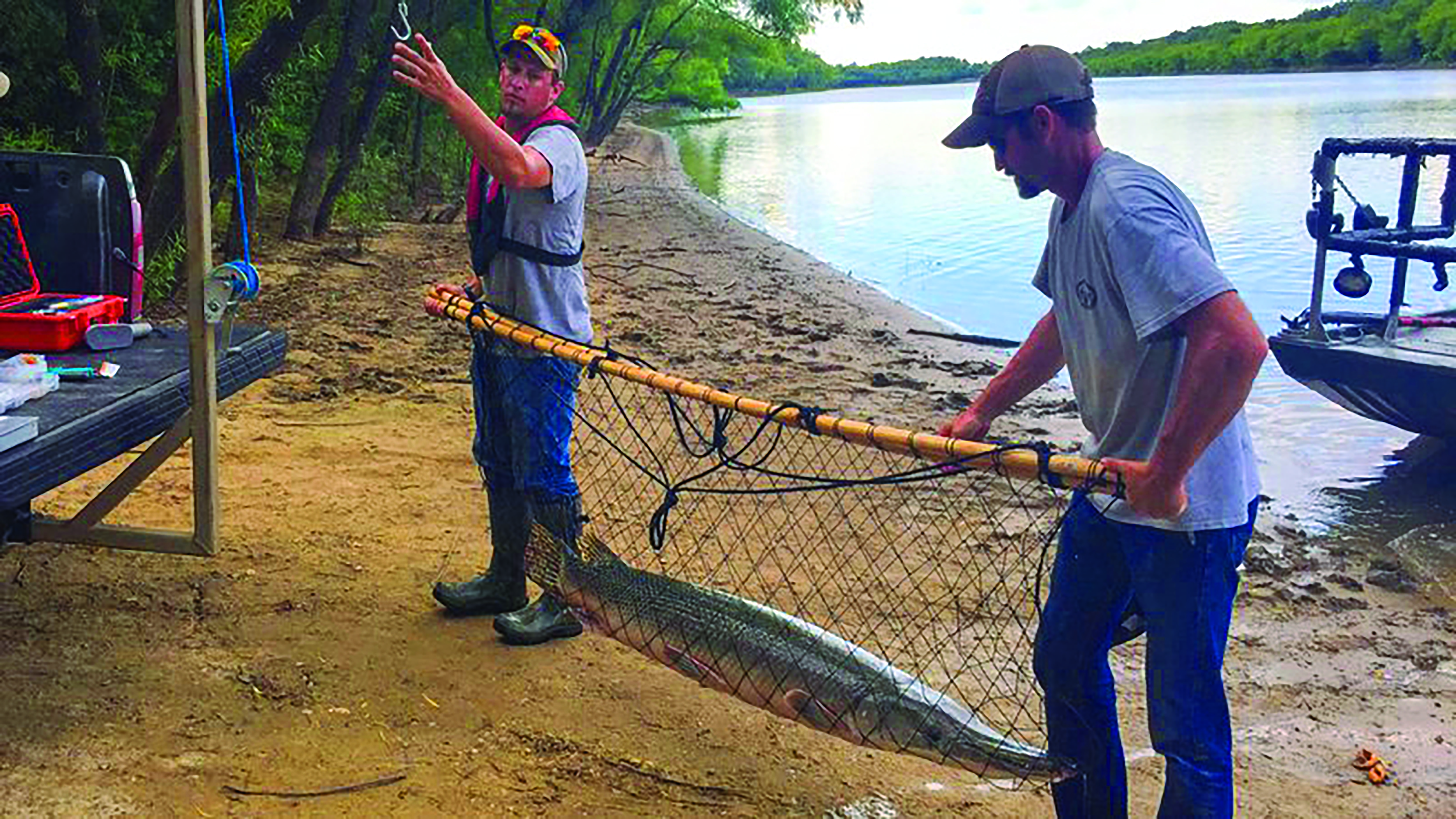 by Randy Zellers, Asst. Chief of Communications 
LITTLE ROCK – The application period to catch and keep a trophy-size Arkansas alligator gar opens Nov. 1 and closes Dec. 31. Only 100 tags will be awarded for the 2021 calendar year. This tag is required to harvest an alligator gar larger than 36 inches.
A 10-pound bass or 3-pound crappie might be a bucket-list catch for many Arkansas anglers, but their size pales in comparison to Arkansas's largest fish species. Alligator gar are the second largest species of freshwater fish in North America. They frequently grow longer than 7 feet and weigh more than 200 pounds. The largest fish ever caught in Arkansas was an alligator gar in the Red River that weighed 241 pounds, over 100 pounds more than the next largest Arkansas catch, a 118-pound paddlefish caught by James C. Johnson in Beaver Lake earlier this year.
But all alligator gar longer than 36 inches must be released immediately back to the water unless you possess one of 100 alligator gar tags issued this year.
Eric Brinkman is the fisheries supervisor at the Arkansas Game and Fish Commission's Hope Regional Office and lead biologist on the AGFC's Alligator Gar Management Team. He has led the charge for research of this prehistoric fish species for 8 of his 12-year career and has worked with alligator gar since 2005, studying them in graduate school.
"Alligator gar are a very long-lived species," Brinkman said. "Trophy-size gar can be 20 to 60 years old and are critical to the species' survival. It takes more than a decade for females to become sexually mature, and we need to protect these fish so they may spawn the next generation."
Loss of spawning ground is one issue the alligator gar faces. With larger rivers being dammed and channelized for navigation and commerce, many of the species' historical spawning areas have been altered, making it impossible for some gar to produce offspring. Biologists work every year to identify remaining spawning areas and evaluate remaining populations of the fish.
"Alligator gar once held some status as an angling trophy in Arkansas, especially in the White River," Brinkman said. "But overharvest, combined with loss of spawning habitat and killing of gar by anglers who incorrectly labeled the species as a predator of sport fish decimated that population. We want to offer fishermen the opportunity to enjoy this resource, but we also must maintain a healthy population of the species where it still exists."
Anyone may fish for alligator gar on a catch-and-release basis, but anglers interested in keeping a trophy gar in 2021 must enter a free online drawing Nov. 1-Dec. 31 for one of 100 Alligator Gar Trophy tags. Applications are available under the "Fishing License" section of the AGFC's online license system at https://ar-web.s3licensing.com. The drawing will occur Jan. 2, 2020. Applicants will be notified of the results by email. They will then need to return to the licensing site to claim their tag. Each tag allows the holder to harvest one alligator gar longer than 36 inches from snout to tail during the open fishing season (closed May 1-July 15). An Alligator Gar Permit (a separate permit required for anglers pursuing alligator gar of any size) is no longer required for alligator gar fishing or to apply for an Alligator Gar Trophy Tag.
CLICK HERE TO BEGIN YOUR APPLICATION