30 Jun 2022

An Arkansas state parks grand adventure, Part 1

Story and photos by Linda Henderson

So, how do you fill the time of a man who must be busy, but still needs time to heal and recover from shoulder surgery? You start the "visit all of the Arkansas state parks while Jim recovers from shoulder surgery tour." We set a goal to visit all 52 in three months, and we achieved that goal in only two months and five days. We drove over 33 rivers and visited all 75 Arkansas counties. I am not sure how many miles we drove, but I am sure it was well over 3,000. You see, my husband loves to drive and found the seats in our four-runner to be very therapeutic.

Our adventure started with acquiring a copy of the Arkansas State Park Guide and an Arkansas State Park Passport. We used the guide and a state map to plan our trips. Our passport stamps and a photo of each park's decorative sign served as our record of our visit.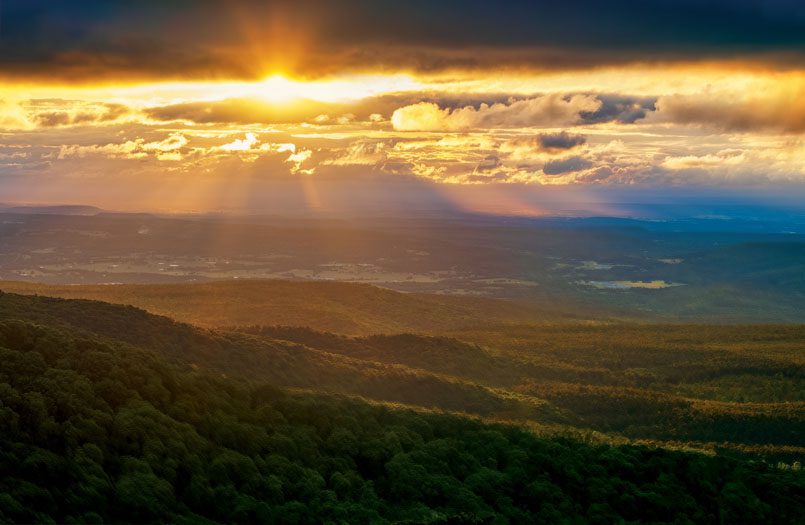 For years, visiting all of Arkansas's state parks had been on our bucket list, but we had never had the time to visit all of them. Each park is unique, and all are free to visit. According to the Arkansas State Park Guide, the system comprises 52 parks on 54,400 acres with 1,800 campsites, 208 cabins, and five lodges. Our system serves more than 8 million visitors every year.
As we visited all the parks, we started to realize that there were three themes to them: scenic nature, history, and outdoor sports. Even though we did not spend a lot of time at each park, we did take the time to tour each Visitor Center and drive or walk through the park. Most have Visitor Centers, which have exhibits that present the story of that park.
There is no way to cover our trips in one article, so over the next three months I am going to write about our parks by the themes that we found as we visited each one. These themes were strictly our categorizations and nothing that you will find in the Arkansas State Park Guide.
We found 13 parks that we consider scenic nature parks: Petit Jean, Pinnacle Mountain, Woolly Hollow, Mammoth Springs, Cossatot River, Crater of Diamonds, Logoly, Queen Wilhelmina, South Arkansas Arboretum, Devil's Den, Mount Magazine, Mount Nebo, and Withrow Springs.
We started our tour with what we called "The Four Sister Parks:" Petit Jean, Mount Nebo, Mount Magazine, and Queen Wilhelmina. All four have lodges that offer first-class accommodation to a rustic mountain inn. All have grand sunrise and sunset overlooks. All four are built on flat-top mountains. The parks are nestled between the Ouachita and Ozark Mountain ranges. All grace the western side of our state. Three are surrounded by lakes and above the winding Arkansas River Valley. An interesting fact: From Petit Jean's Red Bluff drive, you can see Mount Nebo, and from Mount Nebo, you can see Mount Magazine.
Petit Jean is located west of Morrilton and was Arkansas's first state park. It was established in 1923. The park offers hiking trails along streams, down into canyons, atop mountainsides, across massive turtle rocks, a 95-foot waterfall, and historical 1930s-era architecture built by the CCC (Civilian Conservation Corp).
Mount Nebo is west of Dardanelle and has camping sites with spectacular views. The sites are positioned along the mountain bluff, allowing for views below into the surrounding towns of Russellville and Dardanelle.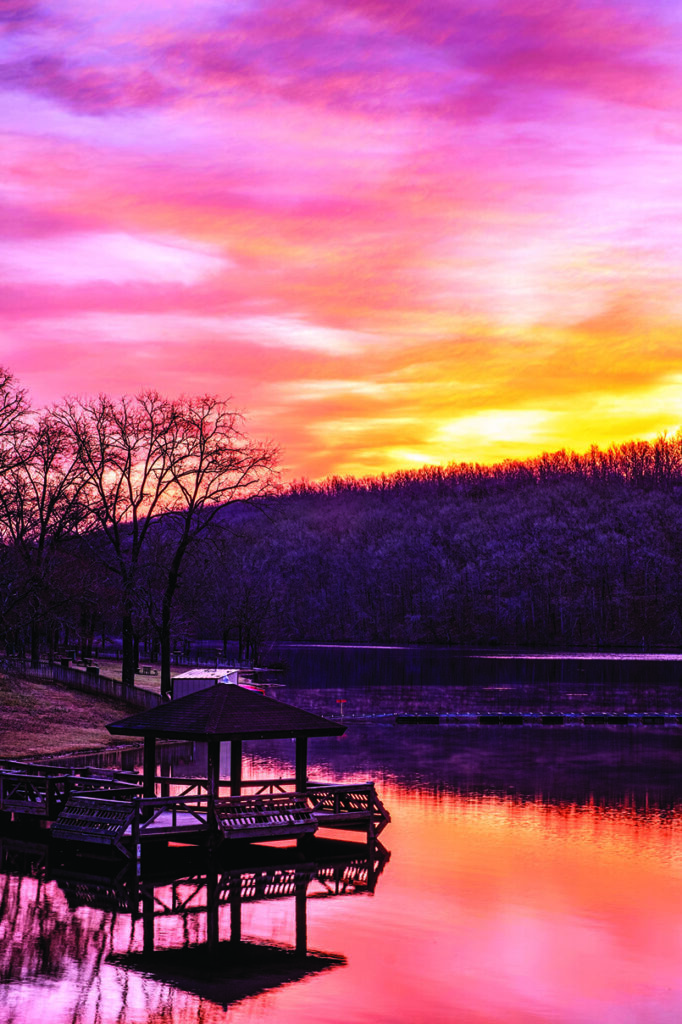 Mount Magazine is west of Paris. It is the highest point in Arkansas (2,753 feet). It is known for being a butterfly habitat and hosts the annual Mount Magazine International Butterfly Festival. The lodge has panoramic views of the Arkansas River Valley and 60 miles of wilderness hiking trails.
Queen Wilhelmina is north of Mena. The park is atop Rich Mountain, the second highest peak in Arkansas. The park is situated on the Talimena Scenic Drive, which runs across the Ouachita Mountains from Mena into Oklahoma. A lodge with panoramic mountain views sits high above the deep canyons on the western edge of the state. The park features camping, hiking, a 2-mile miniature railroad track, and train.
In the southwest region of the state is the Cossatot River State Park. This park is a wilderness beauty extending along the wild and free-flowing Cossatot River. The river is best known for its white-water rapids which are considered the toughest white water between the Smokies and the Rockies. The river's rapids are for experienced white-water rafters, but according to park's staff, there are plenty of slow-running swimming holes for tubing.
Mammoth Springs State Park sits atop one of the world's largest springs. The spring has an average daily flow of more than 216 million gallons. The park is only 497 feet from the Missouri state line. It features the remnant of a mill, a hydroelectric plant, an 1886 train depot, and a museum presenting the history of Mammoth Springs.
South Arkansas Arboretum State Park is in El Dorado. The park is a 12-acre wooded site that features a walking trail planted with native and exotic plants. During our spring visit, the park's azaleas and dogwood trees were in full bloom and the paths were a peaceful place for a leisurely walk.
Crater of Diamonds State Park is among the pine forests of Southwest Arkansas. It is the only diamond mine in the world that is open to the public with a finders-keepers policy. For a small fee, visitors can dig for diamonds in a 37-acre plowed field that is an eroded volcanic crater. More than 32,750 diamonds have been found by visitors since the state purchased the park in 1971. The average diamonds found at the park are the size of a match head, but several diamonds every year weighing over a carat have been found by park's diggers. Along with diamonds, other semi-precious gems have been found at the park. The Visitors Center houses a museum that features the mine's history of ownership, diamond mining techniques, and history of the surrounding area. During the summer months, there is a water park where you can cool off after digging for gems. Hiking trails and picnic areas are available.
We were there during spring break season. The parking lot was overflowing with license plates from the surrounding states as well as 25 other states.
Logoly State Park is not one of the better-known parks in the system. The park is located not far from Magnolia. It is Arkansas' first environmental education park and its natural resources include a mineral spring, unique plant species, and an old growth forest.
Pinnacle Mountain in Little Rock is a woodland oasis in the middle of Arkansas's largest metro area. This park is day use only but boasts the best views of the Arkansas River as it rolls through Central Arkansas.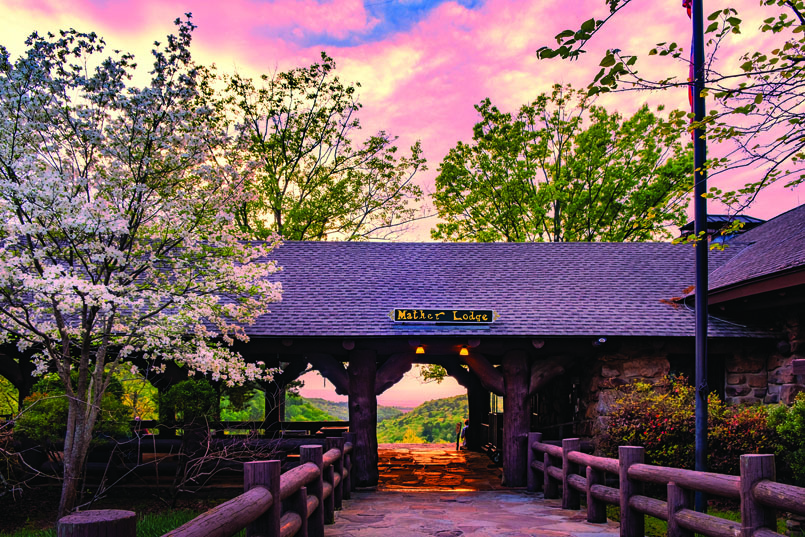 Woolly Hollow State Park is northeast of Greenbrier. The park is built around Lake Bennett, a 1930s Soil Conservation Services' watershed lake. The park may be small, but it has more than 250,000 visitors every year and some of the best Central Arkansas camping, hiking, and biking, and there is an 1882 one-room family homestead that history buffs will love.
Devil's Den State Park is in Northwest Arkansas near West Fork. The park was built around 1930s North Arkansas icon the Lee Creek Valley. The CCC built rustic-styled cabins and trails among the woods, boulders, and creeks at the site. The park has unique rock formations, caverns, and a rock dam that spans Lee Creek and forms Lake Devil.
Withrow Springs State Park near Huntsville is a delightful green gem located in a canyon surrounded by limestone bluffs along the War Eagle Creek. At the time of our visit, the canyon was filled with hundreds of blooming red buds, dogwoods, and early blooming wildflowers. It is a beautiful location in the heart of the Ozarks.
Without a doubt, there are plenty of places to escape and enjoy our beautiful state.
Next month, I will present the historical parks where we can learn about Arkansas's geographical and cultural history, the state's Native American people, and Arkansas in the 20th century.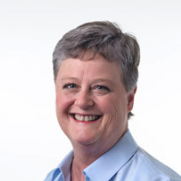 Latest posts by Linda Henderson
(see all)