30 Mar 2021

America's first national river the Buffalo

By Linda Henderson

I am so excited about this month's theme – day trips and vacationing in the Natural State. Most of my photography and day trips are within the 501, but occasionally, we head out of the 501 and visit the Buffalo River area.

In 1972, Congress established the Buffalo National River as America's first national river. President Richard M. Nixon signed Public Law 92–237 to put the river under the protection of the National Park Service. The congressional act did so for "The purposes of conserving and interpreting an area containing unique scenic and scientific features and preserving as a free–flowing stream an important segment of the Buffalo River in Arkansas for the benefit and enjoyment of present and future generations."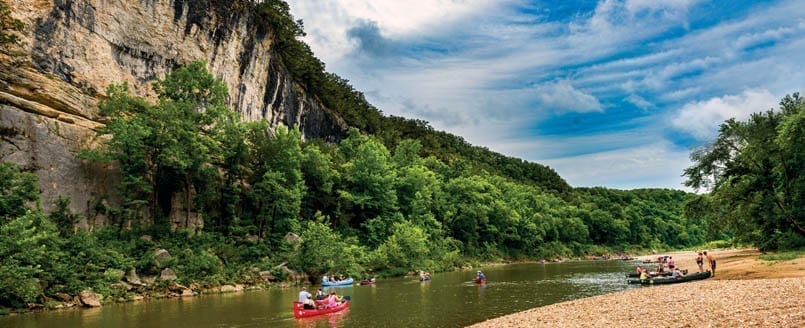 The national river boundaries are managed by the National Parks Service. The park encompasses 135 miles of the 150–mile–long river of free–flowing water. The river runs through Newton, Searcy, Marion, and Baxter counties. The Buffalo National River Park has a total of 94,293 acres. The park is divided into three sections—the Upper Buffalo Wilderness Area, the Ponca Wilderness Area, and the Lower Buffalo Wilderness Area. The park has more than 800,000 visitors a year, and activities include floating, horseback riding, camping, wildlife viewing, and wilderness and trail hiking.
The upper Buffalo originates in the Boston Mountains of Northwest Arkansas near the Boxley Valley Bridge and flows east toward the Ozark Mountains. The lower river merges into the White River at Buffalo City in Baxter County.
The river flows beside multi–colored bluffs towering more than 400 feet. The bluffs are made up of eroded sandstone, limestone, and dolomite. There are numerous rainfall pour–offs, caves, cliffs, sinkholes, waterfalls, springs, and rock formations along the river. The upper river is also home to free–ranging Rocky Mountain elk herds. Other wildlife that makes its home in the Buffalo area includes endangered bat populations, beavers, raccoon, deer, river otters, eagles, and black bears. Smallmouth bass, perch, and catfish can be found in the river.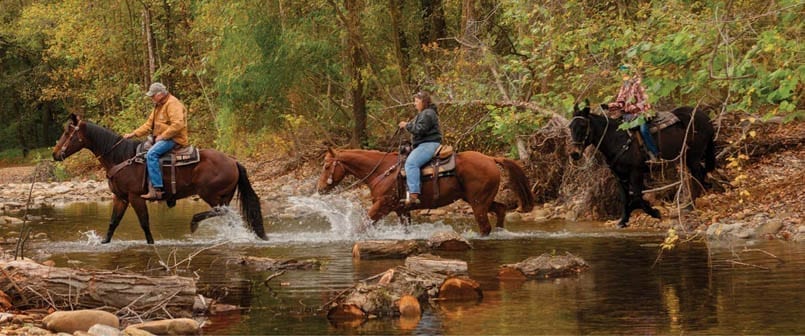 Along with the natural features, Buffalo National River Park has historical sites that tell the cultural history of the river's peoples. These sites contain historic farmsteads, grist mill, cabins built by early Arkansas settlers, old mining villages, pioneer cemeteries, and Civilian Conservation Corps structures.
When people ask me where to go in Arkansas to take pictures, I frequently recommend the Buffalo River area. I am always amazed when they tell me they have never visited the park. So, if you have never visited the area, take a little day trip or a vacation to one of Arkansas' most beautiful areas. Enjoy a canoe float down the river, take a hike, view the elk, or learn and experience the history of the area.
The river is truly an Arkansas state treasure. In the words of native son songwriter Jimmy Driftwood, the Buffalo River is "Arkansas's gift to the nation, America's gift to the world."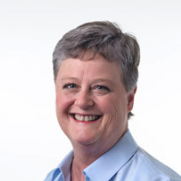 Latest posts by Linda Henderson
(see all)