25 Jan

A love of music: UCA student finds success with trombone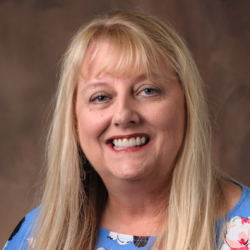 Co-owner of 501 Advertising and Publishing/Publisher of 501 LIFE. A native of New Iberia, La., Sonja is a graduate of Hartman High School (Johnson County) and Ouachita Baptist University in Arkadelphia. Sonja is active in the community, serving on various boards and committees including the Conway Regional Women's Council, the UCA Reynolds Community Council and the Faulkner County Council on Aging. A daughter of Mary and Stan Clinesmith of Conway, she has three younger sisters, Tricia, Stacey and Lori. Sonja and her husband, Tom, have four grown children – James, Emily, Laura and Joe. The family attends Grace United Methodist Church in Conway.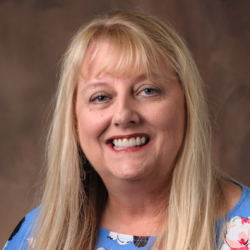 Latest posts by Sonja Keith (see all)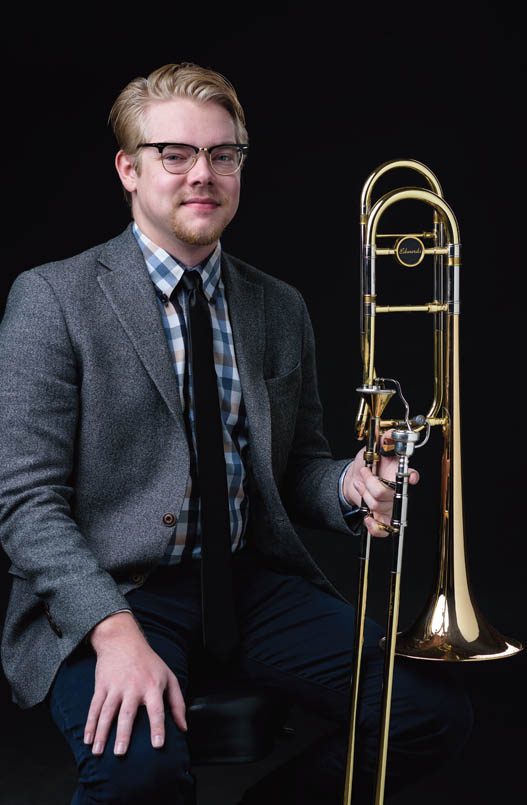 by Sonja J. Keith
University of Central Arkansas senior Paden Sharp didn't let a bad note in the sixth grade steer him away from a promising career in music.
Paden, 22, is a son of Carey and Gail Sharp. A 2015 graduate of Conway High School, he grew up around music, in his family and at church.
"My grandmother was this great church pianist. I remember going to church (in Plumerville) with my grandad and seeing her play there," he said. "Curiously, my mother, who has no formal training, has a lot of innate ability. I remember growing up around the house, she would just whistle tunes. Over time, I noticed she would never change the key."
It was later in life that he appreciated how much music he grew up around and that it could lead to a career.
When the time came around for Conway fifth-graders to try out band and orchestra instruments, Paden was certain he was destined to be a saxophone player. "I just thought it was really cool. I had sort of gotten interested in jazz at that point, so the saxophone seemed like the way to go," he said. "I made one sound on the instrument, and it was awful and I put that away. It was like 'I don't want anything to do with it.'"
Next, his mind settled on the cello, but band director Krista Spainhour suggested he consider a brass instrument. "She said, 'Come here, you have long arms. Pick up a trombone.' That's really the only standard at that age," Paden said with a laugh. "I picked it up and blew in to it, and she said, 'Oh, you'll be an All Stater.' I told her I didn't know about that."
Paden said it wasn't a moment where he considered that he would be playing the trombone the rest of his life but was willing to see how it would go.
During the second semester of sixth grade, Paden was making good progress with the trombone when he began taking lessons with band director Todd Johnson.
"It was a gradual process. I had success pretty early on, but I really didn't know what to do with it, to be quite frank," he said. "As time went on, my thoughts were more that maybe I could do something with this. It was during my sophomore or junior year that I thought about doing this for the rest of my life."
During All Region band competitions, Paden scored near the top, but he didn't recognize his potential. "I didn't realize where I was musically." He said Dixie Band Camp at UCA during the summer played an important role. In the high school band, he was named All State and played in the honor band. He also had success playing in the school orchestra.
Early on, playing the trombone came naturally for Paden and he didn't practice much. "At that point, it really wasn't something I was taking that seriously," he said. "Once I hit high school, it was the big leagues. Especially my sophomore year, I was thinking I have to practice so much because I just want to be successful in this."
At UCA, he studies trombone with Dr. Justin Cook. On a normal school day, he will practice three to four hours in addition to rehearsals.
Paden originally thought he might want to be a high school band director. "I didn't really know what that meant," he said, adding that when he started school at UCA he considered that he might want to teach on the college level. "As time went on, I decided I didn't really want to teach, but I liked to play in an orchestra."
Paden said he thinks some students go to college thinking they want to be a band director and nothing else. "They come to college and realize there are so many other things you can do with music." As an example, Paden has a friend who is majoring in music at UCA and is planning to go to graduate school to pursue a career in recording technology.
"There are so many different facets you can pursue in music, and I don't think that's fully realized until you're in that environment."
Paden's success on the trombone has continued through college. He plays the tenor, alto and bass trombones. "I'm also taking euphonium lessons to be able to play anything I may need in the orchestral world."
Paden said he likes most the versatility of the trombone. "I feel like the trombone is capable of a lot more than what composers in the 18th century thought we were, especially in early Romantic works," he said. "Trombones were more or less used for effect and filling out the texture in the more intense and loud moments. As time has progressed, there are a lot more instances where trombones are capable of a lot of resonance and very intimate moments in the orchestra."
In the fall of 2017, Paden began playing with the Conway Symphony Orchestra, an experience he has enjoyed.
In May, Paden will receive his bachelor's degree in music in trombone performance. He feels that UCA has prepared him for the next chapter in his life and considers the experience "unmatched."
"Within the last five years, UCA has become a very formidable music school and from the looks of it, that's only going to continue in the coming years."
Paden said he has enjoyed the support, interaction and camaraderie among his fellow musicians at UCA. "Especially in the Trombone Studio, everyone understands that everyone is there to learn and to get better. No one has anything over anybody," he said. "There are very few places in the nation that you can find that kind of culture. I feel like that speaks to the level of success the Trombone Studio has."
Next, he plans to attend graduate school and is considering programs at the University of the Arts Bern in Switzerland, the Amsterdam Conservatory, Northwestern University in Illinois, Juilliard School in New York City and Columbus State University in Georgia. Auditions are this spring. Ultimately, Paden would like to earn his doctorate.
Switzerland is at the top of the list for graduate school. "It's an amazing countryside, and it's such a thriving arts country. There is so much to do musically."
Paden sometimes thinks back to that 11-year-old who considered the saxophone and cello before trying out the trombone. "It is a good thing that the saxophone didn't work out when he was younger. I don't think I would've been nearly as successful on saxophone….I don't think I would have been led to do music if I had picked the cello or the saxophone.
"It was a very gradual thing but over time, I just sort of fell in love with it….I just want to keep getting better at it."