20 Aug 2019

A heart for others: City pays tribute to Candy Jones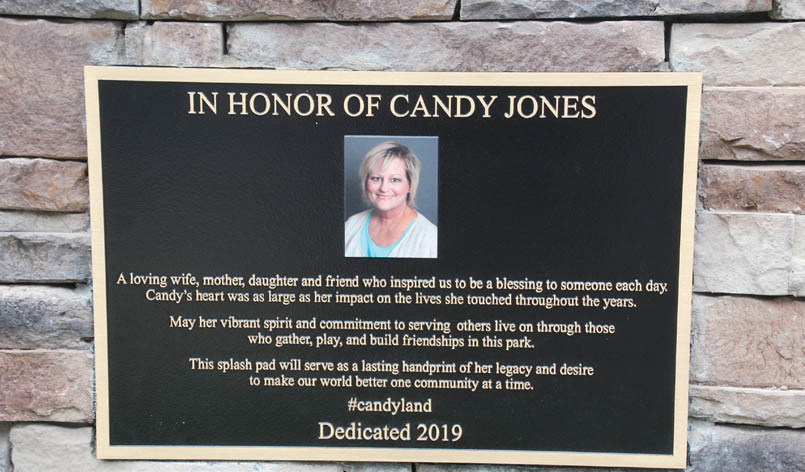 by Sonja J. Keith
The City of Conway recently paid tribute to the late Candy Jones at a place that she loved and a location that she helped make possible – the splash pad at Laurel Park.
Candy died on May 2 after a long, courageous battle with cancer. She was 57.
Family, friends and co-workers gathered at the park for the ceremony that honored Candy with a special plaque at the splash pad.
Candy served for about two and a half years as a grant administrator for the City of Conway. She was particularly close to three of her co-workers: Kiera Oluokun, assistant to the mayor for community development; Felicia Rogers, executive assistant to the mayor; and Jamie Brice, procurement manager. The four spent a lot of time together, working at City Hall and attending community events like ribbon-cuttings and groundbreakings.
"When Candy first started working for the City; we instantly clicked. It was if I had known her all my life," said Felicia. "With the addition of Candy and Kiera, it seemed as if everything had aligned for myself, Jamie, Candy and Kiera to be fast friends and a great working team."
The three offered a few words to describe their friend and co-worker: strong, courageous, energetic, passionate and full of life.
The three pointed out that Candy loved her community and that she was always evaluating the needs of the city and seeking out financial support to address those needs. 
Kiera said Candy had a wide circle of friends and acquaintances, not only in Conway but throughout the state. "She knew everybody," she said. "She was a wealth of knowledge about grants."
"Candy worked hard to ensure that she always assisted everyone, but especially me," said Felicia. "It took me a minute to get used to her 'I am going to help you, even if you don't want it' attitude, but over time I realized that I did need the help and I appreciated it. As a team, we go out of our way to help each other and Candy led that effort." 
Candy was involved in grant-writing for "many" city projects, including the pedestrian overpass on Dave Ward Drive and the first grant for the city's bike/walking trail. Jamie said the financial support that Candy generated for the city was "in the millions" of dollars.
Mayor Bart Castleberry said Candy made a difference in many ways. "During our recent flood on the Arkansas River, I recalled the very first task that Candy tackled. Little did we know the impact it would have. 
"A property owner along the river contacted me in early 2017 during a high water event. Water was on the levee but the river had crested well below the top of the levee. However, after he called, I met with him and about 90 feet of property had washed into the river. As we were speaking, large old oak trees and large areas of dirt were falling in and washing away. The next day another 50 feet had washed out. 
"I asked Candy about the possibility of a grant to alleviate the problem. She said, "I have a contact at the Corps of Engineers; let me make a call." The next day, her contact met us at the site and agreed there was a problem. The individual made the necessary calls, and rock was immediately brought in to shore the area up. 
"Had Candy not made this contact and asked for help, I am convinced that area of the levee would have washed out during our recent flood as it was above and in an area of higher concentration than the breach we did have. She had contacts for every cause and she loved being able to make a difference. Never wanted any acknowledgement, just wanted the job done. An exceptional lady."
Despite her illness, Candy worked tirelessly to help others and rarely missed work, unless she was in the hospital. "She lived her life in full speed," said Kiera.
Kiera said Candy never talked about her illness. "She never said she was sick and never felt sorry for herself," Kiera said. "She wanted everyone to act like everything was fine."
Jamie said Candy would not park in a handicapped space, even though walking became difficult. She added that Candy had to be in the hospital before she missed a day of work. 
Kiera added that Candy did not want to be a burden and she thinks Candy found comfort in her work. "Her work gave her a sense of normalcy."
Felicia said the four shared a special friendship. "We were more than co-workers, we were friends. I believe that all things happen for a reason and that God chose us to share these last 2 ½ years together with her. She was a great friend and she will be missed. 
Jamie pointed out that on a typical day, there are probably 100 or so young people enjoying the splash pad at Laurel Park or the city's trail. Both are projects that Candy's work made possible. "She drove by the splash pad every day to see those kids," she said.
The three are pleased that the city honored Candy and her legacy with the plaque at the splash pad for their co-worker and friend. "She will always have a lasting footprint," Kiera said. 
"She loved Conway and loved her community. She was willing to work so hard to make it better," said Jamie. 
Candy's husband, Arch, expressed his appreciation to the city for the recognition. "This gesture deeply touches our family. We want to thank Mayor Castleberry, Candy's work family at the City of Conway, and the Conway community for the love and support we have received during this difficult time. 
"Candy dedicated her life and career to improving the quality of life in her beloved Conway. She was always thrilled by the festive environment that the splash pad has created."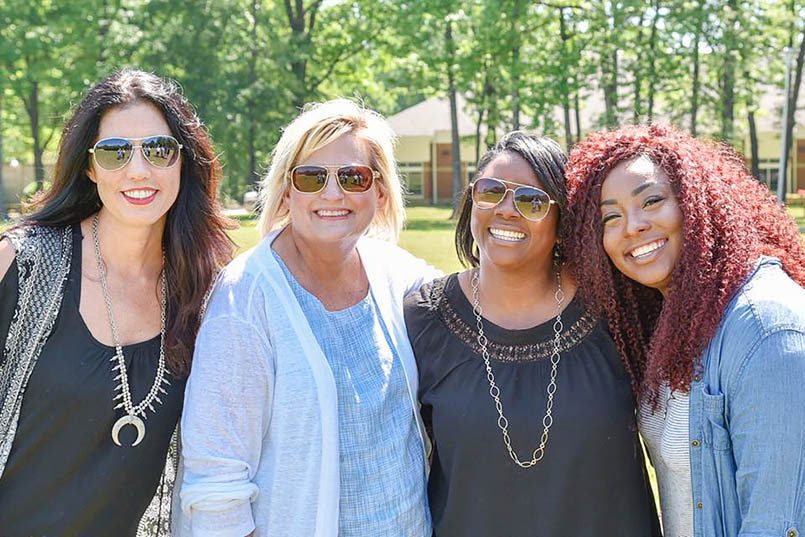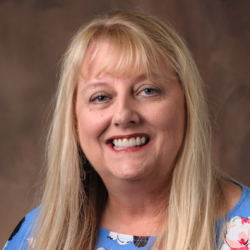 Latest posts by Sonja Keith
(see all)