21 Apr

A different perspective of the 501

Up to this point, all of my "Travel the 501" articles have been about the adventures that my husband, Jim, and I have had in the 501. This month, I want to feature a friend of mine, Tim Donar. He has just completed an extraordinary project that showcases the 52 Arkansas State Parks using drone photography.

Along with completing the task of visiting and photographing each of the 52 state parks, he has self-published a beautiful book highlighting each park. The book is compiled of large aerial photographs and a short introduction to the park.

Just visiting each park was a very time-consuming project, but being there at the perfect time to take a beautiful photograph required lots of photography knowledge and a little bit of luck. Tim expressed that presenting an aerial perspective of each park had been a long-term goal for him.

Tim is a solution engineer in the software group, a division of HP, for a data analytics product called Vertica. Responsibilities include programming and development of demos. Through data visualization and finding effective ways to communicate complex information to sales and customers, Tim has created a number of big data illustrated infographics for the product.

Tim grew up in California and moved to Arkansas to work for Acxiom and later HP. He lives with his family in Conway.

Tim took many different paths with photography. Aerial photography started with a large, radio-controlled balsa wood airplane he built in high school that carried a small 35mm camera. At the time, the camera could be controlled from the ground to trigger the shutter without any idea of framing and composition of each photo.

As soon as the plane landed, it was off to find a film processing lab and look at the photos. Model aviation continued to advance, as well as camera technology.

Tim started using digital cameras in the early 2000s and continued to refine his skills in landscape and architectural photography. Next, the drone revolution started to happen and was really a continuation of much more advanced radio-controlled airplanes and unique helicopters capable of using GPS technology for stabilization and positioning. Although some of the early drones were still far away from capturing the amazing photos we see today, they were still a learning process.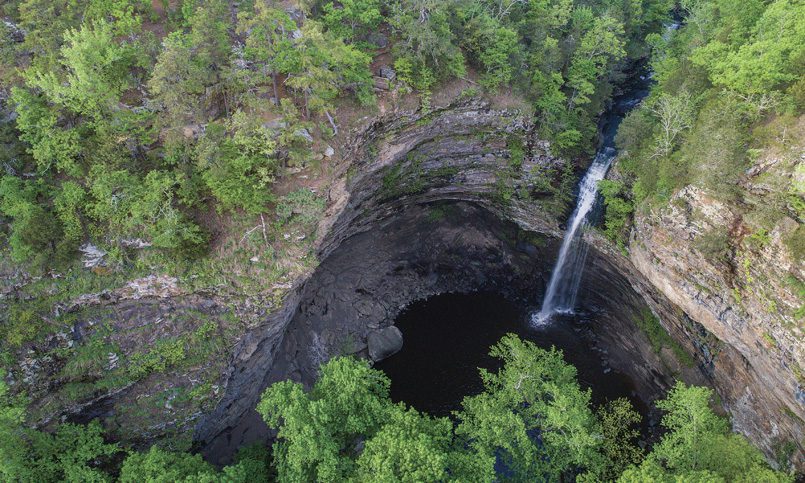 Petit Jean State Park in Conway County. (Tim Donar photos)
Next, Tim built a drone from a kit with German instructions and a lot of soldering along the way. This drone flew and captured good photos. The very early models of GoPro cameras without stabilization yielded interesting photos, but not really book production quality. Just a few years ago, the technology advanced to a point that made it possible to photograph high-quality images suitable for printing to a poster size and capable of going into a book.
At this point, Tim knew a project like photographing the state parks was possible. Technology had improved to a point it made a book project probable. The camera and drone platform advanced to a point that large, good quality images could be produced.
To obtain a permit to fly in each of the state parks, Tim had to secure a FAA small drone license and insurance. Then came the matter of completing paperwork with the state parks office and waiting to receive final approval.
This is the very first time any project like this was undertaken and resulted in a book covering all 52 of the Arkansas State Parks. The project started in April 2017 and was completed in October when the final files were sent off for printing.
One of the challenges was just the sheer amount of distance between all the different park locations, which often meant visiting some of the parks multiple times.
The weather is always a key factor in outdoor photography, and that is especially true for aerial photography. Along with scheduling time with each individual park, he had to work around special events to find the least busy time to work on photographing, often very early in the morning and sometimes late afternoon.
Before he started taking any photos, work began by talking to a print shop to understand standard book sizes and paper options. Tim did all the design, page layout and digital preparation before sending final documents for printing. Tim felt it was important to print this book in the U.S. because so many publications are sent off to China for printing. The value of this was a faster turnaround time and also the ability to drive and watch the first pages come off the printing press.
The book can be purchased online directly from Tim's website at upn7.com, at many of the Arkansas State Park gift shops and in Conway at Jenifer's Antiques and the UPS Store. In Little Rock, it is available at the State Capitol gift shop, WordsWorth Bookstore, Bedford Camera, Ozark Angler and other locations coming soon.
Tim's book has inspired me to have a goal of visiting each of the 52 state parks within the next two years. Arkansas parks are a treasure and a rich opportunity to enjoy our natural state.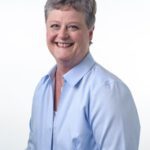 Linda Henderson
Linda Henderson is a lifelong resident of the 501. During the week, Linda is a registered nurse at the Conway Human Development Center. On the weekends, she and her husband, Jim, travel the 501 and other areas of Arkansas. Jim drives and hauls equipment. Linda takes photographs of Arkansas. During their travels, they have gained appreciation and love for The Natural State. They have found the 501 has so much to offer for weekend fun and beauty to photograph.