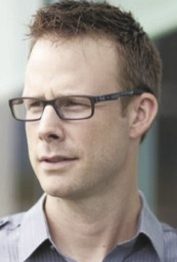 20 May 2013

A caught legacy

Posted at 7:13 PM

in

Faith

by Neil Greathouse


Growing up as a young elementary school kid, I never realized that it was odd to have a family member named Uncle Speedy or Aunt Toots.

And, yes, those are their real names as far as I can tell. (You just read back over this and snickered a little bit, didn't you?)


We aren't sure if my Grandpa Russ was the one who came up with all the nicknames, but those were some of his best picks by far. For as long as I can remember, Grandpa was a missionary in his spare time. He traveled to Russia, Egypt, Turkey and who knows where else. I just know that sitting in his living room watching four-hour slideshows of him smuggling Bibles on the Volga River in Russia was at times … a snooze fest.


Anyone needing Lunesta or that little butterfly in the commercials to fall asleep each night should come spend five minutes listening to the low hum of the Kodak Carousel clicking through picture after picture.


Grandpa's day job was as an electrician at Greathouse Electric, a family-owned business in St. Louis. My great-grandpa, great uncles and even my father grew up working there in some form or another. My dad taught me at an early age to respect electricity and never grab both wires with a G.I. Joe action figure like my older brother was fond of doing. That would explain a lot about my brother, but that's another column altogether.


I never aspired to be an electrician or a full-time missionary growing up. But after my first mission trip to Guatemala and then Honduras, Sri Lanka, Thailand and Rwanda, I realized that it's in my blood. I never went to school to study electrical engineering or how to wire a three-way switch … but I know how to do it. My dad let me lick a lot of 9 Volt batteries before he let me help him with rewiring the basement lights. It was never something I was pressured to do or a family business that I couldn't escape. No one ever taught me about overseas mission trips in a way that felt like I had to do it. I just watched my family do it … and that was enough.


There are times I catch myself laughing the way my dad does or saying some of the same things he screamed at us when we were kids. "That's why we can't have nice things!" has come out of my mouth a few times when our son drops a gallon of milk and everyone in the blast radius is getting their daily recommended dose of Vitamin D.


And, as much as I try to be my own person, I see the example that my family set before me and lived out. Maybe I learned what to do or maybe I observed what not to do. Like buying that Ford Country Squire faux wood paneled station wagon — please God in heaven, never let me own one of those.


My wife, Gina, and I will pass things on to our kids whether we plan on it or not — my inability to dunk a basketball despite my ridiculously muscular frame or the freakishly accurate straight line mowing technique that is what Greathouses are known for across the country or the ability to turn a child's crying to laughter by mimicking a face of a baboon and holding your breath until you turn blue or electrical intuition and taking the Gospel to another country to care for people the way Jesus did.


Because the legacy of who we are and where we come from isn't always something that's taught — but it's caught.


At least that's what Aunt Toots says.
---
Neil Greathouse is a pastor at New Life Church in Conway. He and his wife, Gina, have three kids. Neil can be reached at [email protected].