Apr 26, 2019

A blessing: Tiptoe enjoys 'job' at school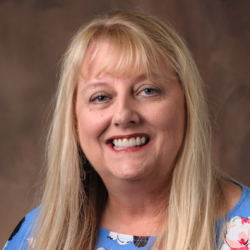 Latest posts by Sonja Keith
(see all)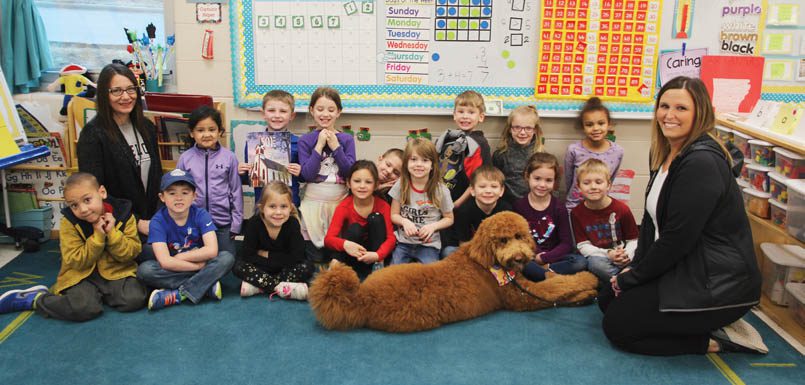 by Sonja J. Keith
Students at Anne Watson Elementary School near Bigelow have a new friend who is eager to greet them each school day. 
Principal Amy Jones and Tiptoe, a cute and lovable educational assistance dog, are stationed at the entrance every day to welcome students. "She stands with me every morning and we greet every kid as they get off the bus. They just light up when they see her," Jones said. "She gets a couple hundred hugs each morning.
"It's the favorite part of my day and probably hers too."
Jones was inspired to add an educational assistance dog at Anne Watson by other schools who have had success, including several in the Vilonia School District. In particular, she contacted Andy Pennington, principal at Frank Mitchell Intermediate School, to get his help.
When Jones approached the school district about Tiptoe, she discovered a policy for an educational assistance dog had to be written. After making the request for her school, East End School District Superintendent Lori Edgin and school board president Brandon Akridge accompanied her on a trip to Vilonia schools to see firsthand how an educational assistance dog works.
"I'm very passionate about this, and it's working." 
Tiptoe is a Golden Doodle who was named by students at the school. Jones and Tiptoe are working with trainer Kathie Ball of Ward, who operates Loving Dog Training. She meets Jones in Conway for training sessions. "She (Tiptoe) and I practice the skills," Jones said. "I get as much training as she does. I've learned so much in this process, way more than I ever thought."
Tiptoe has already completed several classes and learned a variety of skills. She has passed her Canine Good Citizen Test and will soon begin service animal training.
Jones said students sometimes have problems that they internalize and are reluctant to share with her or the school counselor. Tiptoe helps break down those barriers.
"It's amazing how they will pet the dog and open up," she said. "You never will be able to measure the impact."
At the school, Tiptoe has been used as a behavior incentive. For example, if a student having difficulties can turn their day around, they can visit Tiptoe in the principal's office at the end of the day. Older students can also earn an opportunity to help feed and care for Tiptoe. Teachers, too, have found it therapeutic to "love on her" for a minute or two.
"You just can't help but want to pet her and cuddle her."
Students are encouraged to pet Tiptoe with one hand so as not to interfere with other school instruction or activities. "She's not to be a distraction," Jones said. "We tell students to 'pet and walk' in the hall so we don't slow down the process of school. We've had to learn, but it's been good. They are all over her, and she loves it."
Tiptoe was 12 weeks old last fall when she started attending Anne Watson. Tiptoe's mom, Willow, was already the Jones Family pet. When Willow had puppies, Tiptoe was picked from the litter, with the idea that she would serve at the school. "I remember holding her as a puppy and thinking God has big plans for you, because I just felt strongly that this is what she was meant to do."
When she is not at school, Tiptoe is with the Jones Family.
Tiptoe seems eager to get to school to fulfill her role, according to Jones. "She hops in the car each morning," she said. "This is her job."
When she is not in a classroom or in the hall, Tiptoe is in the principal's office, ready to respond to a need. Jones said that Tiptoe loves being around the students so much that sometimes she will whine if she sees them in the hall. "She likes to be out with all of us."
Tiptoe has also been a hit with older students, when Jones has taken her to Bigelow High School for meetings or a recent pep rally. "She enjoys the attention and love."
Funding for Tiptoe has been raised through special events at the school, including two dances (one named a Fur Ball) and a pajama day. Jones pays for Tiptoe's food, with the money raised used for training, shots and other materials. Jones is also researching possible grants, and added that the school board did not want district funds used for Tiptoe.  
Hair of the Dog in Conway donates grooming services for Tiptoe, since she is associated with the school.
Jones has been pleased with how Tiptoe has interacted with students and staff in her first year at school, and how they have responded to her. "She has been such a blessing to our school," she said. "She's just amazing. We are already seeing so many positive results with our students."