12 May 2023

501Der Women 2023: Maria Weyrens

First Security Bank Assistant Vice President Maria Weyrens has never worked a single day in her role at First Security. According to her, when you love what you do, each day becomes a new opportunity to help someone else fulfill their dreams.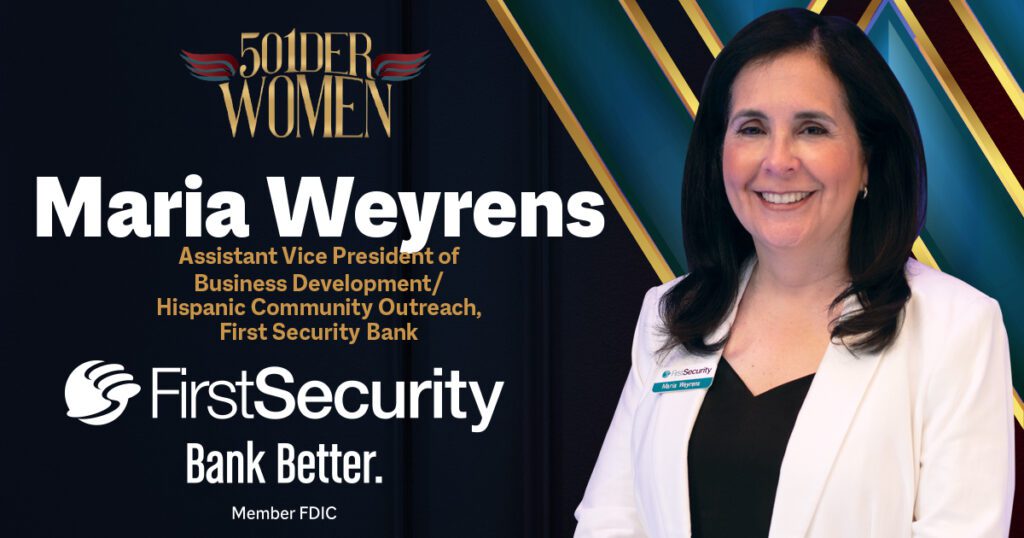 "My job and my volunteer work have enabled me to interact and establish very strong relationships in our community," Weyrens said. "I enjoy what I do because I get to interact with people and connect with the community on a daily basis. I get to meet new people and help them with their financial needs. It doesn't feel like work."
A Little Rock native for more than 23 years, Weyrens understands the needs of her fellow Arkansans. Learning their stories drove her to serve as a volunteer with multiple community service organizations. including Exalt Academy, Mama's Unidas, Paloma Community Services, Opportunity Matters and Vestido Rojo. By giving back to the community she calls home, she has built key partnerships to facilitate personal and professional growth across the 501. "Volunteering is the right thing to do, and it strengthens our community," Weyrens said. "Every one of these organizations has education in common. I feel that education is the key needed to achieve your goals."
Driven to help others soar to new heights, Weyrens believes in the power of young women today. "Be patient," Weyrens said. "Be bold. Don't be afraid of change. Stay true to your values and look for the right job that will help you be a better version of yourself as the years go by. Whatever you are, be the best. Nothing is impossible."
With a bright smile and a can-do attitude, Weyrens takes pride in advocating for the many citizens of the 501 and has not forgotten those who helped her become who she is today.
"There is not enough space to thank every woman who has helped me during my career," Weyrens said. "My mother, Marcelina; my sister, Laura; my mother-in-law, Virginia; and my daughter, Cynthia, have helped me reach my life and career goals. I've had the opportunity to develop great relationships with many strong women. It truly is a joy for me. Together, we are making the 501 a better place to live."
Contact Maria today at marí[email protected] or 501-541-5443.