12 May 2023

501Der Women 2023: Cheri Gosser

Ask any customer to describe their experience at Bare Skin Studio, and one of the first words you will hear is "comfort." That's thanks to entrepreneur and waxer Cheri Gosser, whose warm and kind personality immediately puts customers at ease. "I want my clients to have an easy, fun experience in the waxing studio and to know I am truly blessed to have them!" she said.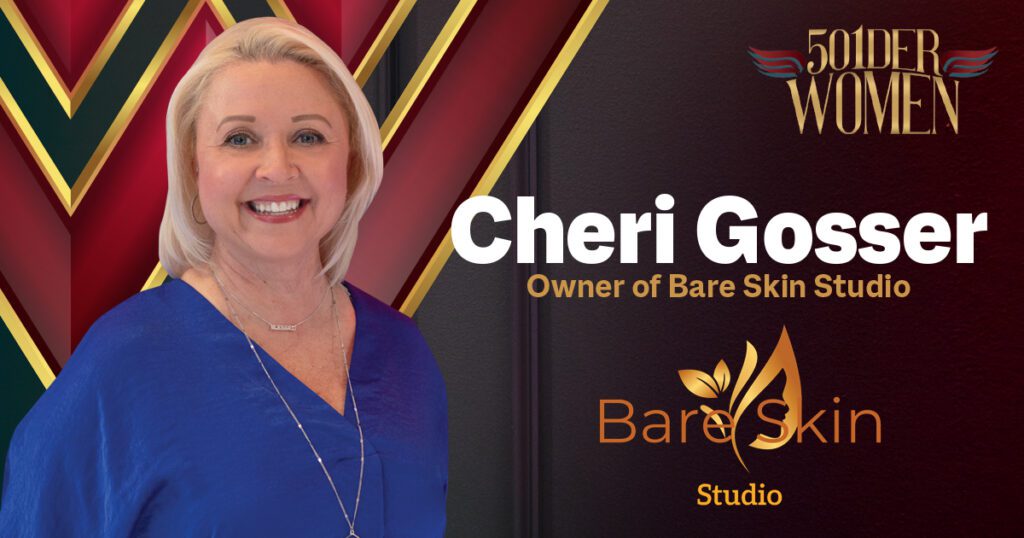 Cheri has worked in skin care for 29 years and opened her own company, Bare Skin Studio in Conway, last year. The new location offers a vibrant, inviting and relaxing atmosphere with full-service waxing options for both men and women. "Skin care is our priority," explains Cheri. "I desire to help my clients achieve fresh glowing skin by removing unwanted hair with a hard wax."
Hard wax is less painful than traditional soft wax and is gentler on the skin because it removes hair cleanly from the root. This also allows for sessions to be quick so customers can get back to their busy lives.
Cheri decided to run her very own studio because of the relationships she has made with clients in Central Arkansas. "I think this is what life is all about, relationships. I am amazed at all the nice and supportive people in this area. I have found a lot of people want to see me grow into a better me. This has created a desire to grow my business and plant my roots here. I listen to and care about each of their lives. If they need an ear or a prayer, I'm there," says Cheri.
One relationship that she is especially thankful for is Nina Baker. Nina was her mentor and Cheri considers her a Proverbs 31 Woman. "I was truly honored to meet Nina and her husband," she says. "She reminded me how kind people truly are!"
If you are looking to become one of those clients, Bare Skin Studio's user-friendly booking site makes it simple to set up an appointment. Clients can easily choose their own appointment times and confidentially set up any waxing services needed.
Learn more and book your own appointment at bareskinstudiowaxgirl.glossgenius.com or call 501.697.8993.