03 Oct 2012

501 Football Team – Austin a valuable asset for Eagles

by Mark Oliver


"I was very nervous and couldn't tell what was going on at first. I got ready like I normally would for a game — I started getting pumped up. When game time finally came, I acted like I was in practice playing against the guy I try to beat every day, just to get better, and that night, I played as hard as I could."


That was the first time that Conway Christian senior Matt Austin ever started in a high school football game. Today, many starts later, Austin is midway through his senior season with the Eagles, making many more memories with his teammates.


Austin, a 5-foot-9, 225-pound senior lineman for the Eagles (4-1, 2-0), is one of the 20 players named to the second annual 501 Football Team. 
The Eagles, 6-5 in 2011, were eliminated from the first round of the playoffs by McCrory, 62-43, and look on track in 2012 for not only their first conference championship since 2009, but also their first playoff win in school history at the AAA level. 


"Our No. 1 goal is to win conference and get to the playoffs again," Austin said. "We want to keep winning throughout the year. I've improved a lot. I expect myself to step up and make more defensive plays and not let my opponent slip by."


"He does an outstanding job at center," said Eagles Coach Michael Carter. "We are in shotgun 99 percent of the time. We must have a good snap in order for our offense to work. I expect him to be a great leader and lead by example."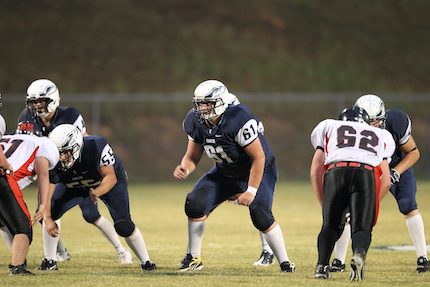 One game on the schedule that Austin looks forward to this year is a conference rematch with Quitman scheduled next week — the Eagles lost to the Bulldogs in an explosive 46-43 contest last year.

"We had a bad game against them last year," Austin said. "We had the lead the whole time and blew it. We can't wait to get back out there and play them again." 

A member of Fellowship of Christian Athletes, Austin is excited to try out for Drama Club and play baseball for the Eagles this upcoming season. However, nothing is more exciting to him than stepping out onto the field with his teammates for one final season. 

"Around here, it's all about Friday night," Austin said. "I love the environment we're in here. Football is the main sport here, and everyone loves it. I grew up watching football. I enjoy the hitting and the instant rush it gives you and the competition. I love football."