14 Nov

501 Football 2018 playoffs Week 2 preview

Twenty teams from the 501 remain in the hunt for football championships as the second round of playoff action kicks off Friday.

The Conway Wampus Cats took care of business at home last week over Rogers, 49-7. Conway travels to Bentonville West in the 7A quarterfinals. A year ago, Conway upset the Wolverines on the road. North Little Rock and Bryant both host this week after a bye. North Little Rock plays host to Ft. Smith Southside, and Bryant takes on Fayetteville.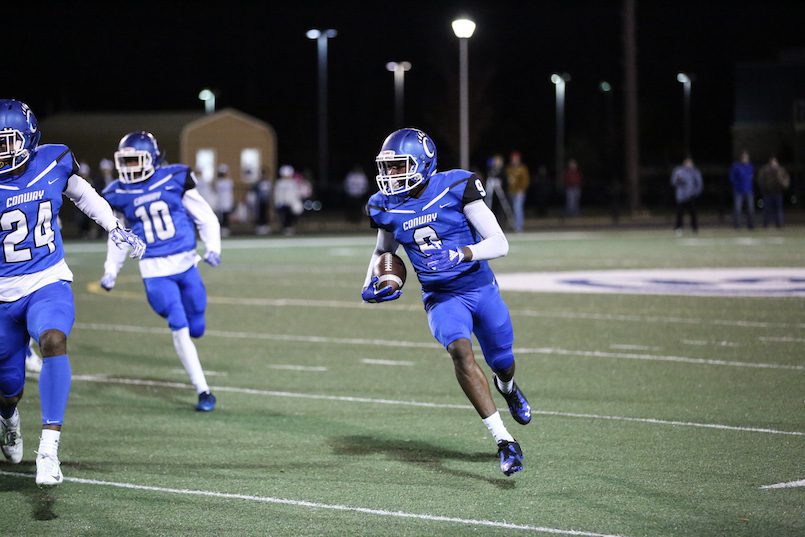 In the 6A quarterfinals, Searcy travels to Greenwood after outlasting Siloam Springs at home last week, 49-42. Sylvan Hills upset Russellville on the road, 31-29. The Bears head to Marion this week.
Four teams from the 501 are playing in 5A quarterfinals action this week. Morrilton makes the trek to Blytheville after holding off Parkview last Friday. Little Rock Christian travels to Texarkana, and McClellan and Pulaski Academy face off on the Bruins' home turf.
In the 4A, three 501 teams are on the road this week — Lonoke at Ozark, Heber Springs at Rivercrest and Bauxite at Nashville. Robinson plays host to Hamburg.
Mayflower showed again why it has the best offense in 3A (perhaps even the state) with a 60-22 beatdown of Dollarway last week. The Eagles take the high-flying offense on the road this week at Rison. Harding Academy also hits the road to Lamar. Top seeded Clinton shutout Charleston, 49-0, and brings Prescott to Van Buren County this week. Glen Rose hosts Harmony Grove after a bye.
In the 2A, Conway Christian dominated Lavaca last week, 40-6. The Eagles take on Fordyce this week in Conway. The other 501 team still alive in the 2A is, like Conway Christian, also from the 5-2A. Mountain Pine plays host to Des Arc in Garland County.
The full slate of playoff matchups containing 501 teams* can be found below:
7A quarterfinals
Southside at NORTH LITTLE ROCK
CONWAYat Bentonville West
Fayetteville at BRYANT
6A quarterfinals
SEARCY at Greenwood
SYLVAN HILLSat Marion
Jonesboro at BENTON
5A quarterfinals
MORRILTONat Blytheville
LITTLE ROCK CHRISTIANat Texarkana
MCCLELLANat PULASKI ACADEMY
4A
LONOKEat Ozark
Hamburg at ROBINSON
HEBER SPRINGSat Rivercrest
BAUXITEat Nashville
3A
Harmony Grove at GLEN ROSE
Prescott at CLINTON
MAYFLOWERat Rison
HARDING ACADEMYat Lamar
2A
Fordyce at CONWAY CHRISTIAN
Des Arc at MOUNTAIN PINE
*501 teams listed in bold and all caps.