02 Apr 2023

180 editions later

Happy birthday to 501 LIFE Magazine! In April we celebrate 15 years of continuous monthly publications. Woohoo! My co-owner, Jeremy Higginbotham, and I are so proud! This issue features a story from each volume, dating back to May 2008 when Donna Spears, Sonja Keith and Tracy Ferrell published the first issue and dubbed it "the people's magazine."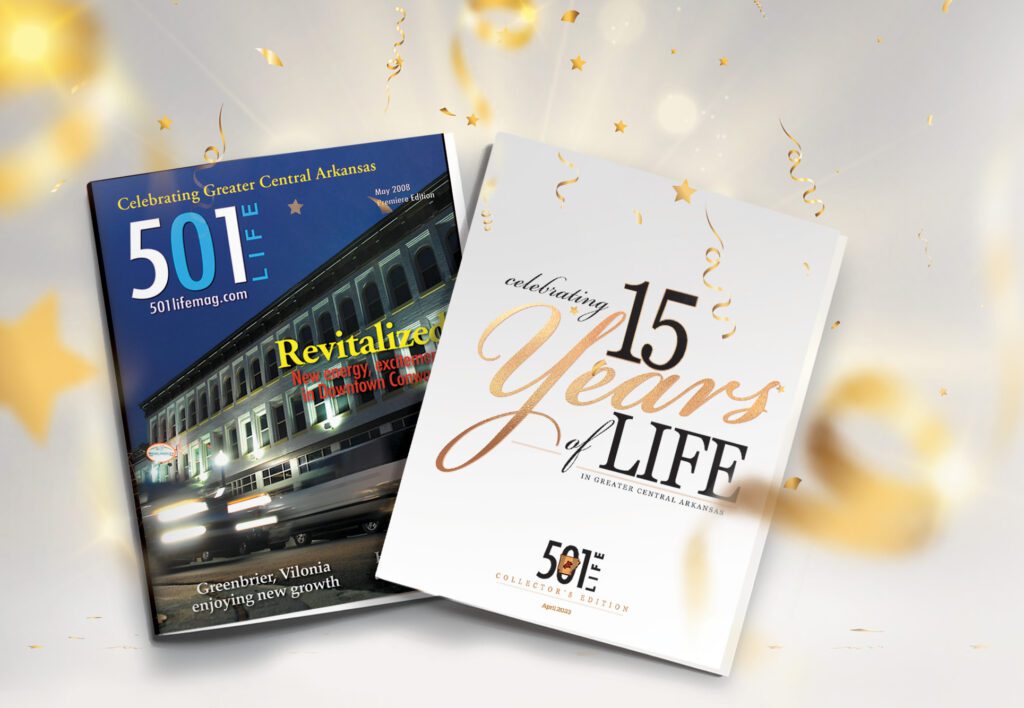 In the months leading up to that issue, they met with dozens of people for ideas and guidance; developed stories; identified writers, designers and photographers; and secured advertisers. The women put it all on the line and wrote in the first editorial: "For several months, a special group of men and women have shared our dream to produce and distribute an upscale publication that celebrates Central Arkansas … in your hands is the result of our efforts."
After 12 years of fulfilling that mission to the 11 counties in the 501, Donna and Sonja were ready to live at a slower pace. They had given heart and soul to 501 LIFE Magazine. In October 2020, Jeremy and I purchased it from them and have given heart and soul since, along with our wonderful spouses Paulette Higginbotham and Donald Brazile. Fortunately, Donna continues with us in Advertising Sales, and we chose to feature her as April's "Person of the Month."
The future of 501 LIFE Magazine is bright! Each month, every magazine we print is intentionally picked up by consumers. Monthly digital readership exceeds 48,000, and our social media footprint reaches 18,000 followers. In addition, our stories are highlighted on two TV programs each month, including KARK News 4 in Little Rock and Conway Corp's "Here & There."
To celebrate this important milestone of "Loving LIFE," we looked through all 15 volumes and selected one story from each to revisit. From Kris Allen's journey on American Idol to the Vilonia tornado, we share memories that touched lives throughout Central Arkansas.
We appreciate our expert writers, photographers, copy editors, digital support and administrative team. All of us appreciate the excellent businesses and organizations that advertise with us! And we're grateful to the three women who pursued a dream to develop a publication dedicated to "Celebrating Greater Central Arkansas" each month.
Here's to the next 180 editions of 501 LIFE!
Stefanie & Jeremy