28 Feb 2023

Youth of the Month: Josie Williams

By Carol Rolf

Josie Williams is a winner not only on the basketball court but also in school.

The 17-year-old senior at Conway Christian High School plays point guard for the Lady Eagles and averages 19.5 points a game. She also scores high in academics, maintaining a 4.26 GPA, and will graduate in the top of her senior class in May.

She had offers to play basketball from multiple colleges but has signed to play at Harding University.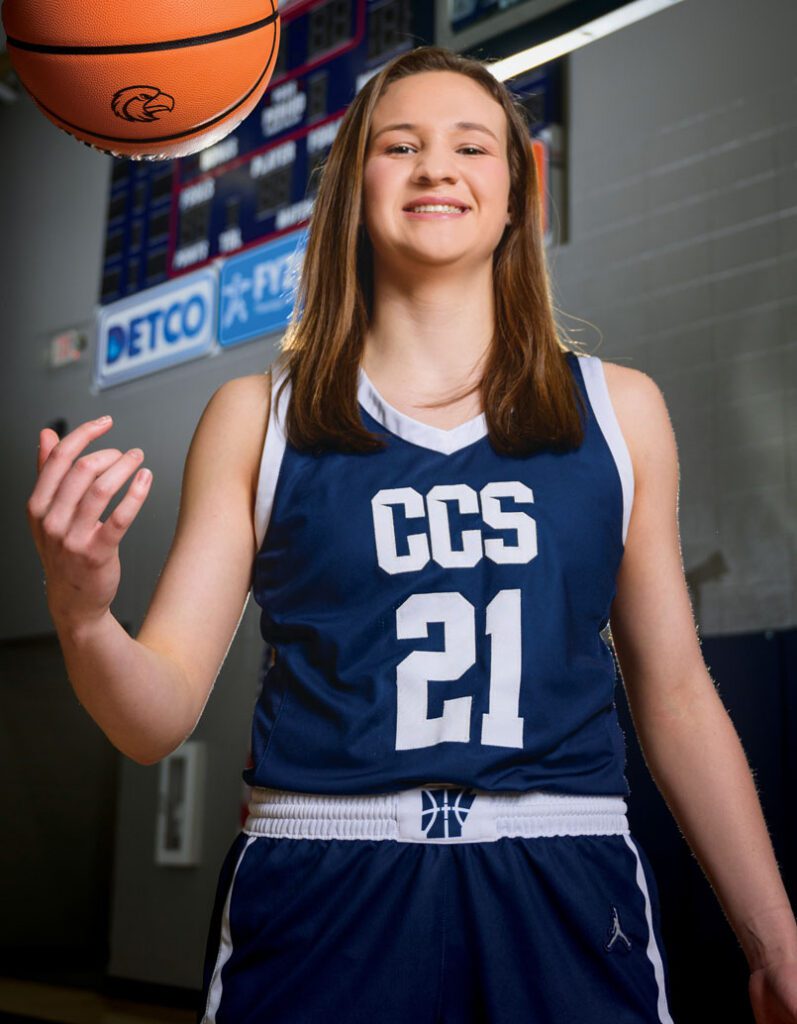 Josie, the daughter of Ryan and Wendy Williams of Conway, has attended the local Christian school since prekindergarten. She has three brothers – Tyler, 22, Thomas, 20, and Jack Ryan, 10. Her older brothers are graduates of Conway Christian, and her younger brother is in fifth grade.
Josie scored her 2,000th point in her varsity career on Jan. 20 when her team won at Magnet Cove.
"I never set out to score 2,000 points, but I always wanted to be the best I could be in every game," she said.
"Josie is extremely driven. She works hard and puts her whole heart into all of her efforts," Conway Christian Coach Trey Lynch said. "This approach provides her the opportunity to accomplish many great things going forward.
"Scoring 2,000 points in a high school career is an exceptionally rare feat," he said. "She should be proud to have reached such a milestone."
Lynch said the team finished the regular season at 24-5 and clinched the 2A-5 Conference championship. Postseason play began the week of Feb. 14.
Josie began playing basketball when she was in first grade.
"I grew up playing basketball in the backyard with my brothers," she said. "We also played baseball … that's how we grew up."
She also enjoys hunting and fishing with her family, which includes grandparents Mona and Jerry Williams of Conway and Linda and Roger Craft of Glenwood. Jerry Williams competed in professional fishing tournaments for several years, and Josie credits him for her interest in fishing.
Josie joined the Arkansas Dazzlers, a youth touring basketball team, when she was in second grade and played with the team through sixth grade.
"That's what really got me going," Josie said, smiling.
Mario Thomas, former coach of the Dazzlers, called Josie a "special player and equally a special person.
"I have sat back and admired her dedication to the game over the years," Thomas said. "She was going into the second grade when I first met her. At the time, we were already loaded with strong guard play, and I wasn't looking to add another player when she came to a workout. Well in just a couple of minutes into the workout, I realized we would have been foolish to pass on her. Even at such a young age, you could see the passion, the drive, the grit and her God-given talent.
"People see the individual milestones that she has achieved, but what they don't see is the hours in the empty gyms, the struggles along the way, and the sacrifices made
to being better," Thomas said. "I have seen her live this, and (it) puts a big grin on my face every time I think about it."
Josie had a setback in her basketball career when she was a sophomore. She had multiple injuries and had to miss the second half of that season.
"It was tough," she said. "But it helped me with my leadership skills. I had to lead in a different way sitting on the bench. It opened my eyes about leadership, about ways to help the team while I was off the court."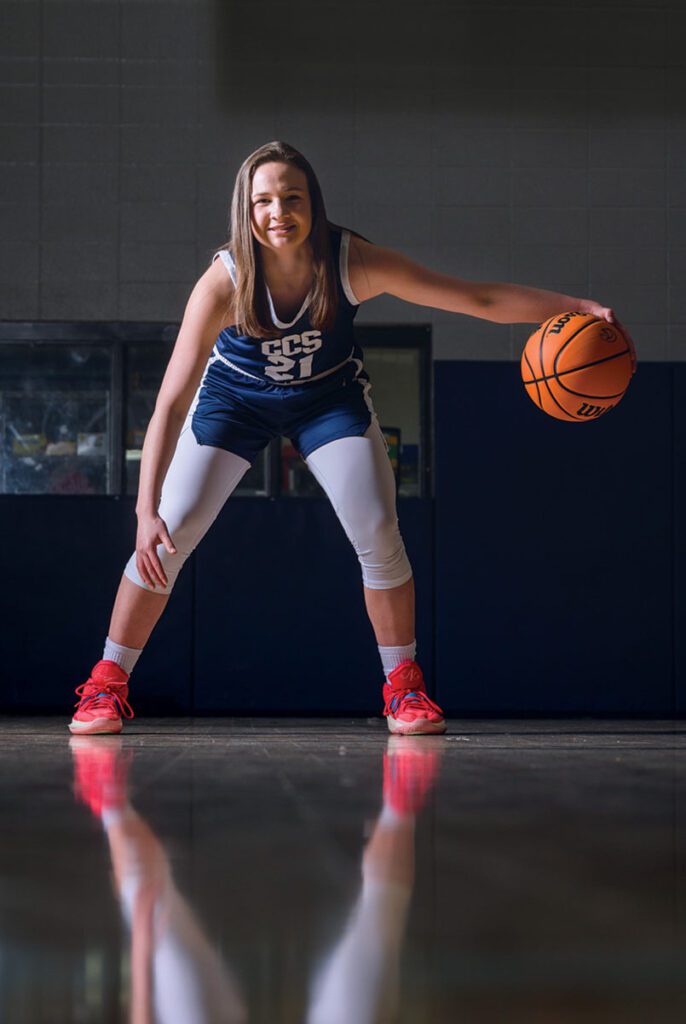 Josie showed her leadership skills at Conway Christian earlier this school year when she and others came together to plan REVIVE 2022, a revival-type service for students in grades seven through 12 that included special guests and worship.
"We saw a need for a revival. We saw a need for us all to come together and love each other, to have each other's backs and to come back to Jesus," she said.
"Josie is a great example of a servant leader – putting others before self," said Jason Carson, CEO of Conway Christian School.
"We recently opened our new facility and wanted to create an opportunity to have a time for worship, games and have a guest speaker," Carson said. "Early on, Josie and some of her classmates got together to brainstorm and pray about how to do this. Her family and others met on Sunday afternoons and came up with our first event – REVIVE.
"We took a half day and had lunch together, played some games, had a worship service and had a guest speaker," he said. "Josie helped challenge other students to become leaders and own their faith and their future.
"She's been a great leader at our school," Carson said. "The new facility has new high school classrooms, as well as an art wing and an athletic wing. We held the REVIVE event in mid-December before school dismissed for the Christmas break. We plan to hold this REVIVE event every year."
Josie said the students plan to hold a similar event – REJOICE – later this spring.
She also plays other sports at Conway Christian. She plays softball and volleyball and was part of the golf team that won two state championships. She is also a member of the National Honor Society and Beta Club and participates in drama and FBLA activities.
Josie plans to major in sports psychology at Harding University.
"I'm looking into becoming a college coach," she said.
When asked if she hoped to stay in Arkansas after college graduation, she said, "I'm fine with whatever, wherever the Lord takes me. I'll travel down whatever path comes my way."