31 Dec 2021

Youth of the Month: Emma Cariker, Conway

Emma Cariker, 16, loves to read and wants others to have something to read just by stopping by her church in Conway.

That is why, in late July 2021, she started making inquiries about putting in a Little Free Library at Woodland Heights Baptist Church, where her father, J.D. Cariker, is an associate pastor.

"It's like a way to outreach to the community through reading," the Conway High School junior said. "You can take one or take some. You can take one and bring it back another time. It's really casual."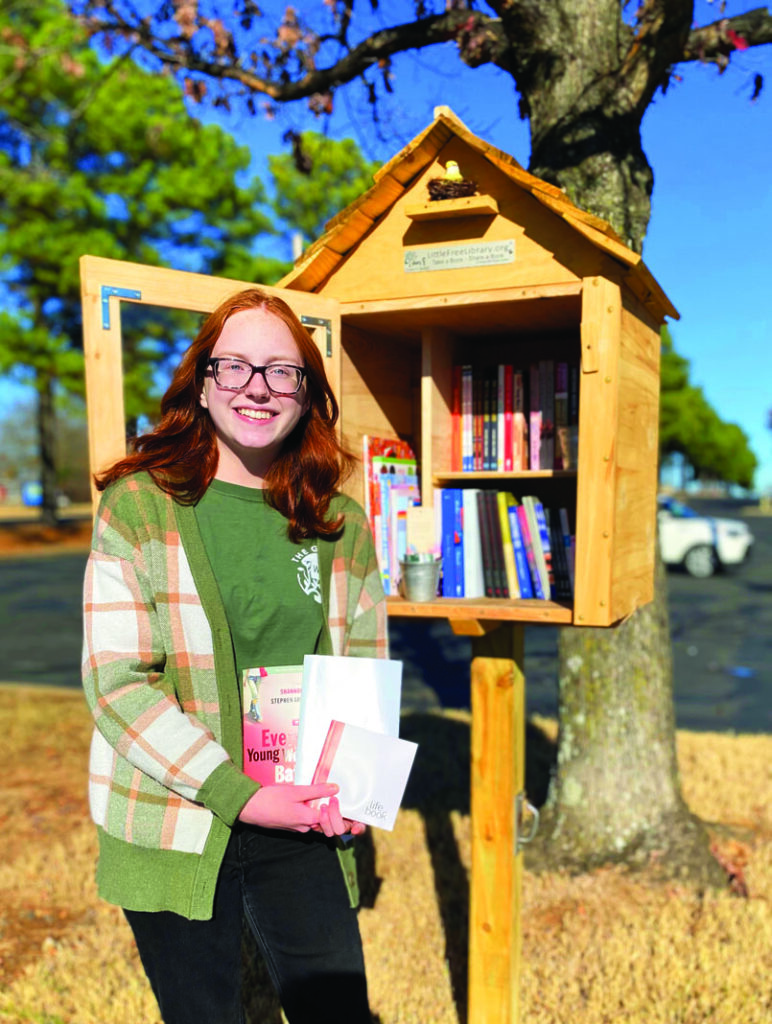 Emma said she had seen the Little Free Libraries online at littlefreelibrary.org, on TikTok, and in downtown Conway. The official website dubs it the world's largest book-sharing movement and Emma's project is registered with the program.
Before Emma could make her idea into a reality, she would have to do research, presentations, and find a builder. The yellow structure with a glass pane door is in the church parking lot near the corner of Prince and Hogan streets. The church's address is 4215 Prince St.
Pastor Cariker said he and his wife, Kelley, are really proud of Emma's idea. "She loves to read, and she wanted to be able to share the gospel by putting books in the Little Free Library. The library shares the gospel to let people know there is more to life and that Jesus Christ is the son of God and the entire story," he said.
What really impressed Emma's father is how she took hold of the project from beginning to end and showed her leadership skills to make a positive change both at the church and in the community. "She did it all. She talked to the outreach pastor, and he loved the idea but said she would have to share it in a staff meeting. So, she put together a presentation. She found someone who hand-built it, (former Conway coach) Bill Clements."
The Little Free Library at the church looks like a large bird house, and Pastor Cariker said Clements put a yellow bird on the top of the house to suggest that look. Clements donated his time and the materials. It has shelving for books and can be opened without a key. The books are not all Christian, but Emma and other members of the youth group help make sure there are no inappropriate books.
"The staff at the church are very supportive," she said. "My family and students in the youth group prepared books, cards, and bookmarks to go into the library as well."
Emma said her maternal grandmother, Peggy Ambrose, sparked her love of reading when she was young. Her grandfather was the late James Ambrose. "My grandmother and I would read the Chronicles of Narnia each night," Emma said. "I like to read fantasy, dystopian, and mysteries."
When Emma is not reading, she works backstage in theater for Conway High School. Being able to prepare lighting and work on the technical aspects of running a theater is something she has been practicing at church.
"I do a lot of technology and stuff for the church," Emma said. "I do anything you see projected on slides. I do the lyrics on screen and sometimes run a soundboard or livestream so people could watch from home when COVID-19 hit."
Emma has a 5-year-old brother named James, and her paternal grandparents are Norman and Jill Morgan. Emma is glad she took the initiative to help create the library at her church.
"It was like something that I had known about for a long time, and I wanted to run my own but also be able to spread the love of God through one of my passions, which is reading," she said. "I don't think there is a better way to do that other than making the library."