01 Jan 2023

Youth of the Month: Cylin Shurtleff

By Carol Rolf

At age 13, Cylin Shurtleff knows exactly what she wants to be when she grows up. When asked that question, she quickly answered, "a veterinarian."

She's already had a taste of that profession, as she often helps out at her dad's veterinary practice in Morrilton. A seventh grader at Morrilton Junior High School, Cylin is a daughter of Linley and Cy Shurtleff, DVM. She has two older brothers, Chase, 18, and C.R., 16. She is a member of the Ridge Row 4-H Club and recently showed the Overall Grand Champion Steer at the Conway County Fair in Morrilton. Her 1,350-pound steer is named Curly.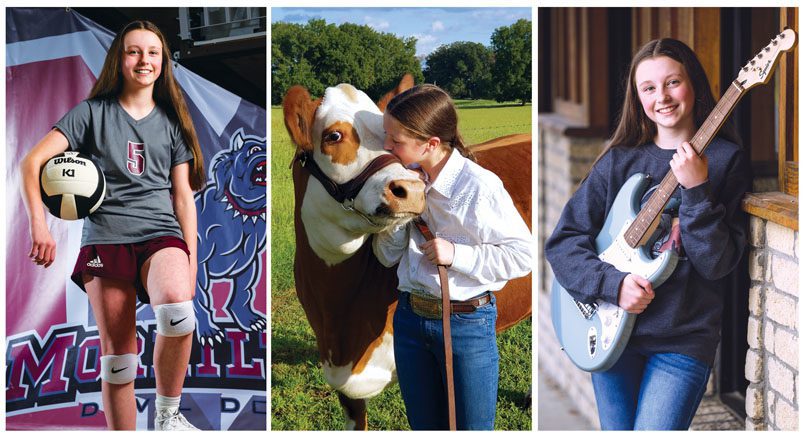 "I was so happy to win," she said, adding that she placed third in the competition last year.
Cylin gets her animals from her grandfather's farm when they are about six to seven months old. "We start halter breaking them and getting them used to being around people and other animals," she said. "Then we feed them until they are big enough to show."
The Shurtleff family lives on part of the land farmed by her grandparents — Doris and the late Curtis Davis. Cylin's mom grew up on the farm. Her fraternal grandparents, Robert and Mary Shurtleff, live in Lampasas, Texas.
Cylin is active not only on the family farm but also in school. She is vice president of the Junior Beta Club and a member of the Student Council. She also plays volleyball for the Morrilton Devil Dogs freshmen girls volleyball team and for the HollenBall Juniors which is a Junior Olympic Club volleyball team.
Her hobbies include playing guitar, hunting and fishing. Cylin manages to keep her grades up as she participates in all her activities. She will transition from 4-H to FFA next year, and as an eighth grader, she will be able to take Introduction to Agriculture.
Her favorite subjects are science and math. "I try as hard as I can," she said.
Her mother added, "I think her lowest grade has been a 98. Her dad teases her every time she brings her grades home," Linley said. "He'll say, smiling, 'Well, Cylin, couldn't you have done a little better?'"
Jennifer Koch, Junior Beta Club sponsor, speaks highly of the student. "Cylin is a wonderful student who volunteers without being asked. She goes above and beyond the required service requirements. She has a service-loving heart," Koch continued. "She may seem a little shy, but she will do whatever you ask, even if it's out of her comfort zone."
Koch said the requirements to become a member of the Junior Beta Club are to have an A-B average, be a person of good character and to follow examples of service and leadership. "Cylin has been a member in good standing for several years," Koch said. "She will be among the members going to state conference in January in Hot Springs, where she will compete in several categories."