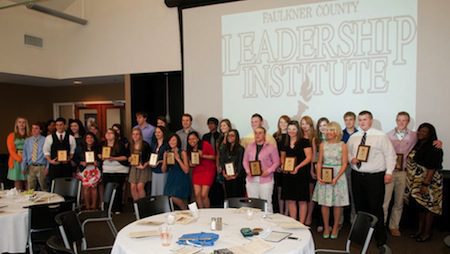 15 Apr

Youth leadership graduates 31

Thirty-one of the area's best and brightest high school students graduated Sunday afternoon from the Faulkner County Youth Leadership Institute.

FCYLI is designed to help develop leadership potential within 11th and 12th grade students. Since it began in 1995, more than 475 have completed the youth program. Graduates of the Faulkner County Leadership Institute oversee the youth program. FCYLI receives its primary funding from donations collected from FCLI graduates. (Outside donations are also accepted.)


FCYLI director Marie Abrams welcomed the graduates and their family and friends to the graduation, held at Central Baptist College.


Bryce Woods, a member of the 2013 class, served as master of ceremonies. Classmates Maria Oates, Collin Weatherly and Jon Paul Bradley also shared their thoughts on the youth leadership experience.


Jeff Standridge, vice president at Acxiom Corp. was the guest speaker. Mark Williams, chairman of the Faulkner County Leadership Institute, announced the names of the graduates.


Members of the 2013 class: Lizzy Adams, Kayla Allen, Jon Paul Bradley, Bridgette Brown, Mallory Bryant, William Bryden, Hannah Chamoun, Savannah Covington, Shelby Daniel, Austin Davis, Jacqueline Deden, Blake Farris, Karthik Garimella, Andrea Gosnell, Christian Gunter, Andrea Howell, Emily Keith, Katherine Kemp, Emily Lock, Poja Lukhi, Taurine Main, Reagan Mannis, Alex Moore, Maria Oates, Brooke Rittman, Lindsey Sansom, elissa Sorsby, Audra Staley, Chance Townsell, Collin Weatherly and Bryce Woods.


The FCYLI steering committee includes Abrams, Aimee Prince, Crystal Kemp, Sue Farris, Shivonne Carolina, Denise Pearson-Bethea and John Kelly.


For more information on FCLI and FCYLI, visit fclionline.org.