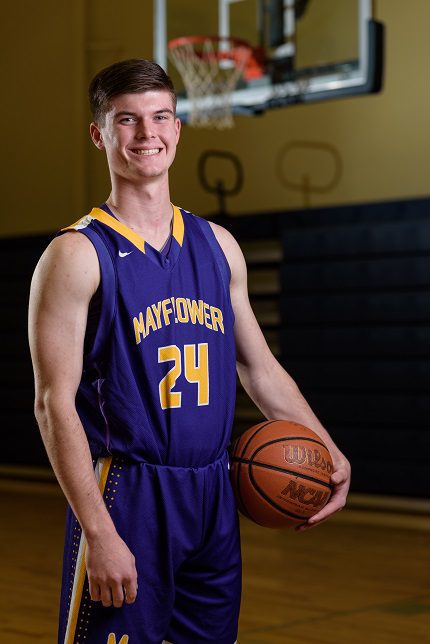 06 Dec

York brings 'great hustle' to Eagles

by Levi Gilbert


After taking a year off away from basketball, Mayflower's Ethan York is back on the court to help lead the Eagles.


York took a break from basketball as a junior to recover from a knee injury.


"My goal this year is to get better as a leader for my team," York said.


York, a senior forward for Mayflower, was selected to this year's 501 Basketball Team — 37 players representing the best the 501 has to offer both on and off the court. The team is sponsored by Conway Ortho and Sports Medicine, Conway Regional Health System and First Security Bank. York was nominated by his head coach, Brent Stallings.


"Ethan has great hustle," Stallings said. "He's coachable. He tries to execute team play."


Ethan isn't the only York on this year's 501 Basketball Team. His twin sister, Bella, was also nominated. And if it wasn't for Bella, Ethan might have never been involved with basketball.


"I have an athletic family," York said. "My sister played first, and I wanted to play, too."


On the court, coming back from a knee injury has had its challenges. Off the court, York has taken head-on a challenge that many student-athletes face.


"I have to work to keep my grades in check and do my best in the classroom," York said. "Melonay York, my mother, keeps me in check with my grades and has loved me through the ups and downs."


Through the early part of the season, the Eagles are 3-3, notching wins over Bigelow, St. Joseph and Central Arkansas Christian. York says the Eagles have focused on unity during non-conference play.


"Ethan gives a positive attitude on the court," Stallings said. "He tries to be the best leader he can be. I expect him to play extremely hard on both ends of the floor. We need him to rebound, defend and score."


York also plays baseball for the Eagles. Outside of athletics, he is deeply involved in several clubs at Mayflower High School and in the community.


"I'm in BETA club, Future Business Leaders of America and 412 club," York said. "I'm involved at my church, First Baptist Church in Mayflower. I'm involved in Awana training and in 'Layups for the Lord' — a ministry in our local town that involves basketball and the word of God."


After graduation this spring, York plans to attend Central Baptist College and major in Bible and youth ministry. "I want to become a youth pastor wherever God calls me to go," he said.


York and the Eagles play host to Rose Bud at 5 p.m. Monday.