22 Mar 2021

Workforce Training Center lights spark for the community

By Jared Craig

On any given day, scores of students flood the training labs and classrooms inside the Workforce Training Center (WTC), a technical education facility located at the University of Arkansas Community College at Morrilton.

Some 54,000 square feet, the building is impressive to walk through, with students working over equipment with their instructors — themselves at the top of their fields. Many students enroll because they're drawn to a profession and its income potential. Others are concurrent students who are taking time in their high school education to pursue a passion. Some are even current working professionals looking to enhance their skillset. Whatever the reasons why someone pursues a technical education degree, the WTC offers a multitude of opportunities to learn.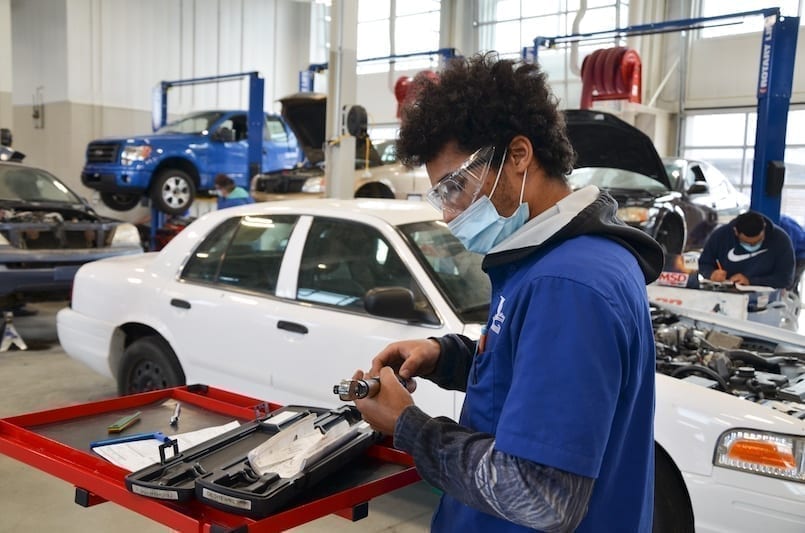 "The UACCM Workforce Training Center is the embodiment of what it is to be a comprehensive community college," said Dr. Richard Counts, vice chancellor of academics. "In the WTC, credit programming, workforce training, and community education programs all coexist for the general improvement of our local communities."
The building houses four of the college's technical programs: air conditioning, heating, and refrigeration; auto service technology; industrial mechanics and maintenance technology (IMMT); and welding technology. Those who are taking these programs, numbering 139 students this semester, know the training is essential — to repair an engine, to keep a factory running, to make homes comfortable in extreme weather and to fuse metal into a purpose. The most common characteristic of these programs is that Arkansas needs more of these workers, both today and in the immediate future. These are the skills that help communities fill vital service needs, expand manufacturing and compete in the larger, regional economy.
The WTC operates on a principle to imitate a workplace as much as possible. At times, the details are elaborately planned. Students begin class by punching cards through a time clock system and being held accountable to be punctual, much like any profession. The welding lab features a set of bays located outside, so students can get comfortable training in weather similar to what their profession may require. The air conditioning, heating and refrigeration program also features a collection of HVAC units outside one of its labs. The "garden," as it's called, also prepares students to work in different weather conditions.
One can even identify a student's area of study based on their uniform, color coded by their program and embroidered with the college logo. Students sometimes cross-over into different programs, preparing for whatever their career will require. The industrial mechanics labs play host to HVAC students in classes teaching motors and systems control, while IMMT students learn the fundamentals of welding, just to name a couple of examples.
Determining the direction of a field is done by forging partnerships. UACCM maintains an updated curriculum by inviting businesses and industry leaders in Central Arkansas to sit on advisory committees. Over 130 advisory members representing more than 100 companies provide feedback on technical programs, with their names placed on plaques at each training lab.
The college values the benefits of hands-on experience. Inside, students train on equipment that they will find in their workplace. According to Howard West, an auto service technology instructor, the regular upgrading of equipment sets UACCM graduates apart in the job market.
"Students preparing for entry-level positions will be more capable when entering the automotive repair trade after experiencing training on this new equipment," he said.
The more recent acquisitions are impressive. The John Bean V3400 3-D Aligner in the auto service technology lab, a machine the college acquired thanks to its relationship with Snap-On Tools, is top of the line. An IMMT lab features robots: a welding robot and an ABB robot designed to move objects in an assembly line. And a hydraulic metal shear in the welding lab is a piece of hardware that reflects the modern industry that blends manual and automatic labor.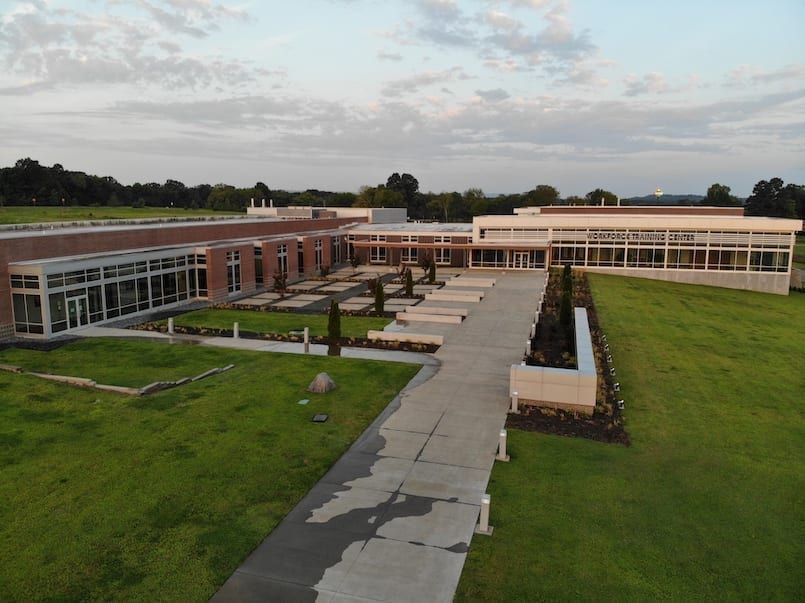 Situated near the entrance of the WTC is UACCM's Workforce Development & Community Education department. The department provides skills training to help companies boost workforce potential.
"Knowledgeable, capable employees are the cornerstone of exceptional businesses," said Jessica Rohlman, director of the college's Workforce Development & Community Education. "UACCM can be an ally when it comes to teaching employees the unique skills your business needs for future success."
The demand of immediate skills training is in high demand, according to Counts. "Through our workforce training programming we are able to provide on-demand, short-term training for our local business/industry partners to enhance their workforce," he said. "It is not unusual for individuals who participate in these trainings to have been former UACCM students."
The department offerings include commercial driver training, a four-week program that prepares students for licensure. In 2020, a heavy machinery non-credit program was added, teaching students how to operate anything from a bulldozer to a backhoe.
Much of what the department does is providing more learning opportunities to the surrounding community. Low-cost, non-credit classes are available to the public which allows people to learn something new, whether it be storm watching or cake decorating.
"It is more important than ever to find connection — to find comraderie in a skill or hobby," said Denise Pote, community education coordinator. "UACCM's goal is to bring people together through similar interests and to build relationships with those in our community."
Prior to the building's opening in 2018, the college had invested its future in these facilities. In 2014, college administrators began a plan for a state-of-the-art training center that would meet the needs for training a qualified workforce in high-demand, high wage technical areas. Many of the college's technical programs were housed in buildings that were nearing fifty years old. The structures were small, crowded and lacked the ability to bring in larger pieces of machinery and equipment. The UACCM Foundation, the college's fundraising arm, created the "Give Meaning" campaign to raise money that would help fund the project. Over a three-year period, almost $3 million was raised in private funds from individuals and businesses. The donations included an employee campaign that garnered a 90% participation rate and over $63,000 in gifts and pledges. The remainder of the project was funded with a $10 million bond issue and existing school funds. 
Mary Clark, director of marketing and public relations, said, "The generous support of our donors, including employees, business partners, and supportive community members was instrumental in making the Workforce Training Center a reality. They realized the expanded opportunities that would be available to students, including increased enrollment capacity and access to a variety of large equipment, machines, trainers and lab space.