29 Apr 2021

Wonder Women work it out

By Jenn McCracken

If you Google "Wonder Woman" you will find this definition: "A fictional superhero appearing in DC Comic books and is a founding member of the Justice League."

However, ask anyone you know and this definition is far from accurate. To many, Wonder Woman is the mom in the grocery store aisle trying to convince her 3-year-old that they do not need a box of sugary cereal. Or, it is their own mother, who spent countless hours driving them to school or various practices before the nightly chores of laundry and a homemade dinner.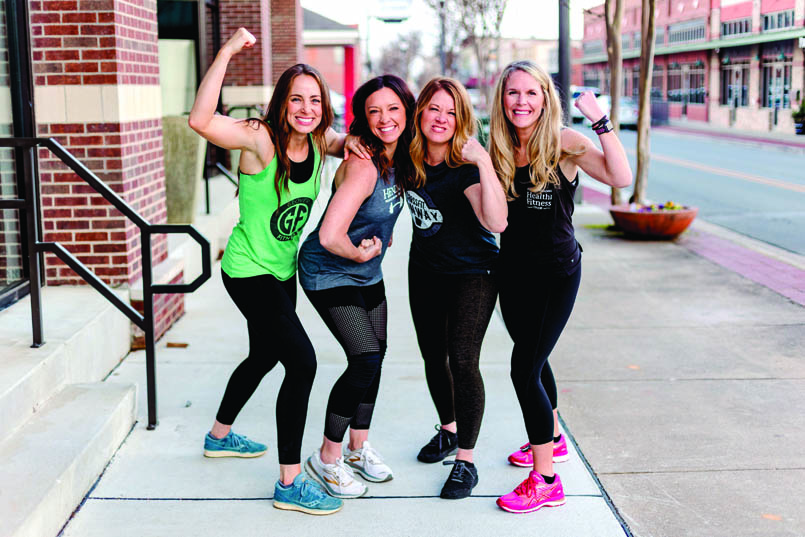 Although both are true, I have found that my image of Wonder Woman is found in the gym. She is someone who encourages other women to become healthier and more active versions of themselves.
Living in Conway, I have been blessed to become friends with three people that I consider Wonder Women. Like myself, they are in various positions within the fitness industry who juggle being a wife and mom with a full-time career. (Side note: We are also wives of current or former coaches, but that is a whole different article for another day.)
What I love most about these women is that we all have one goal in mind: Helping other women (and men) within our community make fitness a fun part of their everyday lives. If you are looking for a gym to join or have questions about how to start a fitness journey, I encourage you to reach out to one of us.
As I have written before, exercise does not have a one-size-fits-all model. There are thousands of different activities that can get women active; it is only important that women find out which one is right for them. I promise, we will help you find the program, gym or group that is best for you – even if that means joining a gym that isn't ours.
We asked these four fitness leaders the same questions.
While these friends have different philosophies, each leader wants to help women incorporate fitness into life.
Who do you admire most in the fitness industry? 
Kelly: Anyone that works hard, doesn't complain and shows up consistently.
Mallory: I truly admire all the working and stay-at-home moms that continue to incorporate fitness into their everyday routine. Most days involve chasing little ones around or attending kids' sporting events, so I'm always proud of the moms that keep their health and fitness a priority.
Maggie: Marietta McClure who owns a fitness club in Benton. She started everything from the ground up and continues to improve her business each year.
Jenn: My friend Brittney Burks. I have never walked into the gym where she didn't have a smile on her face throughout her whole workout. She always gives 100% during each class and motivates everyone around her. She's a mom, wife and Realtor®, and values exercise and the positive impact it's made on her life. I can't sing her praises enough.
What is the biggest misconception about your job? 
Kelly: That you can get hurt doing CrossFit. We are all about safe and functional fitness. We want you to pick things up off the floor, put things over your head, squat down and play with your kids or grandkids.
Mallory: Most people think I work out all day just because I wear workout attire to work. Although I wish that was true, my days consist of working out our members and my private clients.
Maggie: As far as being a women-only gym, I've heard people say they assumed the workouts were not challenging. Of course, that is cleared up after the first class.
Jenn: That we only serve college students. Although working with college students is a huge part of my job, I also really enjoy seeing the community members and have made meaningful relationships with our members.
If you could tell your teenage self one thing, what would it be? 
Kelly: Running isn't so bad. Maybe I wouldn't hate it now (laughs).
Mallory: Get ready for a full house! You will have a fun-loving, red-headed girl and two blonde twin boys!
Maggie: Don't go to grad school (although I met some of my fave people there).
Jenn: Don't worry about what other people think of you. Be true to yourself and your values.
How do you juggle being a mom and a wife with your job responsibilities? 
Kelly: We make fitness a priority. Our whole family does it together.
Mallory: I am blessed to have a very supportive husband, Chance. Both our parents and siblings live in Conway, so we have a huge support system. Chance coaches here, so we are always on the go! He is always positive and encouraging about my job. I usually try and work out before the kids wake up or when they go to sleep. My work family knows how much my family means to me and they are always so supportive if I have a sick kiddo and need to miss work. We have a great team at the Fitness Center.
Maggie: PRAYER, and a lot of help from the greatest support team including my husband, family, staff and amazing friends.
Jenn: I am so lucky to have a husband who not only does far more than his share of the responsibilities, but encourages me during every event or project I have going on.
What do you look forward to most when you get to work each day? 
Kelly: Helping others do something they never thought they could do.
Mallory: I look forward to seeing all the members. Not only do we discuss their health and wellness, but we talk about their families and activities they enjoy doing.
Maggie: I love working the desk and catching up with all our members.
Jenn: Catching up with our students and the other staff that come into the building.
What are three tips you would give a woman who is beginning an exercise program? 
Kelly:
1. Don't wait to start until you are "in shape" because that will never happen.
2. Give yourself grace. Just showing up is better than what most people do.
3. Believe in yourself — you can do amazing things!
Mallory:
1. I would encourage them to grab a workout buddy. Working out with a friend is so fun!
2. Hire a personal trainer. Knowing you have a scheduled appointment with a trainer will help you stay accountable.
3. Find a group exercise class that you love and continue to go to that class each week.
Maggie:
1. Get leggings that you love.
2. Never be afraid to modify and take breaks.
3. Go with a friend the first few times.
Jenn:
1.Don't get on the scale. Just because you aren't losing weight doesn't mean you aren't getting fit.
2. Get fitted for sneakers – so many women become injured because they aren't wearing the right shoes.
3. Schedule your workouts and never miss the commitment to yourself.
What is your favorite thing about your job? 
Kelly: The community; the people at our gym are family.
Mallory: I have been with Conway Regional Health and Fitness Center for 16 years. I love this place! I love all the relationships that I built over the years. I have helped so many members and training clients reach their health and fitness goals over the years.
Maggie: My favorite is when our members accomplish things they initially thought they could not do. That stuff gets me fired up.
Jenn: Seeing college students reach fitness goals that they never thought were possible in classes. I love giving them that "I told you so," look when they hit a new milestone.
What do your kids think about your job? 
Kelly: They think it's cool their mom can lift heavy weights!
Mallory: Lakyn, 6, loves coming to the center. Her favorite thing is getting to see mommy's "work family" and going to everyone's office to say hi. All three kids love going to the pool, too.
Maggie: They love it. Sophie makes up workouts and she makes Adaline do them.
Jenn: Kade loves it because he gets to interact with the student-athletes and rebound for Thad's players after practice. Kam loves it for the candy in the other coaches' offices.
What's your favorite exercise to do as a family? 
Kelly: We do CrossFit together almost every day. It gives us something to talk about, especially with our teenage son.
Mallory: We love going on walks. The twins will ride in their double stroller while Lakyn rides her bike or scooter. She also loves going to the track and running laps with me.
Maggie: Hiking.
Jenn: Golf – although it can get a little too competitive sometimes!