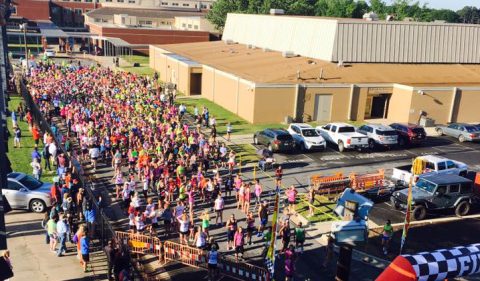 17 May

Women Run Arkansas marks 20th anniversary

Nearly 2,000 ladies recently participated in the 20-year anniversary of the Women Can Run/Walk 5K.

"This race is so special because we celebrate the first finisher just as much as the last," said Amanda Castillo who serves on the board for Women Run Arkansas. "This is a graduation for the ladies who participated in the 10-week clinic program, sponsored by the Sporty Runner."

The event was held at Conway High School.

This year's theme was "Choose to shine – all day, every day."

"These ladies shined," added Amanda.

The first female to finish was Melissa Hambuchen of Conway with a time of 18:52. The second place finisher was Jessica Sanders of Conway with a time of 22:07.

For the last 20 years, WRA has hosted free, 10-week run/walk clinics in various cities across Arkansas. At the clinics, women of all ages and abilities not only receive training on proper run/walk form, but also on nutrition, injury prevention, proper apparel and more. The clinics give all women a starting point to a healthier life by beginning a walking or running routine, providing support and resources and connecting them with others.

The mission of WRA is to address the special needs of women's fitness, while promoting healthy living through running and walking. Physical exercise (in the form of running or walking) has many health benefits including reducing blood pressure, the risk of heart disease and depression. The clinics give women the environment to get healthy which improves individual's lives, and, in turn, their families, their work place, communities and the state as a whole.

This year, participants received a medal that featured a spinner, glitter and a removable charm.
In 2018, clinics will get under way the week of Sunday, March 4. The 5K graduation, typically held the Saturday before Mother's Day, is planned Saturday, May 12.
For more information, visit womenrunarkansas.net.