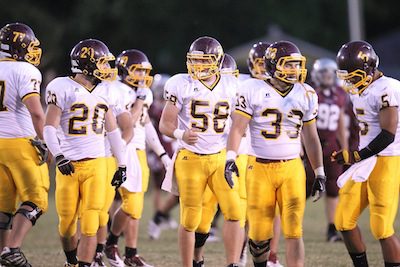 30 Nov

Wolves look to take down reigning 6A champs

by Mark Oliver

Lake Hamilton is knocking on Little Rock's door once again.


The Wolves (12-1, 7-0 6A South) will represent Garland County and the 501 in the 6A state championship game at War Memorial Stadium in Little Rock at 7 p.m. Friday.

Their opponent: two-time reigning 6A champion El Dorado, which makes its fourth-consecutive state finals appearance.


The Wolves and Wildcats (12-1, 6-1 6A South) have split the past six decisions and will meet in the playoffs for the third time in four years.
The school and the community of Pearcy have begun preparations for the Wolves' return to Little Rock. "It's very upbeat around campus," said senior tight end Cameron Anderson. "We know what's at stake – a state championship is on the line. The media has been at practice, which we're somewhat used to, but not at this level. We practiced at War Memorial Stadium on Wednesday. We're excited, but we're also trying to keep the same type of practice schedule as if this was any other game."

The Wolves defeated El Dorado in 2008's 6A title game, 38-21. However, even as the No. 1 seed, defeating the Wildcats at War Memorial Stadium on Friday night won't be an easy task for Lake Hamilton to repeat.

Since 2008's title game, El Dorado hasn't lost a playoff game and has won two consecutive 6A championships in 2009 and 2010. Both teams met in conference play earlier this year with Lake Hamilton knocking off the Wildcats on the road, 31-24.

"It was the biggest win of the season," Anderson said. "At the time, they were ranked No. 1, and we were ranked No. 2. We knew a lot was on the line. We stopped them with less than a minute left in the game, batting down a pass on fourth down. It was a huge morale boost for our team."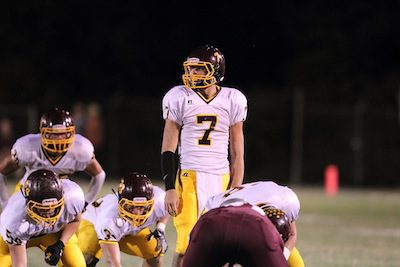 With the win, Lake Hamilton ended El Dorado's 23-game home winning streak and marched on to the 6A conference championship and home field advantage throughout the playoffs.

The Wolves dispatched Russellville and Sheridan, 38-13 and 53-7, respectively, in the first two rounds, before squeaking out a victory last week versus Pine Bluff in the semifinals, 23-21.

For the rematch, the Wolves plan to stick to the basics. "We'll need to dominate both lines," Anderson said. "That's how we won the first meeting. By controlling the offensive and defensive line, we were able to run on them and stop them." Although Lake Hamilton will play as the home team Friday night, El Dorado's success at War Memorial Stadium can't go unnoticed.

"We know we're going in as underdogs," Anderson said. "Their seniors have championship experience. Our seniors haven't felt that yet. We were all freshman when Lake Hamilton won it all in 2008. I think our time has come."

Looking ahead to his final game in maroon and gold, Anderson reflects on his time playing football for Lake Hamilton. "We've played together since we've been in peewee football," Anderson said of his senior class. "We've had the same quarterback, the same receivers, the same everyone. Ever since we were little kids, our goal was to play football for the Lake Hamilton Wolves and win a state championship. How amazing would it be for us to finally get our wish in our final game of our careers?"