02 Aug

With first novel, Holmes shares a powerful vision statement

By Susan Peterson

As a young girl in the 1960s, Adele Holmes, MD, was somewhat of a social outcast. Adele's father disappeared soon after she was born, so she was raised by a single mother, a situation frowned upon in small-town Arkansas. And although she could read well, she was considered slow because she often seemed unaware of what others found obvious, and she would sometimes trip or bump into things.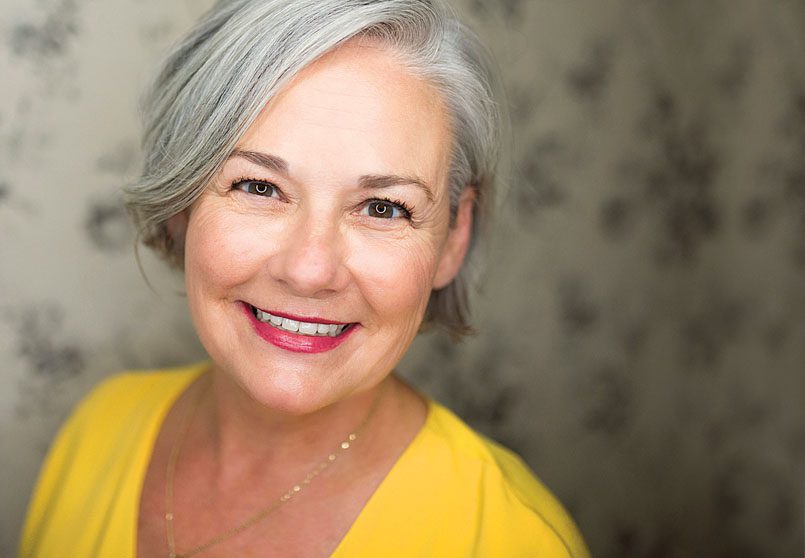 But in second grade, her life changed. Her mother married a math teacher and the family moved to Walnut Ridge. That's when her vision was checked. As she recalls in her memoir essay "Vision," the scenario went something like this:
From the other side of the box he droned, "How many apples are on the tree?"
What, is this a trick or something? Silence.
His voice rose an octave higher. "Young lady, I asked you a question . . . how many apples are on the tree?"
I was at a loss for an answer as he leaned so close I could feel his dull breath on my forehead and regard his menacing countenance.
Finally, I heard my timid voice:    "What tree?"
Adele was nearly blind. But after her vision was corrected, "The world opened up – everything changed." Adele's grandmother always told Adele that she could do whatever she wanted, and now she knew she could.
With her new social standing and 20/20 vision, Adele did well in her new school. As a young adult, she married and started a family. Although she was working as a legal secretary and taking college courses at night, she felt something was missing, that she could do more with her life. She quit her job and began full-time college classes.
At age 28, Adele was accepted into medical school at UAMS and later became divorced. Though medical school was daunting work, she persevered, motivated in part by her own childhood experience. It was during her residency at Arkansas Children's Hospital that she met Chris Holmes. They were married in 2000.
After working nearly three decades in the medical field, she knew it was time to leave. Her successes included private practice and helping build the Central Arkansas Pediatric Clinic. She and Chris wanted more time to travel, a passion they both shared. They have visited all seven continents.
But Adele still had one more goal. Publishing a book was something she always wanted to do, and it seemed the right time to achieve this dream. After all, she now had "plenty of fodder to work with," including her medical background, personal childhood struggles, and experiences traveling the globe.
About five years ago, she began writing "Winter's Reckoning." In order to prepare, she attended numerous conferences and workshops, both local and out of state. She admits to becoming a conference junkie, with the San Miguel Literary Sala in Mexico being her favorite.
The book was nearly finished when COVID-19 hit. Although disappointed in the timing, she said it was a blessing. She was able to take many of the open hostilities and tensions she witnessed in real life and incorporate them into her book. She made many revisions, using themes of a divided world, inequality, and social injustices. And, most importantly, how one person can make a positive difference.
Adele's revisions paid off. She submitted her revised work to She Writes Press in December of 2020, and it was accepted for publication in fall of 2022, now with an Aug. 9 release date. In pre-publication, it won Honorable Mention in the William Faulkner Literary Competition and is a finalist for the Chanticleer International Book Awards-Goethe Award.
The book tells the story of 46-year-old Madeline Fairbanks, a widow and herbalist healer in a small Appalachian town in 1917. Maddie's progressive views are challenged by many members of the conservative, and sometimes dangerous, community. Maddie, who is modeled after Adele's grandmother, must find an inner strength to oppose the backward, ingrained beliefs found in the community.
The book is multi-faceted. As one review described "Winter's Reckoning:" Tear out a page of "Cold Mountain" by Charles Frazier, add in a mix of "Deliverance" and "The Apostle," along with a dash of "Nell."
Adele and Chris live in Benton, and Adele is now busy working on both a prequel and sequel to "Winter's Reckoning," combining Southern gothic, magical realism, and medical fiction.
Someday the couple hopes to resume traveling, but visiting with five grandchildren and taking care of a new puppy have put long trips on hold.
Adele is available to speak to book clubs and other groups. "Winter's Reckoning" is available on Amazon and at local stores. Learn more at adeleholmes.com.