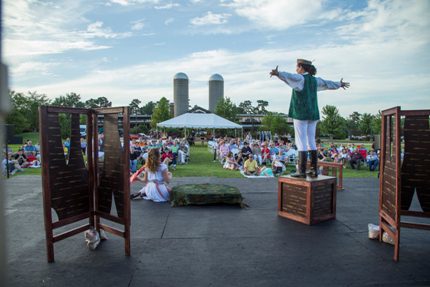 Jun 13, 2016

Winthrop Rockefeller Institute to host 'Twelfth Night' performance

The Arkansas Shakespeare Theatre will once again take its show on the road and perform a family-friendly production at the Winthrop Rockefeller Institute. This year's offering, 'Twelfth Night,' will be performed at 7 p.m. Saturday, June 25, on the Institute's front lawn.


"We've appreciated the great crowds and beautiful atmosphere at the Institute the past two years," said Mary Ruth Marotte, executive director of the Arkansas Shakespeare Theatre. "This year's performance will feature our actors playing musical instruments and singing as part of the production. It's going to be a lot of fun."


Additionally, food trucks from the Conway Food Truck Association will be on hand with food and drinks available for purchase. As in past years, attendees are welcome to spread out blankets or bring their own lawn chairs for the performance, though plenty of seating will be available. Outside food will be allowed, though no outside alcoholic beverages will be permitted.


"This is the kind of event we know Winthrop Rockefeller would be proud of," said Janet Harris, director of programs at the Winthrop Rockefeller Institute. "We have thoroughly enjoyed working with the Arkansas Shakespeare Theatre to provide access to a unique artistic experience here in the River Valley."


The Arkansas Shakespeare Theatre's website, arkshakes.com, offers this description of the performance:


"Inspired by carnivals of yesteryear, our actors will arrive ready to dazzle and delight the audience with the tale of twins Viola and Sebastian, separated by a storm at sea. The shipwrecked siblings discover new places, meet new people, and explore new possibilities as they try to find their way back to one another. Feste is our ringleader, a magician who brings the play to life by enlisting the talents of his gifted and colorful troop of entertainers in this fast-paced, funny and family-friendly production. With a performance that includes sword-fighting, dancing and singing (and maybe a few audience members!), 'Twelfth Night' has a little something spectacular for everyone."


Admission to the performance is free, but advance registration is required. Those wishing to register themselves and/or friends and family should go to rockefellerinstitute.org/night and click on the registration button. For more information, contact program officer Payton Christenberry at 501.727.6255 or [email protected].