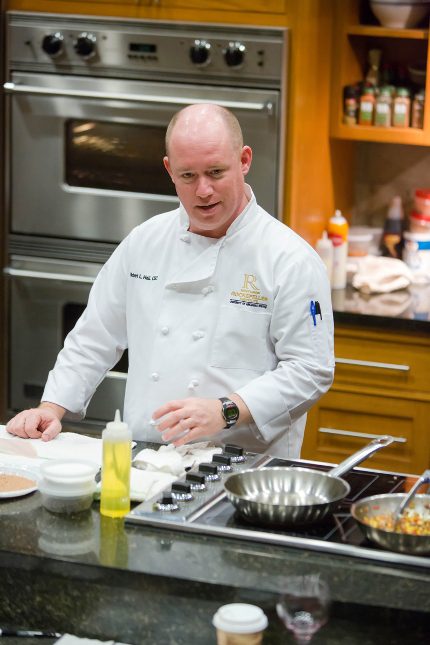 12 Jan 2015

Winthrop Rockefeller Institute announces culinary class lineup

Posted at 10:47 AMh

in

News

After a successful year of culinary classes in 2014, the Winthrop Rockefeller Institute is expanding its culinary lineup for 2015 by adding more of our customers' favorites and introducing a couple of new experiences.

A full listing of the Institute's 2015 culinary lineup can be found at rockefellerinstitute.org/culinary.


The wildly popular Table for Two class, which is designed as a date-night experience for couples, will be offered at least 21 times in 2015, with each class covering a different meal.


"This concept of teaching couples how to make a delicious meal, then coaching them through the actual preparation of the meal, has been a huge hit," said Robert Hall, certified executive chef and the Institute's culinary director. "Every Table for Two class in 2014 had a waiting list, so we decided to give the people what they want — more Table for Two."


The Institute will also offer a full slate of Chef's Tasting Dinners in 2015. These dinners, a concept first introduced in 2014, involve a 15- to 20-course "tasting dinner" that includes small portions of each course with wine pairings for each. The dinners are planned around a central theme. Registrants are required to sign up in pairs, and this, too, makes for a special date night.


Also expanding will be the Institute's lineup of Basic Training and Made From Scratch classes. These demonstration-only experiences provide instruction in the building blocks of cooking and are competitively priced so as to be accessible to people from all walks of life.


Dr. Marta Loyd, executive director of the Institute, recalls the first Basic Training class she attended as "just an all-around great experience."


"It was relaxing, educational and fun," Loyd said. "Chef Hall is a true artist in the kitchen and is eager to share his vast knowledge with the class. He welcomes questions and helps participants appreciate the history and culture of the dishes he prepares. I can't wait to prepare my new recipes for family and friends."


All of the Institute's culinary offerings are listed at rockefellerinstitute.org/culinary, with links to registration for each category of class. Group reservations are encouraged, and classes are perfect for a girls' night out, a church or civic group activity, part of a weekend getaway or just because.


For more information, visit the website or call 501.727.5435.