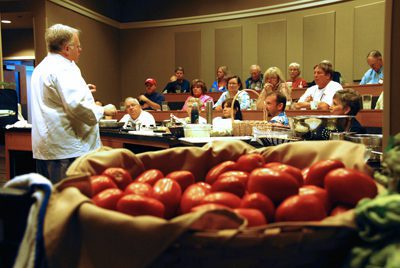 03 Jan

Winthrop Rockefeller Institute adds new culinary programs

The Winthrop Rockefeller Institute recently added three culinary classes that will begin this month. The new classes will be taught by Robert Hall, culinary programs coordinator and executive chef at the Institute.

"Table for Two" is a date night experience for couples. This class will include a culinary demonstration with guided hands-on food preparation, a private four-course dinner, one night of lodging and a continental breakfast the following morning. The first class will be at 5 p.m. Friday, Jan. 13, and the cost is $200 per couple.

"Making Nutrition Delicious" is a day class that will teach participants tips, tricks and techniques to make healthy food fun, flavorful and exciting. Locally produced ingredients will also be highlighted. The first class, Intro to "My Plate," will be from 10 a.m. to noon Wednesday, Jan. 18, and the cost is $35 per person.

"Farm to Table" will focus on Arkansas produced foods, how to prepare them in the season and how to preserve them to enjoy out of season. Specific emphasis will be placed on the seasonal products available in the Winthrop Rockefeller Institute's garden. The first class, "January's Harvest," will be from 10 a.m. to noon Thursday, Jan. 26, and the cost is $35 per person.

Current culinary classes such as the Made from Scratch guest chef workshop and Taste of Teamwork program will also be offered throughout the year. For a complete list of culinary classes and dates or to register for any of the culinary classes, visit livethelegacy.org or call 501.727.5435.