10 Mar 2021

Williams leaves championship legacy at Conway

By Levi Gilbert

Jayden Williams has been on quite the athletic run the last two years.

As a junior last year, Williams took over down the stretch of 6A Central play and into the state tournament, helping lead the Wampus Cats to a championship.

Then, last fall, Williams started the football season at wide receiver in a high-powered Wampus Cat offense. During the season when the team was faced with injury adversity on the offensive line, the 6-foot-5 senior accepted the challenge to move to left tackle to help improve the team. The Wampus Cats went on to finish the year in the 7A semi-finals.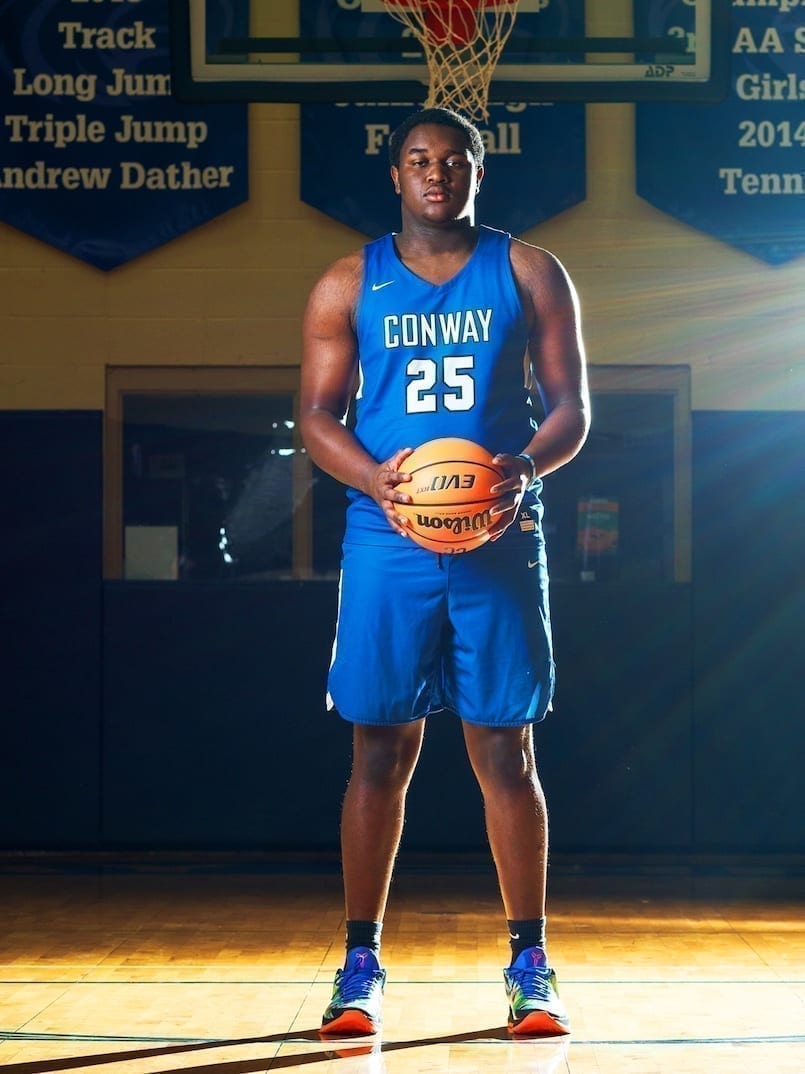 "He put his team above his own desires, and he played unbelievably well at that tackle spot," said Tim Roach, color analyst for Conway High football and basketball on Conway Corp. "So much so that he was rewarded with offers from two SEC teams. In the end though, I think he understands what team means and that to sacrifice for others is what it is about. I think he gets it, and this will help him be a successful person, not just a successful athlete."
This basketball season, as the Wampus Cats faced early struggles due to COVID-19, Williams remained a constant presence on and off the court, helping lead the Cats back to the state tournament.
Williams is a rare type of gifted athlete. He boasts the size and strength to play in the post on the hardcourt or at left tackle on the gridiron but also possesses the agility and speed to play wide receiver or make remarkable moves around the rim.
"I feel like I was born to ball," Williams said.
Williams was selected to this year's 501 Basketball Team — 34 players representing the best the 501 has to offer both on and off the court. The team is sponsored by Conway Regional Health System and First Security Bank. The senior was nominated by his head coach, Salty Longing.
"Jayden is a great rebounder and rim protector," Longing said. "He is very efficient around the rim and a tremendous passer for a big man. He meshes well with teammates. He has a laid-back approach to life that allows him to get along with any type of teammate."
And it's that laid back approach that first caught Roach's eye.
"I met Jayden after football practice early in his junior year and was immediately impressed by his attitude and smile," Roach said. "He just looked like he was having a great time, and this was in the heat of the day after a long practice. What a great example for those guys around him.
"I noticed that there was just something different about him. He is a fun guy to talk to and to be around. From my public announcing role in basketball, I had the opportunity to see up close how hard he worked on the court. He could absolutely take over a game at any time."
Williams and Conway's season came to an end Tuesday in the opening round of the 6A state tournament. Williams graduates as a Wampus Cat champion and will continue his academic and athletic endeavors with a football scholarship at Ole Miss this fall. 
"I want to be remembered as one of the best players to put on a Conway jersey, but also for having good time on the court or field," Williams said. "If you come to a Conway game, the $5 you paid will have been worth it."

Latest posts by Levi GIlbert
(see all)