By Don Bingham
"If you can't stand the heat, get out of the kitchen" does not apply to Whole Hog Café in Conway. The smoker has been fired up since October 2007 with Kent Justus and Carl Longinotti as head of the "smoking team."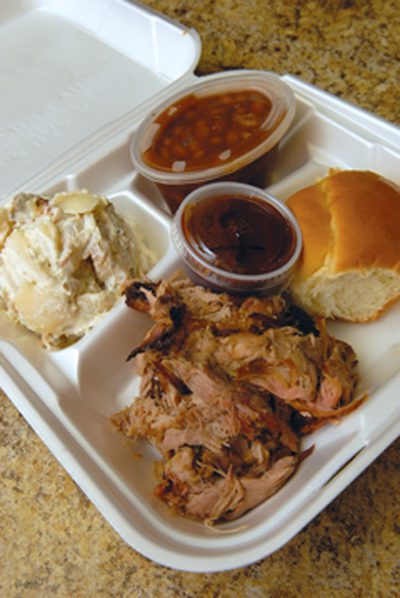 The Whole Hog concept began in Little Rock, with "Sarge" Mike Davis and brothers Ron and Mike Blasingame and Steve Lucci. This team returned from winning the 2002 Whole Hog competition at "Memphis in May" and decided to open their own establishment. The rest is history – a big history, with locations spread as far as Denver.
The Conway restaurant is located at 150 E. Oak Street, Suite A, in the original Shoney's restaurant location.
Conway's Whole Hog smoker is a large "Old Hickory SSJ" gas-powered smoking unit, flavored with pecan wood. From this cabinet comes uniquely-flavored tenderized ribs, chicken, pork loin, beef brisket and more. The meats are cooked constantly, 24 hours a day, seven days a week.
The choice is yours, but there are seven different sauces available. The "Volcano," the true barn-burner, is kept behind the counter but it is yours upon request.
Conway owners Justus and Longinotti remarked that "you don't mess with success" and that the special sauces are recipes from Whole Hog in Little Rock. They also have plans to add more to the menu in the future – including a special holiday-flavored turkey breast, and hot and spicy sausage links.
This smoking duo caters, even to Little Rock and throughout the 501 area and beyond. Parties, business groups, rehearsal dinners, weddings – it all requires weeks of training for the staff assisting in the business. The pork butt cooks for 15 hours; every day demands two "meat only" attendants, and you can imagine what holidays like the Fourth of July, Labor Day and Memorial Day would require.
Orders can be placed by calling 501.513.0600. Additional information is also available at www.wholehogcafe.com. Hours are 11 a.m. to 8 p.m. Monday through Thursday, 11 a.m. to 9 p.m. Friday and Saturday, and 11 a.m. to 2 p.m. on Sunday.
The goal at the restaurant is simple – "Our objective is to make Whole Hog a complete dining experience with great food being most important, but all aspects from atmosphere and cleanliness to staff attention are part of the whole process."
The Whole Hog is the place you'll enjoy listening to blues and jazz as you feast on a great plate of potato salad, baked beans, coleslaw and of course, a full rack of ribs.