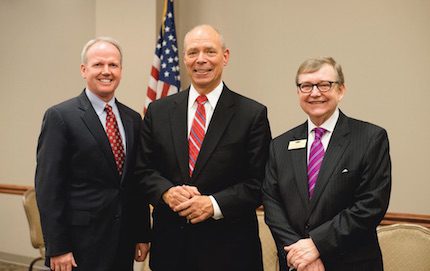 23 Oct

White County scholarship recipients named

Story and photos
by Callie Sterling


The Single Parent Scholarship Fund of White County recently awarded 27 scholarships at its annual scholarship ceremony at Harding University.

KTHV news anchors Craig O'Neill and Alyse Eady served as the masters of ceremony for the event.


"God has truly blessed us, and we really consider this a mission," said WCSPSF Inc. Executive Director Dan Newsom. "We like to think we provide hope through education. The donors are a huge part of changing lives."


The scholarship fund has awarded almost 500 scholarships since it was founded. Close to $30,000 dollars was awarded this year alone.


"This year, we have awarded a total of $29,325 to single parents in White County," Newsom said. "We have awarded 497 total scholarships since we founded the scholarship program in 1999 at a total value of $252,269."


The donors were a mix of local businesses as well as independent families that wanted to honor a loved one's memory and make a difference.


"All money is privately raised; none of the funding comes from the government," Newsom said. "Everything we raise is because of the donors we have."


The recipients of the scholarships beamed with joy when they accepted their certificates. Many had their children in attendance.


"It means a lot that the community is reaching out to single parents," said Sheila Jennings, mother of scholarship recipient Trisha Jennings. "They are making a difference in the lives of not only the parents, but also their children. That is what makes Searcy and our county so special."


Scholarship selection committee chair Cheryl Cherry spoke of the application process and how difficult the selection is for the scholarship recipients as well as the selection committee.


"I am tough when I select the winners," Cherry said. "These students are the cream of the crop. They must maintain a 2.5 GPA, and some even have a 4.0. They must participate in at least one interview, which is not by any means easy."


The scholarship committee wanted to honor Craig O'Neill by presenting a scholarship in his mother's honor. The Judy Merritt Memorial Scholarship was awarded to Paula Haile.


"This was supposed to be in honor of my mother, who passed only eight weeks ago," O'Neill said. "When we founded the scholarship, we did not know it would be a memorial scholarship. We are still mourning."


It was apparent the recipients and donors connected on a deeper level, and the love in the room was evident.


"Paula, you are now part of our family. You are invited to Thanksgiving," O'Neill said.


Individuals interested in making a difference by supporting the fund may contact the committee at [email protected] or by phone at 501.230.2414.


"We do this because we like to see the parents succeed. It is a win-win for everybody, especially the children," Newsom said.