31 May 2022

When disaster strikes

By Donna Benton
Makenzie Evans photos

A few weeks ago, on a road trip with my husband, we found ourselves winding down a stretch of highway through the hills and hollers of the Great Smoky Mountains; it was an impromptu departure from the interstate which would have gotten us home at a much more reasonable hour. I don't dare try to catch a few winks in the passenger seat, or I'll surely end up in parts unknown. We made our way through Gatlinburg, Tenn. It was my first visit to the area since the devastating 2016 wildfires that charred the forests and hillsides around town. I can't even imagine the horror of fleeing as your hometown is ravaged by fire.
The scorched forests around town were still staggering to see, but a natural recovery was starting to take shape. The first hints of spring were flowering and emerging in whites and purples in a colorful display against the blackened tree trunks. It was a stark contrast to the green hillsides of the areas that hadn't been burned. Fire is actually one of nature's tools to keep a forest healthy. It clears out dead and diseased trees, removes leaves from the forest floor, and gives space for new plants and wildflowers that have been lying in wait for their opportunity to grow. A wildfire is certainly devastating and destructive, but in the end the forest emerges stronger and more diverse.     
I got a call, not too long ago, from my friends and neighbors Amy and Joe Crum. They were having a disaster of their own. They had discovered a leak inside a shower wall that had been going for quite a while. The prognosis was not good. They were going to have to tear out and rebuild the tub and shower, and demolition had already started. Granted, as disasters go, a leaky shower pales in comparison to a raging wildfire. But, I am someone who regards the master bath as a sacred, safe space, and standing in the construction zone with Amy, watching her sanctuary be reduced to a gutted husk certainly felt apocalyptic.
When the dust started to settle, the Crums began to see the opportunity before them. Yesterday, it was a catastrophic discovery, but today, it was a chance to make some improvements and updates that would make their home more comfortable, more current, and ultimately more valuable.
It was an unplanned renovation with a little insurance money and a little out-of-pocket investment, so we started thinking about what improvements would make the most sense on a reasonable budget. The shower and tub had to go, so that was where we started. The original bathroom had a rustic, earthy look with natural tiles, and Amy wanted to transition to something more fresh and sophisticated. We selected a wavy, glass tile in a soothing, grayish-blue hue for the shower, and chose a new freestanding tub that would be the centerpiece. A fresh coat of paint for the stained cabinets, and new countertops made a huge impact without blowing the budget. New cabinet hardware and light fixtures finished off the look, like adding earrings to a pretty dress.
We wanted to carry the look into the master bedroom, so trim and wall paint was an inexpensive update that was a great bang for their buck. New curtains, a rug, and some oh-so-comfy linen bedding added softness to the space. The old, stained wood bedroom suite was very nice, but there was no way it was going to fit the new look, and replacing it with new furniture was just not in the budget. So, we pulled out one of my favorite design tricks, and we gave the old bedroom suite a fresh look with new paint. The bed was originally upholstered with leather and nail heads, and we gave it a makeover with new linen upholstery and new paint finish with a subtle silvery edging.
The monochromatic color scheme and the vaulted ceilings gave the bedroom and bathroom a lot of drama, so a regular old door between the two rooms just wouldn't do. We needed a door that made a statement, like "Behold! The Bathroom!" Amy found a design that she liked that would add the wow factor we were looking for, but fully custom doors were going to be way out of the budget. We worked with a local cabinet shop to design and build the ringed inlay trim, and we added it to a pair of standard doors; we had custom doors for a fraction of the cost!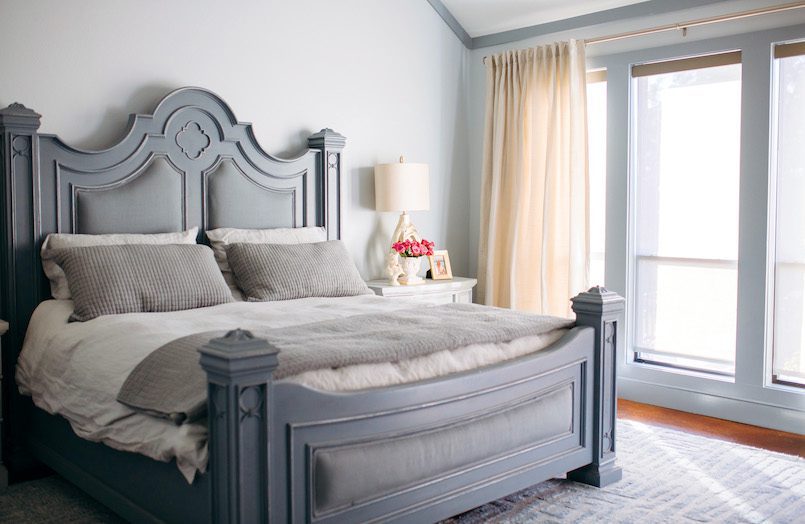 As my father-in-law would say, the Crum family had a plumbing leak, and it caused thousands of dollars of improvements. Even the best planned renovations have their ups and downs, but when you are just minding your own business one week and sleeping in a construction zone the next, it certainly feels like a catastrophe has occurred. Just like the wildfire though, sometimes a seemingly devastating disaster yields progress and improvement. Keep an eye out for the wildflowers, and while it may be painful for a while, in the end it's always worth the work.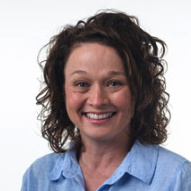 Latest posts by Donna Benton
(see all)