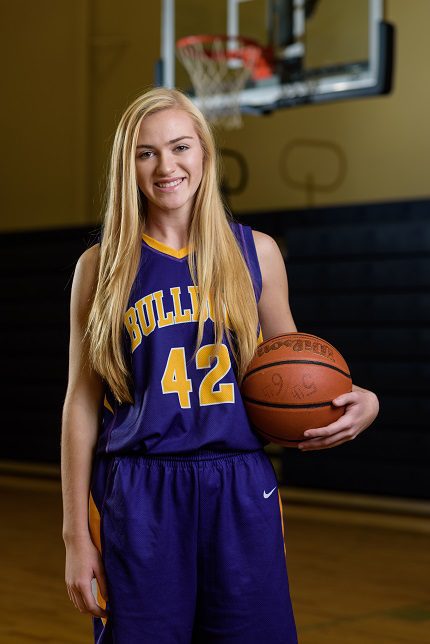 17 Jan 2018

Wells leads 'big family' at St. Joseph School

by Levi Gilbert


For St. Joseph's Brianna Wells, basketball, faith and community are inextricably linked.


"I started playing organized basketball when I was 6 years old with the Upward program," Wells said. "My older brother played and loved the game, so I followed. We grew up in a neighborhood full of kids, so there were basketball games every day.


"The members of my faith community at St. Joseph are my mentors. We are more like a big family as we worship God together, attend school together and play sports together, in many cases for generations. I've witnessed up close and personal God's love through my faith family. That kind of love and support will be a part of me forever."


Wells, a senior post player for St. Joseph, was selected to this year's 501 Basketball Team — 37 players representing the best the 501 has to offer both on and off the court. The team is sponsored by Conway Ortho and Sports Medicine, Conway Regional Health System and First Security Bank. Wells was nominated by her coach, Jessie Ross.


"Brianna played a lot of minutes as our sixth man last year," Ross said. "She embraced that role and really stepped up when she came in the game. This year, she is my team leader, always looking to help her team whenever she can — even if that's helping the younger ones with their homework before games.


"We are so grateful to have her, and I look forward to see how she grows in her senior year. She is one of our main post players, so I expect her to take control on the inside."


So far, it's been a mixed bag for Wells and the Bulldogs (8-10, 1-4), who are looking for a spark late in the conference season.


"We want to be the best we can be," Wells said. "We have a new starting lineup this year. One of our main goals is to help one another bring our individual strengths to the game. We have grown so much as the season has progressed. I'm really proud of our team.


"I want to end my high school career knowing that I gave my team my very best on and off the court every day. I want to be a good example, support them, foster good team chemistry and make great memories."


The Bulldogs aim to turn their conference woes around Friday against rival Conway Christian. The Eagles took the edge in their first matchup back in December.


"We are pretty evenly matched teams, so every shot, rebound and foul made a difference," Wells said. "It could have gone either way, but that one went their way. They are a good team, so we are going to have to bring our best game on both ends of the court, but we know we can do it. We've grown a lot this season, so I'm hoping we close the season strong.


"I don't think of one team being more of a rival than another. The stands are full on both sides. For me, it's always been a fun game because two of my closest childhood friends played for Conway Christian, and we enjoyed being matched against each other — just like in the neighborhood."


Wells is a multi-sport athlete for the Bulldogs, playing both basketball and volleyball. Off the court, she's active in National Honor Society, St. Joseph Parish and the St. Joseph High youth group. She's also involved in the Interact Club (Rotary Club).


"I plan to attend college in the 501, but am still trying to discern which university will be the best fit for me," Wells said. "I hope I've represented my friends, family and St. Joseph community well and made them proud. I hope my opponents have enjoyed competing against me, and I hope I've glorified God in all I've done."


Wells and the Bulldogs play host to Conway Christian at 5:30 p.m. Friday.