30 Nov 2021

Welcome holiday guests with festive decorations

By Jessica Coleman and Deanna Carpenter, Curly Willow Designs

Looking around this time of year, it's easy to see that Christmas décor has evolved from basic red and green ornaments on a traditional evergreen tree, to anything and everything goes. The key to choosing your decor is to find what you love and run with it. Whatever your style, whether it be traditional, whimsical, rustic, elegant, colorful, or any other myriad of styles, you can create something that is specifically customized to your taste.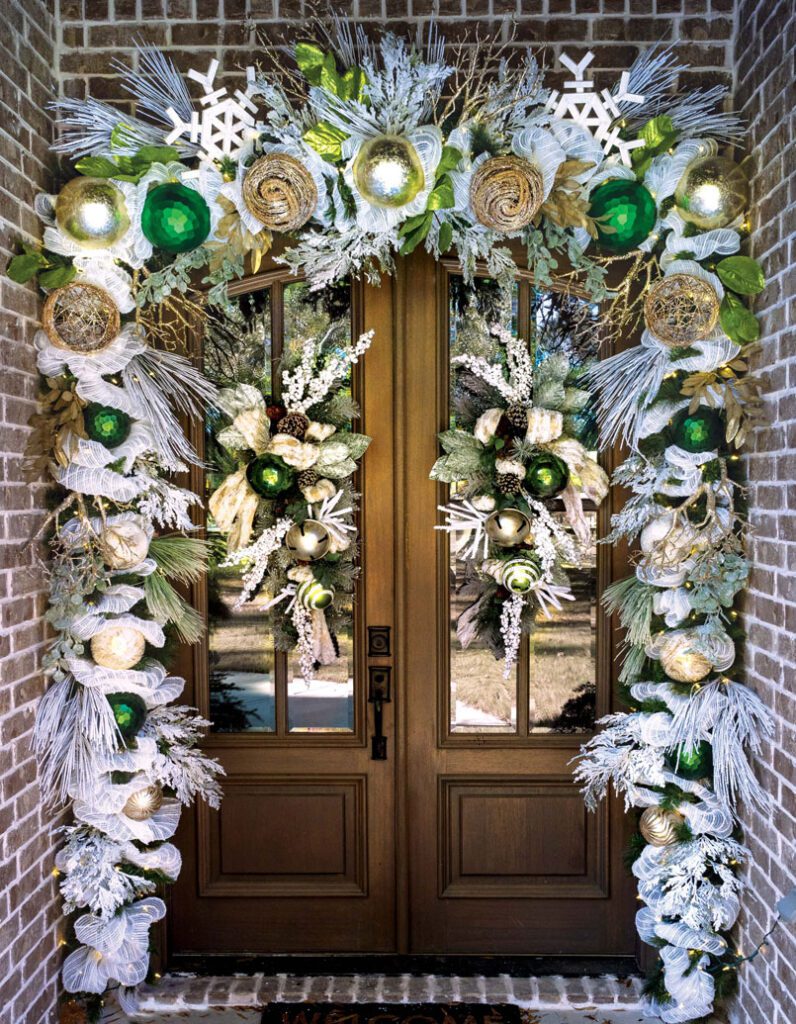 A current trend in Christmas decorations is blending a modern style with rustic elements. The entrance to this home features a garland and two teardrops displayed on the double-door. This client wanted to blend her modern and rustic style in her holiday decorations.
The modern look was achieved by using shades of white and gold with pops of green scattered throughout. The rustic elements of two large wooden snowflakes and several different sizes of flocked pine and cedar picks ties the design together. The teardrops on the double doors have many of the same elements, but also include an intricate gold and white birch printed ribbon, and large bell ornaments. This door display is simple but is very festive and ushers in the Christmas spirit well!
At Curly Willow, we are often asked, "How can I make my tree look updated or full of decorations like the ones I see in magazines or stores?" There are a few easy ways to spruce up the basic tree you have and get the look you want without buying a new tree and breaking the bank.
"My tree looks thin and bare! I see a lot of holes, and I wish it looked fuller."
A trick we use to make a thin or bare tree look fuller is to add greenery picks of different types and textures that can be purchased at your local florist, craft store, or anywhere that carries Christmas decor. The key is to choose greenery that complements your style — pine, cedar, flocked pine or cedar, greenery covered in glitter or tinsel, or anything that you like. The options are endless! Once you've chosen your pieces, place them in your tree pointing downward, using them to fill in bare spots or to fill in where you think your tree looks narrow. Keep adding until you get the look you're after.
"I've always wanted a flocked tree, but I hate the mess it makes!"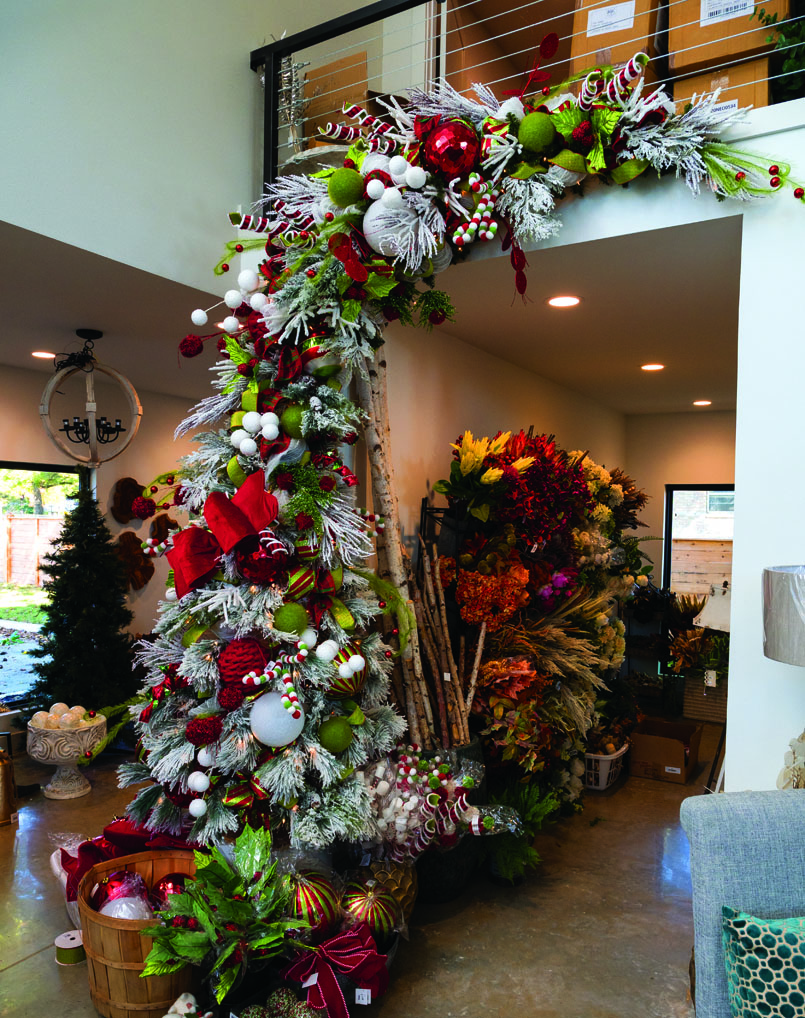 Flocked trees and garlands are a beautiful way to bring the snowy fun of Christmas indoors. The problem most people have is the mess that a flocked tree often leaves behind. A simple way to get the look of a flocked tree using your traditional green tree is to add flocked picks and decorations to your tree. Just like the greenery pieces, place the flocked picks in your tree facing downward. They can be added before your decorations but work best as an addition after you have decorated your tree. The branches can then fill in any blank spaces you have and you won't need as many. Again, keep filling in your tree with the flocked picks until you get the look you want.
"My tree has large holes in it that not even several greenery picks could fill!"
An older, well-loved tree will often have areas that look like holes, and those areas are too big to be filled in by a greenery pick. A fun way to fill those areas is to add a large item like a decorative sled, snowflake, or sign that will cover that bare spot but also add a fun element to your decorations and give your tree more interest and dimension. Place the large object where you want it to be in your tree, and use wire to hold it in place. Use small and large ornaments to continue to fill in the holes, and add in more pieces if you desire!
Items in these displays can be purchased from stores offering holiday decorations or at a local florist. Special thanks to the Curly Willow Designs team for sharing these original designs with readers. Since 2008, the florist and home décor store has offered interior decorating year-round in Cabot.