27 Oct 2021

Welcome guests with easy porch update

By Jessica Coleman and Deanna Carpenter

A favorite way to usher in the season and guests is to create a series of mixed flower pots full of fall foliage to display outside your home. Assembling mixed flower pots is an easy way to make your home ready for fall and all of the fun it brings. This month's easy home update is brought to readers by Curly Willow Designs in Cabot. The full service florist offers home décor and also interior and landscape design services. Their two-story building is festively decorated for every season and fall is a favorite for the talented staff.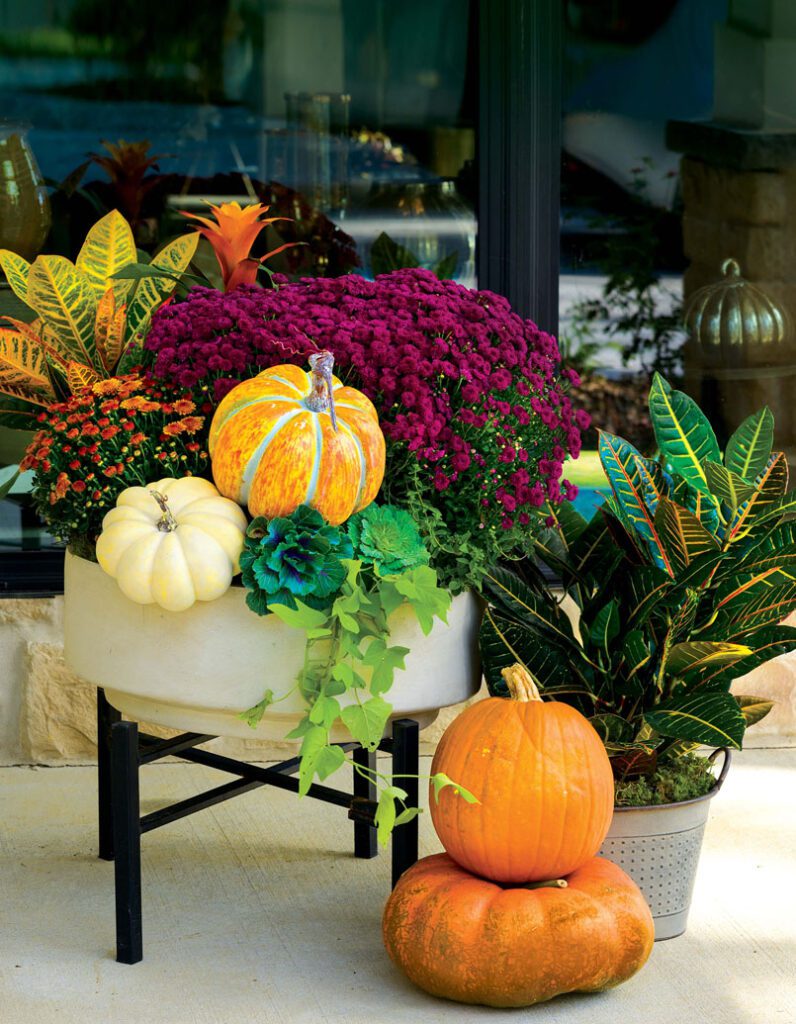 "After a fire a couple of years ago, we opened a new building in May," Owner Monica Griffin said. "Just like any new homeowner, we are excited to decorate our wrap-around porch for fall and wanted to share instructions on an easy update anyone can do!" 
Here are some things you'll need to make your mixed flower pot; everything can be purchased from your local nursery or florist:
• A large pot (ours is 17" X 24").
• Styrofoam pieces or small bricks to fit in the bottom of your pot.
• An assortment of plants. (We suggest mums, cabbages, millet, sweet potato vine, pansies, crotons, celosia, corn stalk and hay bales.)
• Sheet moss or Spanish moss.
• Pumpkins, scarecrows, door wreaths or other fall décor of your choice.
Step 1
Take your large pot, and place your foam or bricks inside. Build up the bottom of your pot until it is about ¾ of the way full. Your smaller flower pots will be placed inside of your large pot, so the key is to make sure the rim of your small pots are not any higher than the edge of your large pot.
Step 2
Fill the large pot with smaller flower pots. By leaving the flowers in their original containers, it's easy to change them out as they finish blooming or change the look as new plants become available. Choosing plants that are different textures, sizes, and colors can add dimension and variety to make your displays interesting. If your flowerpot can be seen all the way around, choose something tall for the center. Place it toward the back if the pot is going to be one-sided. Continue to place your plants in the large pot until it is full. As you start adding more plants to your pot, they will begin to fill in the spaces and hold each other up. Feel free to reposition plants as you see fit in your design process. Be sure to place plant liners under your plants so that they will always have fresh water.
Step 3
Once you have everything arranged, the pots should not be visible. If they are, or you would prefer a cleaner finish, take a few pieces of sheet moss or Spanish moss and cover the empty spaces.
Step 4
Around the base of your pot, place other décor like pumpkins or hay bales. If you have an extra mum or other plants you'd like to use, cluster them around the base of your pot. Add in scarecrows or wooden pumpkins to help your new porch décor come to life. Remember to regularly water your plants so that you can enjoy your mixed pot all season long.
Curly Willow Designs has served customers since 2008. The store is located at 210 West Locust Street in downtown Cabot.
Connect with them on Facebook or on Instagram @curlywillowdesigns.