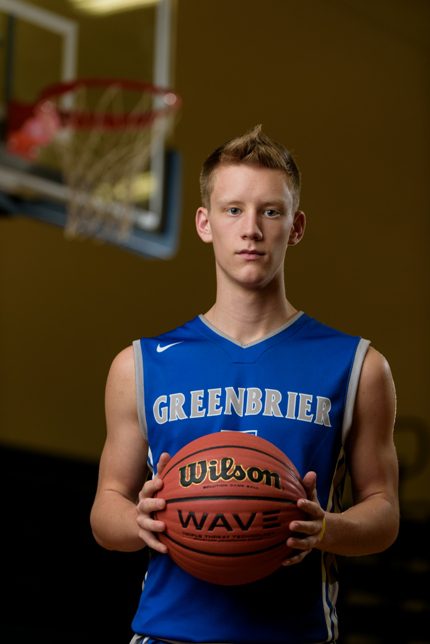 15 Feb

Webb, Panthers eye 'rowdy' Vilonia rivalry

by Mark Oliver


It's the game that Greenbrier has had circled on its schedule since the season began — a home date with longtime rival Vilonia. For the Panthers, not only is it an opportunity to complete the season sweep of its rival, but it's also a chance to put the finishing touch on a successful Class 5A West conference season.


"The Vilonia game is easily the most rowdy game of the year for us," said Greenbrier senior point guard Payden Webb. "More people come out for this game than any other game, and it makes for the best experience. The gym will be full, the fans will go crazy and it's always a good game. That's what makes it even better."


Just like in football, when it comes to the Faulkner County rivalry, it's either team's ballgame to win. After winning the first meeting, 58-53, the Panthers know that beating Vilonia twice in a season will be a challenge.


"Beating Vilonia a second time won't be easy," Webb said. "We have to come out and play harder than them. We have to get on their shooters and play defense. We will need to bring 100 percent effort to be able to win the ballgame. There's a lot riding on this game. If we beat them, we'll be the third seed in the state tournament. If we lose, we'll be the fourth seed."


Webb was selected to this year's 501 Basketball Team — 34 players representing the best the 501 has to offer both on and off the court. The senior was nominated by his head coach, Mike Simmons. The team is sponsored by First Service Bank and First Security Bank.


"Payden is a very good scorer and leads our team from the point guard position," Simmons wrote in his nomination. "He leads by example with hard work and is one of the best shooters in our league. He will give us a chance to win a lot of games."


After going 2-11 in conference play a year ago, the Panthers (10-13, 7-3 Class 5A West) have clawed back into relevance this year and look to be a formidable team going forward into tournament play.


"We're doing well," Webb said. "I don't think many people expected us to be this good this year, but we've gotten better as the season has went on and we're playing much better than we have in years past. Our goal is to get a good spot in the state tournament and see what happens from there."


According to Webb, the Panthers' sweetest victory came over Vilonia on the road.


"Our defining moment this season was the first meeting with Vilonia in January," Webb said. "We hit our shots and executed well — it was the best game we've played all year. We played really well as a team, and that was a momentum booster for sure. That game showed us what we were capable of as a team."


Before his senior season, Webb committed to growing his on-the-court leadership presence.


"My biggest goal this year was to become a better leader for this team," Webb said. "A good leader is someone who is passionate about what they are doing and someone who can reiterate what the coach is dong on the court. I want to be the coach on the floor. I feel like I have a better connection with the players because I'm on the floor with them. Not only does it help the team get better, but it also helps the flow of the game, too."


Off the court, Webb spends his time enjoying the outdoors of the 501 and giving back to his community through City Church in Conway.


"I'm incredibly passionate about whatever I do," Webb said. "I give 100 percent, whether I like it or not. If I commit to it, then I finish it and do the best job that I can. That's my view on life, grades and everything that I do. I find that it helps me be more successful."


After graduation, Webb will continue playing basketball at the collegiate level.


"I'm going to college at Washington University in St. Louis," Webb said. "Last summer, I went to a basketball camp that was run by their head coach and assistant coach. We learned about their system, and they gave us a tour of the campus. The coaches liked me, and I liked them. Playing college basketball was always something I wanted to do ever since I was little. Getting this opportunity is definitely a dream come true."


Webb hopes that his journey inspires those who dream of following a similar path.


"Never let anyone tell you that you can't do something," Webb said. "No one but you decides your future. It's all about how hard you work and how much you care about something. If you put in the work, then the results will come."


Greenbrier plays host to Vilonia on Friday, Feb. 17.