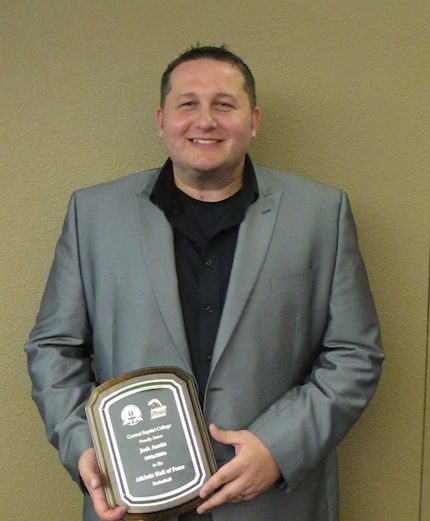 01 May

Waters and Austin inducted to CBC Sports Hall of Fame

On Saturday, April 27, Central Baptist College honored the two newest inductees to the Central Baptist College Sports Hall of Fame in conjunction with the CBC Sports Awards ceremony in the CBC Dining Hall.

Each individual was selected for their outstanding achievements as a CBC Mustang both on and off the court.
Rick Waters played basketball at Central Baptist College from 1980-82. He has a combined 27 years of experience in education, 11 as a high school principal and 18 as a coach. He is currently the principal at West Side High School in Greers Ferry and is scheduled to start his new role as the superintendent at the Genoa Central School District in Genoa in July.

Some of his honors include being the Coach of the Year for Best Under the Sun, 3A, 3AA and 2AA in 1998, 1999 and 2005.

He and his wife, Sharon, also a CBC alum, have three children: Gracie, Maribeth and Sarah.
Josh Austin played basketball at CBC from 1999 to 2001 and coached the CBC men's basketball team from 2006 to 2011. As a player, he has the records for most three-pointers made in a single game at seven and most points in a single game by one player with 47 total points.

As a CBC coach, he holds the record for the first and second most wins in a single season and coached the first CBC men's basketball player to become an Academic All-American. He is currently the head coach for the men's basketball team at Williams Baptist College in Walnut Ridge, where he coached an NAIA All-American student and helped lead his team to breaking more than 15 school records.

He and his wife, Rachel, have two daughters, Langley and Aubrey.