27 Sep 2023

Warriors defeat Millsaps for 2-0 start in SAA

JACKSON, Miss. — After an 0-2 start to kick off the year, Hendrix has come roaring out of the gates to start conference play with back-to-back 50+ point outings after hanging 53 on Millsaps on Saturday.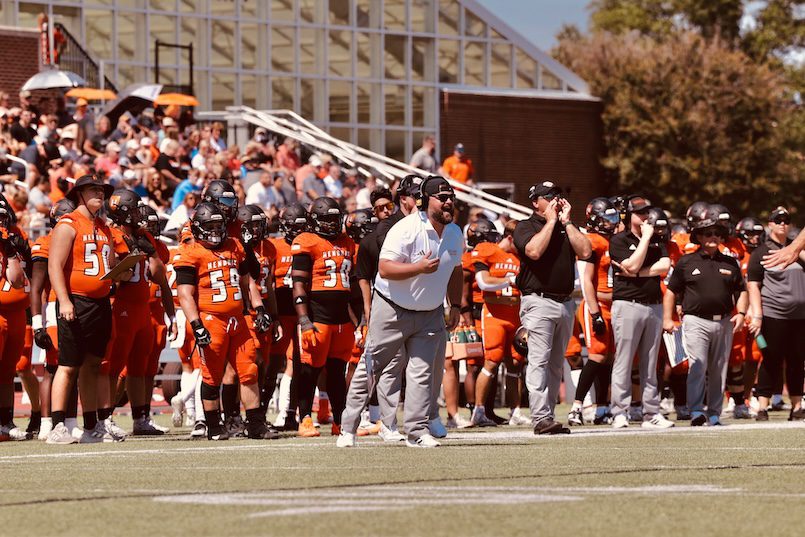 True to form, Jacob Buniff shone once again. The sophomore quarterback entered the weekend as the top passer in all of NCAA Division III and threw for over 400+ yards for the third time in four games.
Kanyn Utley ended the day as the top receiver for the Warriors, totaling 145 yards on 9 catches with 2 touchdowns to boot. Jax Johnson and freshman Peyton Wingfield joined Utley in the 100-yard club, with the latter breaking off for a 72-yard touchdown reception for his first career score. Utley now ranks first in the Southern Athletic Association (SAA) in receiving yards.
For the second consecutive week, Jason Sullivan led the Warriors in rushing, grounding out 93 yards on 14 carries and a score. Auvic White added two scores of his own.
The Blackshirt defense feasted in Millsaps' backfield with 9 tackles for loss. Riley McMurren, Nathan Hahn, Cameron Daniels, and Trisitan Johnson all recorded sacks. Jaden Davis and Ryan Maxwell each recorded interceptions. This is the second-consecutive game that Maxwell has picked off the opposition.

The win in Jackson means Hendrix improves to 2-2 (2-0 SAA) on the year, and will defend their unbeaten conference record next weekend at home versus Sewanee.