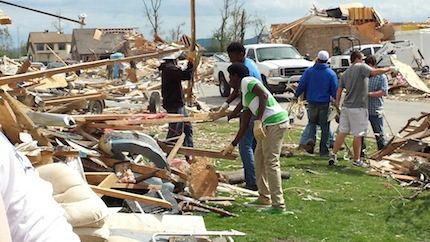 07 May 2014

Wampus Cats volunteer in Mayflower cleanup

Posted at 1:58 PMh

in

News

by Levi Gilbert


The giving spirit of Central Arkansas has been on full display since an EF-4 tornado devastated several communities in the 501 on April 27. Volunteers from throughout the 501 have been quick to help in two of the hardest hit communities, Vilonia and Mayflower.

Recently, Conway football coach Clint Ashcraft gathered up his Wampus Cats to give neighboring Mayflower a football team's worth of able bodies to help out.


"Last Wednesday we loaded up the whole senior high football team on three buses and went to The Plantation neighborhood in Mayflower," Ashcraft said. "We split the team up into four groups along with our coaches, and Maj. Randolph (Faulkner County Sherriff's office) took us to different houses where people needed help with their cleanup effort. The residents that were there told the coaches what they would like help doing, and our guys jumped in and went to work doing whatever was asked of them."


The Wampus Cats had a strong desire to help in any way they could. Several players voiced their eagerness to volunteer to Ashcraft.


"We talked about it Monday when we got back to school," Ashcraft said. "Everyone wanted to do something, and once we got permission and clearance from the sherriff's office, we told our guys to show up in work clothes and be ready to go on Wednesday. Our goal was to leave whatever area we were put in to work in better shape than when we got there. When we were leaving, it didn't look like much was done because the neighborhood was in such shambles, but the people we helped were very grateful and told the guys how much of a difference that they made.


"Our players just wanted to do something to help these people that were affected by the tornadoes. We've got a bunch of young men that when they go to work can get a lot done. Several of our players missed school and went back on different days and continued to volunteer on their own with their families or churches."

Like many who have volunteered in the aftermath, Ashcraft and his players were at a loss of words upon seeing the sheer destruction.
"All of our guys were just in shock once we got out there and saw how bad it was," he said. "You could hear them talking to one another, and one thing that was heard over and over was that the pictures and news footage, while bad, really couldn't do justice to the severity of the damage. A lot of guys were talking about how blessed and fortunate they were to not have been hit, and at the same time there was an overwhelming sadness for those that were.

"I noticed the guys were quiet, and they really worked hard while they were out there. You could tell many of them really wanted to make a difference while we were there. We talked about it Thursday when we got back to school. Many of them looked for more opportunities to help, either by going back out to clean up or turning in donations to our high school's collection effort. Our guys were very proud to go out and help, but the thing I think they took away the most was the feeling that more needed to be done, that just going out and helping one day was not enough."