17 Nov 2020

Wampus Cats host Central in 7A quarterfinals

The Conway Wampus Cats are back home for the second week in a row in the 7A state playoffs thanks to a surprise upset last week in Northwest Arkansas.

The Wampus Cats (7-3, 3-2) took care of Springdale easily at home last week, 66-21, and will now play host to the Little Rock Central Tigers (3-4, 1-1). Central shocked the No. 2 seeded Fayetteville Bulldogs on the road last week on a last-second field goal.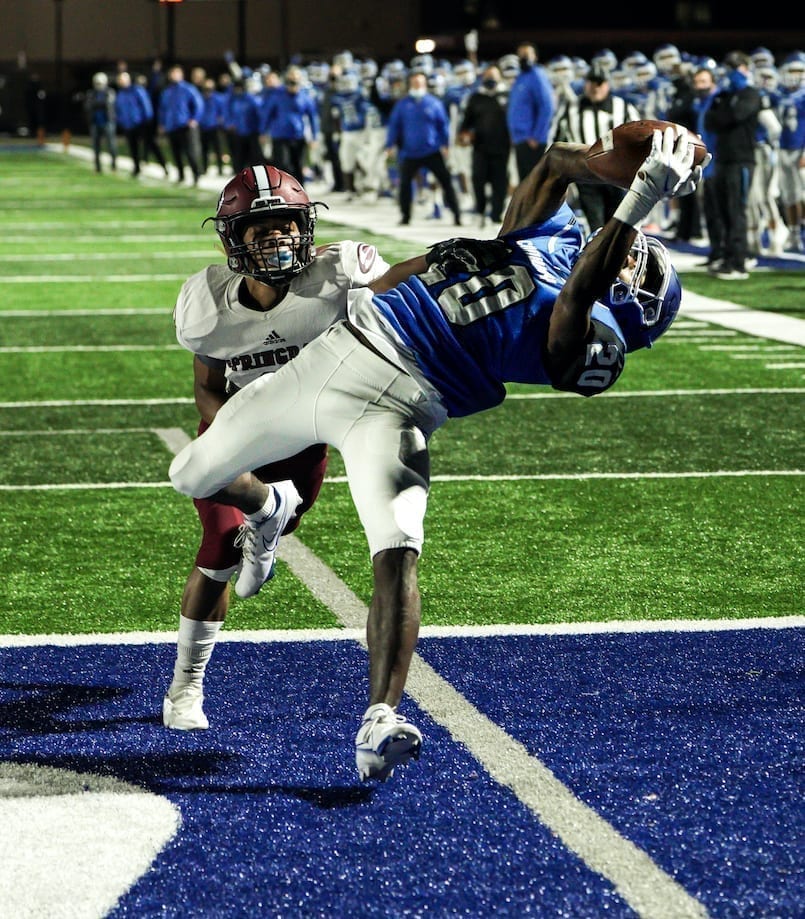 This will be the first time the 7A Central foes will face off this season. Their Week 8 matchup was cancelled due to COVID-19 issues at Central. The Tigers missed four games in the middle of the season because of COVID.
"It's strange to be playing a conference opponent in the playoffs, but not really having a solid feel on them because you haven't played them this season," said Levi Gilbert, play-by-play announcer for Wampus Cat football on Conway Corp. "But that's just how this season has been. On paper, this is a really good draw for the Wampus Cats, but Central has already proven that they can go on the road and knock off a higher ranked opponent. The Wampus Cats will have to stay focused and take care of the task at hand."
The Wampus Cat offense is rolling off a hot performance in the opening round of the playoffs. Conway's offensive starters put up 52 points in the first half against Springdale. Senior Ben Weese, the state's leading passer in terms of yardage and touchdowns, threw six touchdowns to six different receivers. Weese finished 16-for-20 for 250 yards and six scores.
Sophomore running back Boogie Carr led the receiving attack with five catches for 62 yards and a score. Bryce Bohanon, Micah Mosby, West Boudreaux, Manny Smith and Dylan Silverman-Barnes all also had one receiving touchdown. Senior running back Jamaal Bethune rushed for 115 yards, including a 43-yard touchdown run.
"This is the third time Ben Weese has thrown for six touchdowns in a game," Gilbert said. "It's just unreal. He really put on a show and showed you why he's the state's leading passer. It's no fluke. The speed and receiving threats on the field every play creates so many problems for opposing defenses. The offensive line had done a great job of giving Ben time. And with Jamaal Bethune back at 100 percent, this offense has never looked better."
The Wampus Cat defense recovered three fumbles and gave up just seven points in the first half.
"The defense is a little shorthanded right now because of injuries, but they are still as turnover hungry as ever," Gilbert said. "They are always trying to get the ball back to this explosive offense as quickly as possible. This team has been so fun to watch all year, and I'm excited to get to watch them at least one more time. They have a good shot to be playing on Black Friday."
Conway's quarterfinals playoff matchup with Central will air live on Conway Corp channels 5/585 and on YouTube.
View the full slate of playoff matchups containing 501* teams below:
CLASS 7A QUARTERFINALS
Springdale Har-Ber at BRYANT
CENTRAL at CONWAY
CABOT at Bentonville
CATHOLIC at NORTH LITTLE ROCK
CLASS 6A QUARTERFINALS
PARKVIEW at SYLVAN HILLS
El Dorado at LAKE HAMILTON
CLASS 5A FIRST ROUND
VILONIA at HOT SPRINGS LAKESIDE
Clarksville at LITTLE ROCK CHRISTIAN
Farmington at PULASKI ACADEMY
GREENBRIER at Magnolia
MAUMELLE at Wynne
Texarkana at MORRILTON
CLASS 4A FIRST ROUND
Trumann at MALVERN
BAUXITE at Dumas
Hamburg at STUTTGART
MILLS at JOE T. ROBINSON
BALD KNOB at Elkins
LONOKE at Warren
Crossett at CENTRAL ARKANSAS CHRISTIAN
CLASS 3A FIRST ROUND
Smackover at HARDING ACADEMY
Harrisburg at JESSIEVILLE
MAYFLOWER at Charleston
West Fork at GLEN ROSE
BISMARCK at McGehee
PERRYVILLE at Greenland
CLASS 2A SECOND ROUND
Hampton at BIGELOW
QUITMAN at East Poinsett Co.
*501 teams listed in bold and all caps.