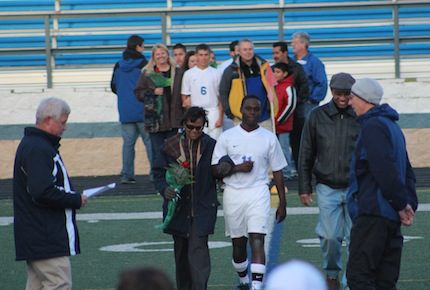 04 May

Wampus Cats defeat Southside

by Alan Williams


The Conway Wampus Cats boys' soccer team (9-5) played their final conference game of the year on Friday night against the Fort Smith Southside Rebels (8-5).

The game was set up to be an emotional game as they were celebrating senior night, and they had to win in order to make the state playoffs. The Wampus Cats boys said goodbye to eight seniors: Ryan Davis, Geoff Gough, Logan Hampton, James Keith, Andrew Massey, Victor Ramirez, Luis Silva and Matthew Williams.


The Rebels scored the first goal in the 18th minute but less than a minute later Hampton received the ball to his feet as he sprinted down the sideline and then made an excellent pass to Keith in front of the goal and he drove it into the back of the net to tie the score at 1-1.


Conway would score again in the 32nd minute as Hampton finished in the box after an assist from Nestor Moguel for a 2-1 lead. Three minutes later a foul was called in the box and the Rebels were awarded a penalty kick. Cats goalie Kwan Tolbert guessed correctly on the attempt and was able to get his hands on the ball but the shot had a lot of pace and it rebounded off his body and into the goal to tie the score at 2-2.


Both teams came out in the second half determined to finish the game with a victory. With 24 minutes left on the clock, Moguel went down with an injury and was helped off the field. Instead of the Cats letting down, they instantly rallied and went on the attack and earned a free kick from around mid-field. Gough lined up over the ball and struck it so that the ball fell just inside the goalie's box and Hampton met the ball on the bounce and headed it up and over the keeper to where Henry Aguirre was running into the area and placed the ball quickly into the goal for a 3-2 lead.


The Cats held on by playing total team defense the rest of the way and secured the victory and the opportunity to play in the state playoffs on Thursday at North Little Rock High School. They will not know their seed in the tournament until after the Rebels take on the conference champions, Fort Smith Northside.


---
The Lady Cats lost in a heart-breaker 1-0 to the Lady Rebels. They said goodbye to five seniors on Friday night: Molly Hilburn, Katy Larson, Sydney Meyer, Hannah Ray and Alexa Reed.

The girls' team has also qualified for the state tournament but will have to wait as well until the Southside vs. Northside game is over on Tuesday night to see what seed they will be. All the girls' games will be played at Cabot High School.