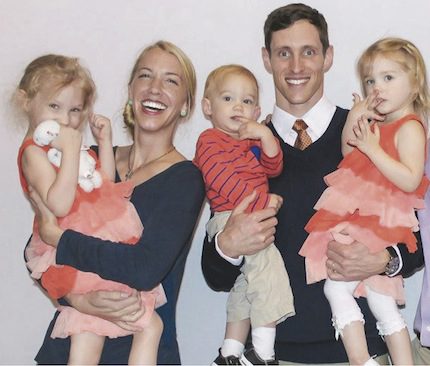 27 Apr 2013

Walking in faith

Posted at 2:01 PM

in

Faith

by Amanda Mulhearn


As I approached Tanner Cangelosi to reveal the story of her faith journey, I had no clue that she would also become a part of mine.

This was my first FaceTime interview, which is a video chat over iPhones. I am constantly amazed at technology and could not have asked for a better interview subject than Tanner Cangelosi.


How would you define the word faith? Better than the word, who symbolizes what faith means to you?


Dr. Martin Luther King Jr. said, "Faith is taking the first step even when you don't see the staircase."


After speaking to Tanner, I feel comfortable saying she and husband, Cory Cangelosi, are good examples of going down a path you had never even considered.


Their life began playing sports and going to school at the University of Central Arkansas. Tanner was a golfer, and Cory played football. The two met and married before they finished college. After graduating, Cory planned on getting a business job with his M.B.A. while Tanner could pursue a job using her B.A. in elementary education.


Per Tanner, God had other plans. After attending New Life Church in Conway since college, the couple was approached by Pastor Rick Bezet to lead their children's ministry.


Having both grown up in church, they were familiar with the terrain, but they quickly and graciously declined.


"We were so surprised and flattered that he saw something in us [to lead the children's ministry], but we did not see these skills in ourselves," Tanner explained.


Yet, they continued to pray about their future. As Cory approached the start date of his new job in Fayetteville, he had the feeling this was not the path God wanted him to take. With Tanner's full support, the couple then began their seven-year stint as leaders of the children's program at New Life. "Thankfully, we changed our mind. He took the job, and we never looked back," she said.


Meanwhile the couple added three beautiful children, Zuzu, 4, Coco, 2, and Jacob Owen, 1, to their family, all the while learning and growing with their ministry. Cory continued to pursue his passion by taking classes from a theological extension campus offered at Central Baptist College in Conway. Tanner stayed home with the kids, planned events for New Life and wrote for 501 LIFE.


Little did they know, this was not the only major change God had planned for them. While the couple transitioned toward adult and parent ministry, they were once again redirected.


Bezet approached Cory with a request to become the lead pastor of the New Life Church campus in Hot Springs. After much prayer, the family left their Conway comfort zone and continued their journey to Hot Springs in March.


Although she was sad leaving Conway, Tanner has felt warmly welcomed by the congregation in Hot Springs. "I miss the familiar, but the people here have been amazing," Tanner said.


As for the future, Tanner envisions a big happy family wherever God leads them. "We could see ourselves in Hot Springs for the long haul, but we are always ready to be obedient to where God will take us."


We continued our live interview with a test of faith, or at least patience only a mother would understand. Their oldest daughter continuously interrupted the final minutes of our interview by popping into view with multiple stick-on mustaches. Tanner laughed and redirected her daughter to go find another one.

While one daughter searched for the perfect mustache and another daughter awoke from a nap, Tanner offered to complete our interview in prayer.


"Praying for people right there [can change lives] — praying with the hurting, meeting them where they are to remind them of the hope in Jesus," Tanner said.


Just like that, Tanner's prayer has now become a part of my own journey, and I look forward to seeing where life leads this couple next.