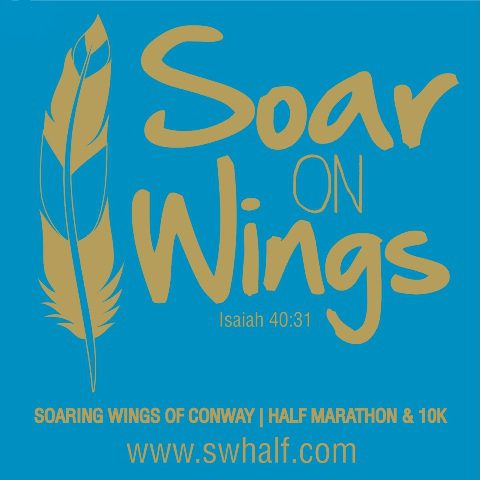 30 Jun 2017

Walkers/runners ready to SOAR?

Official training for the Soaring Wings of Conway Half Marathon will begin in August.


The theme for this year was inspired by the Bible verse, "For those who hope in the Lord will renew their strength. They will soar on wings like eagles; they will run and not grow weary, they will walk and not be faint." Isaiah 40:30-31. "The single feather represents a beginning…the weeks of training and miles ahead of you as you reach the finish line on Oct. 21 and receive your wings – an awesome finisher medal," said race co-director Marla Watson.


"We are super excited to unveil the training shirts for our 10-year celebration," said race co-director Amanda Castillo. "All items are tech material, offering moisture-management and anti-microbial properties. All styles are tag-free and have single-needle neck/armholes to help prevent chaffing. You will definitely want to order one of each. We are offering a ladies racerback, ladies V-neck, unisex sleeveless and unisex tee."


In the Conway area, there will be a local half marathon training group led by Amanda and group leaders Carole-SuperStar DeLaney, Ryan Westin, Wanda Kay King, Heidi Thompson, Curt Amenta, Jennifer Lovelace Stanley, Lisa Ulmer, Sherrie Hartzell, Bridgette Larkin-Perkins, Aline Avant-Cross, Richard Counts, Wendy Johnson and Karen Bailey Buckner.


Walking leaders, Tara Hicks and Dee Horton, have been added this year. "We offer a training program for beginners to experienced runners," Amanda said. "Weekly training maps will be posted to the website and Facebook. The new training schedule will be released in the coming weeks."


The Conway area training program will meet at Conway Regional Health & Fitness Center at 6 a.m. on Saturdays beginning Aug. 5.


Training shirts are pre-ordered and extras will not be ordered. Shirts will be shipped in August when training kicks off. "If you don't live in the Conway area, but would like a shirt – please feel free to order as many as you like," Watson said. "There is an option to select shipment."


The cost is $15, which includes the training program and a shirt. "Either way, you are getting an amazing deal – an awesome group to train with and a great shirt for just $15 or a quality shirt only for $15," Amanda said. "It all goes to an amazing cause – Soaring Wings Ranch."


For more information, visit swmarathon.com/training-info/.