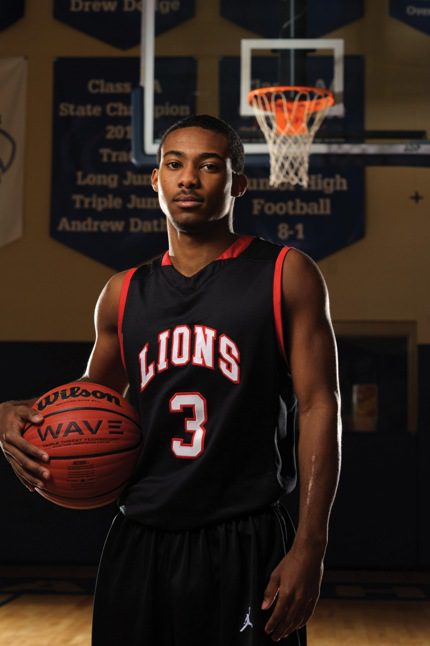 25 Feb 2015

Wade gives 'solid character' to Lions

by Levi Gilbert


This Friday marks the end of regular season play for all 6A and 7A basketball teams, and it features a matchup between two 501 Basketball Team honorees — Searcy's James Wade and Cabot's Garrett Rowe.

Wade, a senior for the Searcy Lions, is a physical specimen at the point guard position.


"He's a great floor leader and has a great high school basketball I.Q.," said Jim Summers, Searcy's head coach. "And he has a 44.5-inch vertical leap!"


Wade was selected to this year's 501 Basketball Team, which boasts the best the 501 has to offer both on and off the court. He was nominated by Summers.


"He has a 3.8 GPA and solid character," Summers wrote in his nomination. "He treats teammates with respect and makes the people around him better."


Basketball hasn't always come easy to Wade.


"I started pretty late," Wade said. "I started in about fourth grade. I wasn't very good at first. None of my immediate family played sports at all. I just played because my friends did, and I was like, 'Hey, I kind of like this.' I started putting in extra time and got better."


Wade and the Lions had high hopes heading into this season, but things haven't gone quite like the senior hoped. The Lions enter the final game of the season winless in 7A/6A East conference play. Despite the losing season, Wade and the Lions have a chance to close the season strong with a win over Cabot.


"Our whole conference, we're all rivals," Wade said. "There's basically no nights off. You have to show up every time."


When he's off the court, Wade is frequently looking for ways to give back to the Searcy community.


"He visits elementary schools and works with kids," Summers said. "He's involved with extracurricular groups at school."


Wade is a Spanish Honorary, which is one of the primary ways he participates in volunteering in Searcy. He also volunteers at his church, Pleasant Grove Baptist. Both volunteering efforts involve working with children, which is a passion for Wade.


After basketball, Wade plans to try out a new sport for the first time — running track.


A native of Cleveland, Ohio, Wade has been residing in the 501 for about 10 years. Like many Northerner transplants, he finds the local response to winter weather a little amusing.


"The first week that we moved to Searcy, there was a little snow on the ground," Wade said. "We got out of school. I was like, 'For what?' I was confused. I was used to so much more snow in Cleveland, and we would still go to school.


"It's hot here in Arkansas. I like that."


The Lions play host to Cabot this Friday.