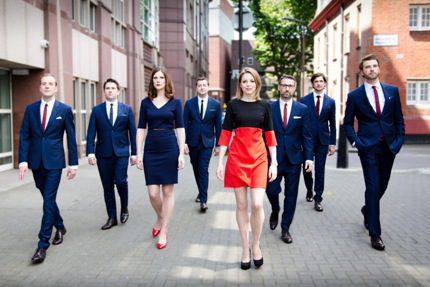 07 Nov 2016

VOCES8 to perform at UCA

Posted at 11:45 AMh

in

News

by Hanna Lowery
College of Fine Arts and Communication Media Office


The British choral ensemble VOCES8 will be on the University of Central Arkansas campus as Artists in Residence Wednesday, Nov. 9, and Thursday, Nov. 10.


As part of the residency, the group will present a concert at 7:30 p.m. Thursday, Nov. 10 in Reynolds Performance Hall.


The group, formed in 2003, performs everything from Renaissance polyphony to modern jazz and pop. VOCES8 often collaborates with world-renowned composers and tours all over the world. They have performed at venues such as Royal Festival Hall, Tokyo Opera City Concert Hall, Tel Aviv Opera House, National Concert Hall Taipei, Cité de la Musique in Paris, Dijon Opera House and Shanghai Concert Hall. The group has also appeared with the Philharmonia and London Philharmonic orchestras.


Amanda Horton, director of Reynolds, said she was "thrilled that these international artists will be not only performing for the Central Arkansas community but also sharing their expertise and talent with our students through a residency."


Tickets for the public performance range from $27-$40. UCA students will be admitted free with valid student I.D.


Tickets may be purchased at uca.edu/publicappearances/night-out/voces-8/.


For additional information, contact Horton at 501.450.3682 or [email protected].


As part of the residency, the octet will also hold vocal classes where UCA students and other local students can explore techniques and skills, including a presentation on professional opportunities for vocalists and ensembles; a VOCES8 Method masterclass for UCA and high school choral students; and a vocal techniques masterclass.


The Artist in Residence program is funded by UCA's arts fee and is administered by the College of Fine Arts and Communication. For more information about the program, call the Office of the Dean, College of Fine Arts and Communication, at 501.450.3293 or [email protected].