23 Feb 2022

'Vocal' Bradley gives Beebe 3-point threat

By Levi Gilbert

Last season, the Beebe Lady Badgers punched a ticket to the 5A state tournament. Mya Bradley averaged 12 points per game that season for Beebe.

"She was a big part of helping us get to the state tournament last year," Beebe Head Coach Greg Richey said. "Mya was our second leading scorer last year, and we have looked to her to carry that load again. She has capabilities of being a very good defensive player and has been called on to step up more as a defender this year.

"Mya is an excellent shooter from 3-point range and also a very good penetrator to the basket."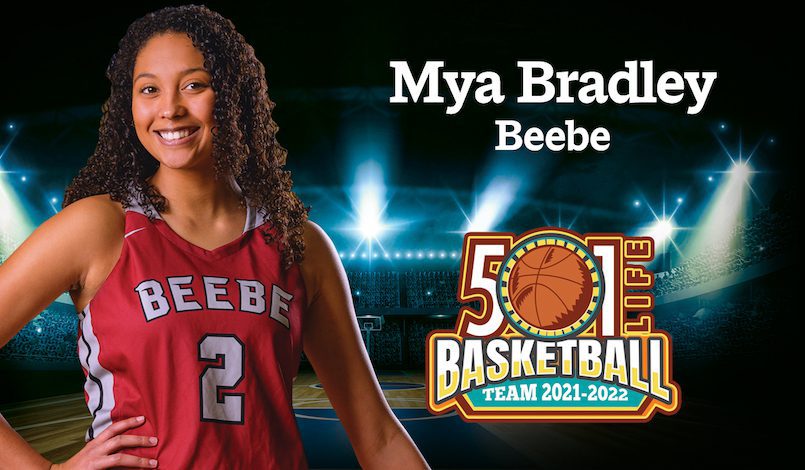 This year as a senior, Bradley's focus has been on leaving a legacy as the consummate teammate.
"I want to be remembered for being a good teammate and team player," Bradley said. "And for building up my team. My favorite basketball memories include all the lifelong friendships I have made through my years of playing."
Bradley was selected to this year's 501 Basketball Team — 40 players representing the best the 501 has to offer both on and off the court. The team is sponsored by Velda Luders of Coldwell Banker RPM Group, Moix Equipment and Toy Company, Conway Regional Health System and First Security Bank. She was nominated by Richey.
"She is a good teammate on the floor and wants to see everyone do well," Richey said. "She is very vocal in practice, and she is a good leader to all the underclassmen. She is good at pointing out things to other players and helping them to understand."
Bradley also runs track for Beebe and set the conference high jump record last year. She earned all-conference and all-state in track as a junior.
She's a member of Health Occupations Students of America, Future Business Leaders of America and National Honor Society.
"Mya is a good student and is friendly to everyone," Richey said. "In much the same way as a teammate, she helps other students with anything that they need help in and is there for them. Mya stays involved in student life at school. Her family is very involved in Booster Club activities and fund raisers for all the sports programs at school and the youth programs in Beebe."
After high school, Bradley plans to attend nursing school in pursuit of becoming a neonatal nurse.
Bradley and the Lady Badgers close out the regular season playing host to Little Rock Hall. The game is currently scheduled for 6 p.m. Friday, Feb. 25, but could be postponed due to inclement weather.

Latest posts by Levi GIlbert
(see all)