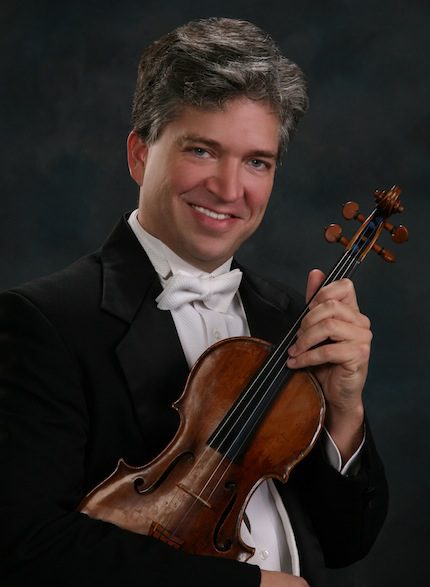 15 Apr

Violinist Curt Thompson returns to Conway stage

The Conway Symphony Orchestra welcomes violin virtuoso and Conway native Curt Thompson to the Reynolds Performance Hall stage for A Classical Homecoming concert at 7:30 p.m. Saturday, April 20.

Thompson, who recently relocated to Australia as head of strings at Melbourne Conservatory of Music, will perform Bruch's Violin Concerto No. 1.


Tickets are $6 for children and students, and $20-$38 for adults, with a discount rate of $15 for groups of 10 or more. Purchase tickets at the Reynolds box office, 501.450.3265, toll free 866.810.0012, or at ConwaySymphony.org.


The concert is underwritten by Arvest Bank and Maxillofacial Surgery Center with guest artist support from College Square and hospitality sponsorship from The Village at Hendrix.


Thompson performs throughout the Americas, Europe, Asia and Australia as a concerto soloist, recitalist, concertmaster and chamber musician in such prestigious venues as Carnegie's Weill Recital Hall, Salle Gaveau (Paris), Teatro Naçional de Costa Rica (San José), Shanghai Concert Hall and others.


Thompson's debut recording of the violin sonatas by Charles Ives (Naxos) has received outstanding reviews worldwide, and he has performed for the Australian Broadcasting Corporation, National Public Radio's Performance Today and WGBH 89.7 (Boston).Thompson is also founder and executive director of the Mimir Chamber Music Festival and has served on the faculties of the TCU School of Music and the Indiana University Jacobs School of Music.


"It's a special evening for me," said Thompson. "To come home and be part of the final concert of the season is a big honor."


A graduate of Conway High School, Thompson performed as a member of the Conway Symphony Orchestra (then the Conway Civic Orchestra) as a youngster of only about 12. He also performed as a solo guest artist with the CSO once before, in the early 90s.


"Not only will our audience be thrilled to hear a violinist of Curt's caliber, but to know that our community played a major role nurturing his talent will make the concert even more special," said Israel Getzov, CSO conductor/music director. "It's always an occasion when a superstar returns home, and Curt is just more proof that the CSO has made a difference in the lives of so many young artists in our community and that our impact has a global reach."


The remainder of the evening's program will be Mozart's intensely emotional Symphony No. 40 in G Minor. One of Mozart's most greatly admired works, the G minor symphony has become part of popular culture, with serenity, pathos and regret in the slow movement and a fiery finale.


Now in its 28th season, the Conway Symphony Orchestra brings professional concerts, exciting guest artists and high-quality music to the Central Arkansas community. For more information on concerts and other programs, visit ConwaySymphony.org or call 501.269.1066.