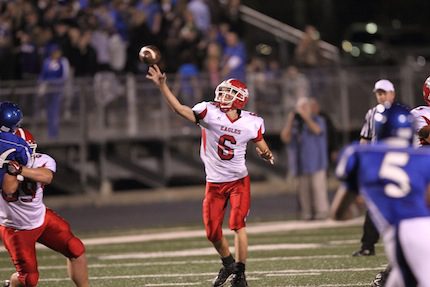 11 Aug 2013

VILONIA: Eagles will follow QB's lead

Conference: 5A West
Coach: Jim Stanley
2012 Record: 6-4 (4-3)


The Eagles soared out of the gates, flying to a 5-0 record to start the 2012 season. Back-to-back tough losses at home against Morrilton and Alma cooled the hot start, and Vilonia ultimately tied for third in the 5A West.

Through the ebb and flow of 2012, the Eagles found their quarterback of the future in junior Jared Willis.

The 501 Football Team honoree brought a dynamic attack to the Eagle offense a year ago.


"Jared started at quarterback for three games until an injury sidelined him in Week 10," Coach Jim Stanley said. "The three games Jared started, he set several passing records. He is the best quarterback I have ever coached, and I believe he will make a name for himself this year."


Senior guards Jon Alexander and Nathan Max return on the offensive line. Seniors Houston Cotton, Joseph Owens and Drew Estes will fill the backfield in the Eagles' base Double Wing offense. Seniors Kent Madden and Dillan Harsted will step up this year as the Eagles' lead receivers.


Estes, Cotton and Owens will see time both ways as they all return as starters in the secondary. Senior Tyler Knowles will join them in the defensive backfield at free safety. Juniors Tyler Gray and Bradley Stocks will lead the way at linebacker, and senior Chase Marshall anchors a young defensive line at end.


Stanley said one of the Eagles' main weaknesses heading into the fall is "inexperience on the defensive line."


Vilonia has several holes to fill on both sides of the ball, but a talented group of juniors and seniors could lead the Eagles to another trip to the playoffs.


Schedule
Sept. 6 Sylvan Hills
Sept. 13 at Wynne
Sept. 20 at Beebe
Sept. 27 at Harrison
Oct. 4 Shiloh Christian
Oct. 11 Clarksville
Oct. 18 at Morrilton
Oct. 25 at Alma
Nov. 1 Huntsville
Nov. 8 Greenbrier


501 Football Team 2013 –
Jared Willis
Nominated by Coach Jim Stanley
Classification: Junior
Position: QB
On the field: Great work ethic and leadership qualities. First one on the field and last one off.
Off the field: Same work ethic and leadership. But also a great person. Student of the year as a ninth- grader. Jared is a great young man on and off the field.
Community work: Very caring person who is kind to everyone.
Sportsmanship: Jared has great character.Always puts the team first.All his teammates respect him tremendously.
Classroom: Jared is a straight-A student and is very caring to everyone.