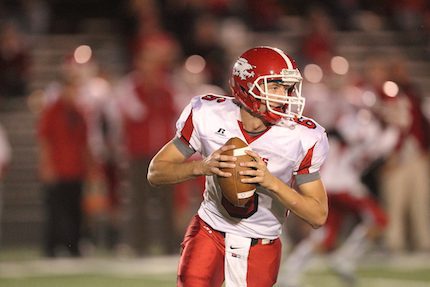 12 Aug 2014

Vilonia: Eagles return 16 starters in '14

Conference: 5A West
Coach: Jim Stanley
'13 Record: 3-7 (3-4)

The Vilonia Eagles just wouldn't go away in 2013. Despite heading into Week 10 with only three wins and a slew of injuries, the Eagles remained in the thick for a playoff berth out of the 5A West. Those three wins all came at the right time and against the right teams.

All that was standing in the Eagles' way of a trip to the post-season was rival Greenbrier. The Panthers were too much for the Eagles, ending Vilonia's hope of a playoff berth.


Injuries proved too much for the Eagles in 2013.


"We had a large number of season-ending injuries," Coach Jim Stanley said. "We lost a total of eight defensive backs and lost four running backs."
But it wasn't all doom and gloom for the Eagles.

"Seventeen sophomores started or played a lot in the last three games," Stanley said. "Our quarterback and a lot of players got playing experience."

So a green year in 2013 could ripen into success this fall as 16 starters return for the Eagles.

Quarterback and former 501 Football Team honoree Jared Willis returns to lead the Eagle offense. Jakob Lawrence, Dylan Wimberly and Jeremiah Santiago will lead the way in the backfield at running back. Bradley Stocks returns at tight end, and Braxton Barber and Parker Eldridge return on the offensive line at center and tackle, respectively.
The Eagle secondary is deep and talented — Tucker Richmond and Zac Cole return at corner back, Wade Richard at free safety and Trevor Burkett at strong safety. Shane Steward and Ryan Pierce bolster the defensive line at both end positions, and Bradley Stocks is the lone returning starter at linebacker.