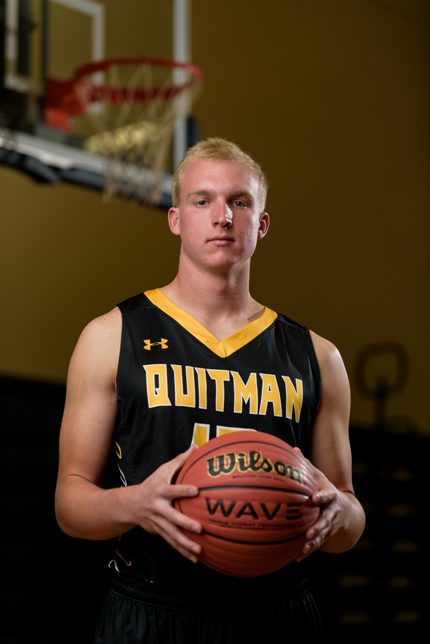 11 Jan 2017

'Versatile' McGhee shines at Quitman

by Mark Oliver


Over the years, Quitman's Trey McGhee has proven that when it comes to sports, the senior really can do it all.


From quarterbacking the Bulldogs' football team to playing baseball and track and field, McGhee has grown in multiple ways during his high school career. On the basketball court, the senior has helped lead the Bulldogs to their best start in years.


"We're playing better basketball this year," McGhee said. "Right now, we're above .500 in conference play, which is not something that we've been able to accomplish over the past three years. While we've had some tough losses this year, we've also made some good comebacks and I feel that we're more competitive, overall. It has been an exciting year for us so far."


McGhee was selected to this year's 501 Basketball Team — 34 players representing the best the 501 has to offer both on and off the court. The senior was nominated by his head coach, Brandon Burgener. The team is sponsored by First Service Bank and First Security Bank.


"Trey is a flat out leader," Burgener wrote in his nomination. "Whenever he is present on the court or even in the gym there is a difference in attitude of the entire team. He is very mature and goal oriented. He sees the good in everyone and is always encouraging his teammates."


No matter the sport, McGhee, who was named to the 501 Football Team in 2016, strives to make both himself and his teammates better.


"We are on the verge of establishing a new culture this year and it starts with Trey and this senior class," Burgener wrote. "I expect Trey to help this team succeed more than they have in recent years. I expect Trey to be a leader and an All-Conference player, and I expect he is going to respond well during achievement and adversity."


According to McGhee, one of the team's biggest inspirations this year has been the way the Quitman community has bought in to the school's basketball program.


"The community involvement has been pretty awesome at games this year," McGhee said. "With some big conference rivalries coming up, those games mean even more to us."


One of McGhee's biggest on-the-court strengths is his versatility.


"I play multiple positions — whatever the team needs," McGhee said. "Although I'm strongest on defense, I can also play inside post, bring the ball up or play forward. No matter which position I'm at, I can be a great communicator and a bigger body to help my team get the job done."


McGhee excels in the classroom, boasting an impressive 4.02 GPA. The senior is also a member of Beta Club, FCCLA and Skills USA and plans to pursue a degree in civil engineering after high school.


"Whenever he's not on the court or on the field, Trey is working or in the books," Burgener wrote. "He is the epitome of a student-athlete, knowing that sports are a privilege while in high school and where you make some of your best memories, but there is work to be done in the classroom first. I believe he'll graduate in the top of the class and is an excellent example for younger kids in Quitman and other communities."


In the community, McGhee gives back to the 501 by volunteering at Quitmanfest — a local city festival — and guiding younger athletes.


"Trey is a joy to be around," Burgener wrote. "He's a friendly conversation in the hallway, before or after practice, and in the community, but the young man also knows when to turn everything off and put his game face on. This young man would gladly and ably captain any ship."


Quitman plays at Sacred Heart on Friday, Jan. 13.